This article is more than 1 year old
LOHAN takes the stage at Oz Linux shindig
Andrew Tridgell to discuss 'craziest' ArduPilot project
Our Oz readers attending the forthcoming linux.conf.au 2016 shindig in Geelong might like to catch Andrew Tridgell's presentation on "Helicopters and Rocket-Planes", which will include a look at our Low Orbit Helium Assisted Navigator (LOHAN) Vulture 2 spaceplane.
As regular readers know, Linux guru Tridge has been working on the custom ArduPilot parameters for the vehicle's Pixhawk autopilot, seen below with our Raspberry Pi rig during an avionics rejig in 2014.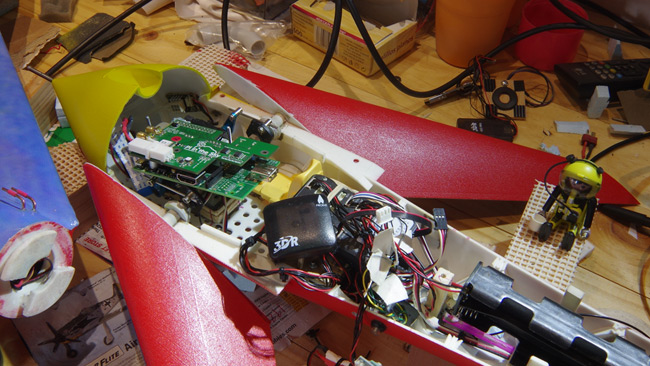 He's also a main mover in the ongoing porting of open source ArduPilot to Linux, an initiative which forms part of the Dronecode UAV platform.
At Geelong, he'll be talking about the "unique challenges" of running ArduPilot on embedded Linux boards, with the diminutive Parrot Bebop, a petrol-driven helicopter and our own rocketship as examples.
The linux.conf.au 2016 blurb says of our bid to make UAV history:
The craziest is the LOHAN rocket plane, which aims to fly at supersonic speeds 20km above the ground, before doing an autonomous landing at Spaceport USA (or possibly creating a new crater in the ground nearby!).
Ahem. For a taste of what to expect at Geelong, here's Tridge speaking on Linux autopilots at last year's linux.conf.au in new Zealand:
®
Bootnote
Note that a major sponsor of linux.conf.au is Hewlett Packard Enterprise - our fave private London drinking club operator.
---
---
More from the lovely LOHAN: