This article is more than 1 year old
Big reader? Toshiba tweaks endurance, wrings out low-write SSD
It's enterprise-tastic, says Tosh
Toshiba has fashioned a fifth enterprise SSD variant by cutting the entry-level PX04's endurance in half, and fitting it for another read-intensive market niche.
The PX04SRB has an endurance of one full drive write per day (1 DWPD) for five years and was positioned back in August as a read-intensive enterprise SSD, compared with the others in the family. The latest PX04SLB cuts this in half to just 0.5 DWPD.
The PX04 SSD range was announced last August. They will all use 19nm eMNLC NAND, have a 12Gbit/s SAS interface, feature 270,000 4K random read IOPS, a two-million-hours mean time before failure rating, and have a five-year warranty.
The DWPD rating shows the product gradation with crystal clarity, from the high-endurance PX04SHB's 25 DWPD, down through 10 DWPD (mid-endurance) and 3 DWPD (value-endurance) levels to the PX04SRB's reduced 1 DWPD.
This latter SSD was positioned as a read-intensive SSD with up to 22,000 random write IOPS, less than a fifth of the PX04SHB's 125,000.

Toshiba PX04 SSDs
SSDs need spare cells for high endurance and by reducing the amount of spare flash you reduce the endurance. This effect is shown in the products' maximum capacity, with the high-endurance PX04SHB topping out at 1.6TB, while the latest shrunken endurance PX04SLB reaches 4TB.
This hasn't affected sequential performance, as all the SSDs in the PX04 family have up to 1.9GiB/sec sequential read bandwidth and 850MiB/sec sequential write speed.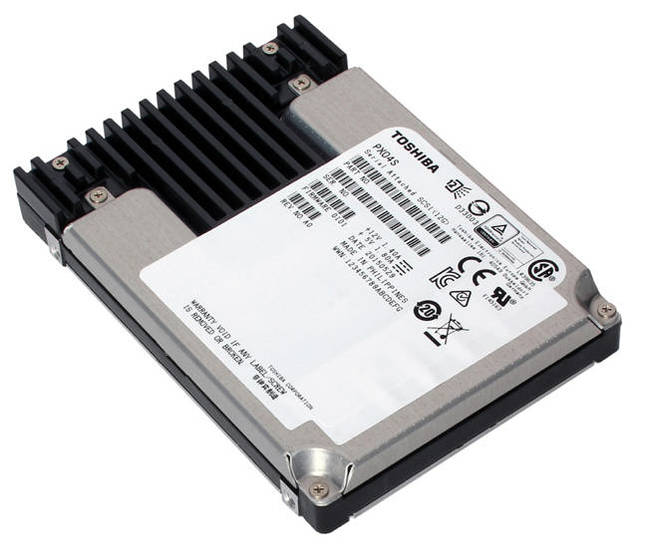 Toshiba PX04S enterprise SSD
We imagine Toshiba will refresh the PX04s with 15nm NAND technology before moving to 3D NAND. Its foundry partner SanDisk introduced a CloudSpeed Eco Gen 2 using 15nm NAND in June last year.
The PX04SHB is suited, Toshiba claims, for data warehousing, web servers, media streaming and video on demand (VOD). It's available now to Toshiba's OEM customers, and you can check out a spec sheet here. ®