This article is more than 1 year old
Sena's multi-action camera monster, or Cardo's PackTalk club rider juggernaut?
The two best motorbike Bluetooth headsets
Review Riding the twisties on a motorbike is the great escape for some of us; the scent of the air, the rush of wind, the push through the corners, and the sound of the engine.
But it's not always an escape. The daily commute on a straight-as-a-board freeway is not much better than the bus, and it can be irritating to try to talk to your pillion or riding buddy through the wall of a helmet and roar of the engine.
Enter the Bluetooth headset. These are the devices that cling to the side of your hat and stream music from your phone, enable phone calls, and intercom with pillions and your rider mates.
The market is full of options for the interested buyer, but let me set you straight: Don't buy cheap. I tinkered with an eBay job that set me back about $60 for a second-hand so-called "BT Interphone" (no relation to the current Interphone) and it was a total waste.
It was all kinds of appalling despite that I threw out the stock headset, deciphered the 3.5-inch jack configuration, and used a splitter to substitute my own high-quality headphones and microphone.
A key point to consider is to be mindful of the risks of attaching a device to a helmet. Doing so changes its certified structural integrity, which is something that may be only appreciated when you come off and the point of impact is the thing you've strapped to your hat. The risks are a debated issue but should be the first thing riders (or any sports enthusiast) should research and evaluate when considering buying an action camera or other lid device. Internal and sleeker devices are on the market.
Laws vary too. Use of helmet-attached devices is enforced differently across Australian states. In Victoria where I live, riders like myself could be fined for using the devices under a court ruling as of September last year. Beat police on several occasions have told this reporter riders are unlikely to be busted and indeed I have yet to have a problem, but readers are urged to adhere to local laws.
Insurance companies are some of those pushing for the devices to be allowed since they help capture accident evidence.
Top shelf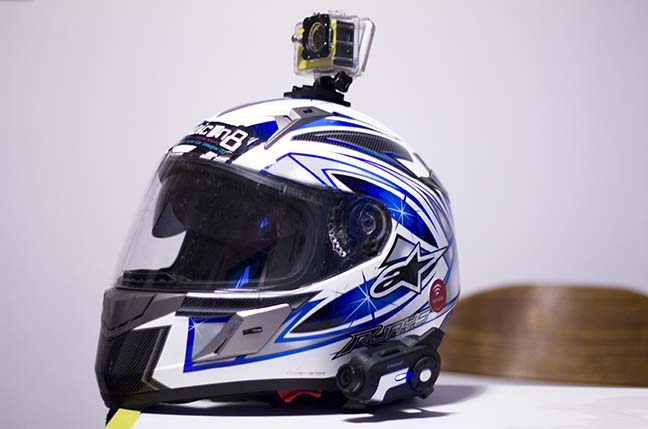 The Sena 10c, with the SJ4000 camera on top
Do-it-yourself (I solder like a six-year-old) aside, your best bet is to pay for a quality unit. And that means Sena, Cardo, and Interphone.
Of the three, only Interphone lost connectivity with this reporter, seemingly on account of uninterested local distributors (its Italian headquarters were keen to participate). Their gear is worth a look, although I cannot personally attest to its quality.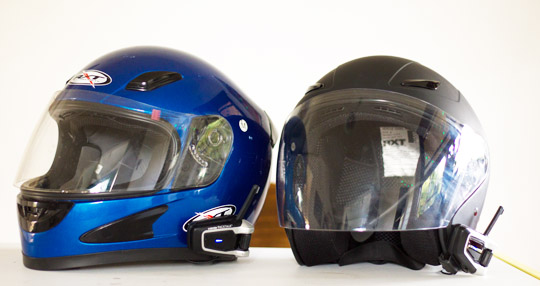 The Cardo PackTalks
Sena sent through its epic 10c Bluetooth headset, which is a slick beast that combines music, intercom, and phone with a built-in action camera. Cardo offered two of its PackTalk juggernaut, which does the same, replacing the action camera with the ability to intercom with up to 10 riders at once.
To get it out of the way early, I am not going to recommend you buy one over the other. Moreover, each company has multiple models, and they all look tops. The units I tested are tweaked for different riders. If you ride in a club or with a group of mates, buy the PackTalk and get them to do the same. It is the king of pack riding and it seems there is little in terms of design that they haven't thought of.
If you mostly ride alone or with a buddy or two and like the idea of filming the best holy-shit 60 seconds of a ride (or like the idea of shooting the whole thing), then the 10c is your unit.
These are great devices, but like every significant purchase, do your research.
A Sena 10c will set you back somewhere around US$350 while a Cardo PackTalk will cost about US$320, or you can pick up a pair for about US$570.
Rides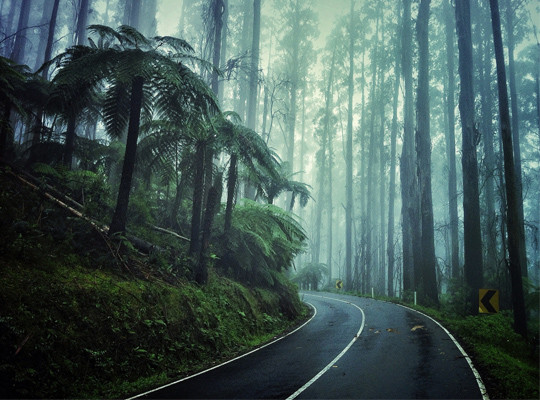 The Black Spur, Victoria
I tested the units casually over a couple of weeks and properly during two rides.
I took the 10c from my place 20 minutes north of Melbourne, through the city and to iconic St Kilda beach, and the PackTalks out with a riding mate on the twisties on Victoria's gnarly Black and Reefton spurs.
I attached my early-version SJ4000 (a Go-Pro knock-off) to my lid but the battery fizzed early on the spurs, so there's only footage of the St Kilda ride. On that city ride I shot with both the 10c and the SJ4000 to compare video. The 10c comes out on top, especially with audio. Check out the video below.
(The mount should have been pivoted up a notch above the clusters.)
My helmets are nothing special; Straight up $100 - $150 jobs. I rigged the 10c on one helmet and the PackTalk pair on the other two.
Both performed admirably and I gotta say I'm hooked. They lived up to what's written on the tin and never failed.
I have a nice pair of fat armored Alpine Stars GT gloves which are not tactile compared to the skinny cheaper ones, and hitting the buttons on both units was easy.
10c
The Sena 10c is a unit my five-year-old niece could use out-of-the-box. It has a few buttons that work the camera, intercom, radio, and phone, plus a wheel you turn to change the volume or the FM radio station.
Everything works easily with a gloved hand. Click the buttons quickly to do one thing and hold 'em to do something else. Pretty simple.
Pairing is a cinch. Hold a button 'till the little LED indicator flashes red and blue. Do the same on your phone. Mine is an Android running 5.1.1.
Audio-wise, the 10c shapes up well. At max volume and low speed, you aren't going to hear the ambulance over Metallica. At freeway speed without the noise-reducing features of a better helmet the music mixes a bit with the wind.
The microphone is flawless. Friends who called reckon they can't tell I'm on a bike.
I couldn't test the intercom, having reviewed a single unit, but the 10c sports four-way chatting up to 1600 metres, music-sharing so that everyone can listen to the same tunes, and, like the Cardo, universal intercom so that you can chat with the black sheep who didn't buy the same as everyone else.
While I wouldn't go toe-to-toe in a knowledge smack-down with a real photographer, I'll go as far as to say the camera is great. It is warmer than the cool SJ4000, doesn't drop frames, looks good at high speed, and has a nice saturation that isn't by any stretch over the top. It shoots at 1080p full HD at 30fps, or 720p at 60fps, same as my SJ4000, and a little fish-eyed. I'm unsure how it shapes up to a Go Pro. It takes photos at 3.5MP.
You can fix tilting by turning the lens and move the mount so that it will shoot as high or as low as you like it.
A photo from the Sena 10c in motion
That brings us to video tagging, the best part of the camera. Tap the camera button a certain number of times and it will set aside the last and next 60 seconds in its own video file so you can pluck that out and show your friends how the B-Double closed out on you. My would-be murderer was someone on Lygon street. Footage captures your tunes and chatter, too.
Someone call Elon Musk because the 10c battery doesn't seem to die. Well it does after 17 hours, or two hours after the camera shuts off at its max film time of 120 minutes, leaving you breathing space to listen to music.
Upgrading is easy. Plug it in and run the app. You can control intercom lists, speed dials, and radio stations from there too.
PackTalk
This thing is smarter than I am. Cardo have produced a feature-packed giant in the PackTalk so full of options that I just about polished a six pack before pairing it with my phone. You'll need to spend a little time mastering it, and to this end YouTube is your friend.
You can also use snappy voice activation to avoid the otherwise IVR-like manual processes, and even change the sensitivity so that you don't accidentally turn on a feature when you are talking to yourself (you all do that on a ride, right?).
Cardo have made the important things easy by using a web portal it calls Cardo Community. There you can add your eight mates to your buddy list so that when you turn the unit on (it says "Hello [your name]"), it will find those nearby and connect. It makes intercom flawless and is a major plus for the unit.
You can also search for friends or random riders like I did on the portal to round out your list.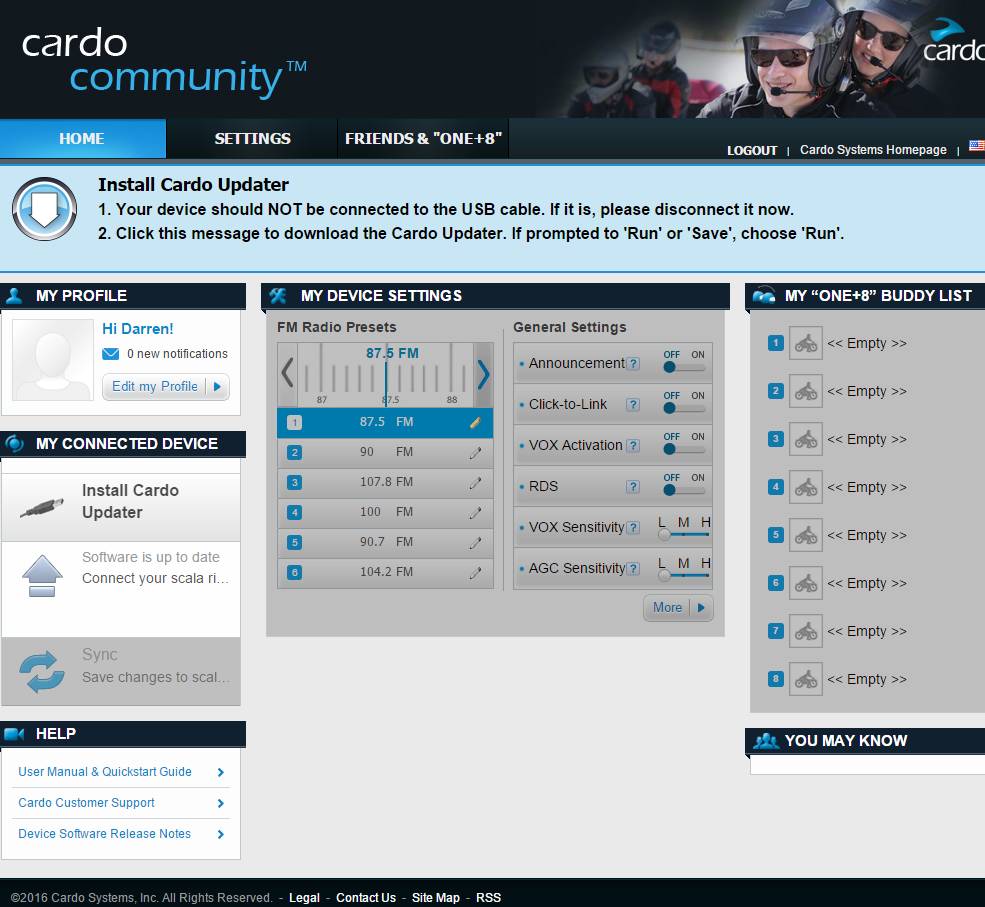 The Cardo Community, go here to upgrade your device, and find and manage riders
While you're there you can add your favourite radio stations, and favourite friends and family members to call.
Updating the firmware is slick and seamless on Windows 10 using Chrome or Firefox.
Outside the settings house of the Cardo Community is the app which allows you to control phone, music, radio, and intercom. It's great, and it seems Cardo are willing to keep serving updates to the app and the unit.
Continuing its focus on group riding is the ability to overlay conversation over playing music, which is no small achievement. A song constantly interrupted by one of a cluster of riders will soon have you reaching for headphones.
The intercom distance is impressive. I have no idea precisely how far we stretched the intercom during my ride on the twisties, but it certainly seemed to deliver what's on the tin, and did plenty enough for a normal ride. It didn't drop out or even seem like it would.
The tin says riders can chat over a mind-melting eight kilometres using multi-hop.
There's a feature too that can fall back to mobile phone calls between riders when the intercom drops, but I hadn't flicked that on for my ride and didn't need to.
Speaking of phones, Cardo says you can conference in a caller to the pack, making for what would no doubt be some entertaining rides.
Music can stream to your pillion, keeping you both on the same wavelength. If you don't like their speakers (I thought they were fine) you can plug in your own 3.5mm unit. The Sena 10c does the same, although you can't substitute your own speakers.
Cardo Gateway technology allows riders to connect to the pack with their non-Cardo units. This is a huge boon and one that melds with the reality that at least one in a pack of Bluetooth headset riders will probably have some other brand of device. Again the Sena 10c also sports the feature.
The PackTalk battery lasts up to 13 hours or a week on stand-by, making it plenty practical.
Finish line
If you ride in large groups, consider the PackTalk. If you don't, consider the 10c. Both Cardo and Sena make quality gear that seem to keep riders happy, and I would recommend either. Just stay the hell away from the cheap crap, especially if you pay any mind to music quality.
Remember to check YouTube for pointers. I have at times found only rage within the catacombs of beeping menus that can be as frustrating as a Centrelink IVR, but the solutions are almost always obvious.
Bootnote
If sharp-eyed readers are wondering what the NFC tag on my helmet is for, I use it as a trigger event for the Tasker app. My profile is set such that when I tap the blue tag on the left side my phone turns on Bluetooth, connects to the headset, plays a music playlist, and activates car mode letting SMSers know that I am riding and should call if desperate.
I also have a stitch of capacitance fibre in my index glove finger which works a treat with phone touch screens. ®