This article is more than 1 year old
Linux Foundation quietly scraps individual memberships
Now you can only be a 'supporter' with no voting rights
The Linux Foundation has quietly amended its bylaws so that individual members, now called "supporters", no longer have the right to elect board members.
The Linux Foundation is a non-profit association which sponsors those developing the Linux kernel, including Linus Torvalds, and runs various collaborative projects to set standards and support use of Linux.
It has more than 500 corporate members, including IBM, Intel, Oracle, Hewlett Packard Enterprise, Google and Facebook.
Until recently, individuals could also join the association, paying $99 for a package which included a Linux.com email address and the ability to run for and vote in elections for a Linux Foundation board seat.
This type of membership is no longer available. In its place is an Individual Supporter scheme that gets you an email address and various discounts, but no voting rights.
The manner of the change has lacked transparency. A member contacted The Register earlier this month wondering why his recurring payment had been cancelled. The online membership form was no longer accessible. We contacted the Linux Foundation for more information and received no response.
It turns out that the Foundation amended its bylaws, which are now dated January 15 2016. Individual members, officially known as affiliates, never had full voting rights. However, a clause in the old bylaws, now removed, stated that:
...this limitation on voting shall not prevent one or more Affiliate classes from recommending or appointing one or more At-Large Directors as provided in Section 5.3(d) hereof.
The referenced section stated:
For so long as the corporation has a class of Individual Affiliates, such class of Individual Affiliates will have the right to appoint two (2) At-Large Directors.
This section has also been removed.
Why the change? Free Software Foundation member Matthew Garrett speculates that the change was made specifically to block an individual from being elected. Whether or not this is the case, the change has the effect of putting the Foundation more firmly under the control of its corporate members, disappointing individuals who previously felt that they had some small say in how Linux is managed.
"In exchange, they gave me a lifetime free @linux.com email address... Thanks? :-(" our reader wrote to us.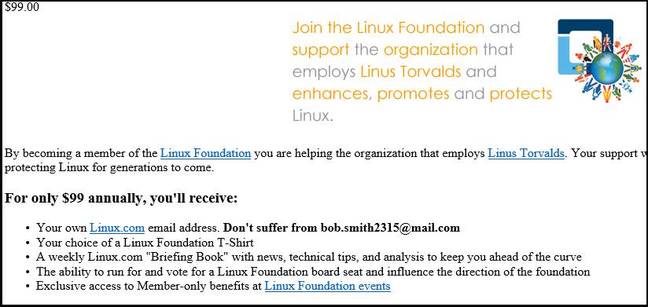 How things used to be – but this type of membership has now been scrapped
"Much of the code in Linux is written by employees paid to do this work, but significant parts of both Linux and the huge range of software that it depends on are written by community members who now have no representation in the Linux Foundation. Ignoring them makes it look like the Linux Foundation is interested only in 'promoting, protecting and standardising Linux and open source software' if doing so benefits their corporate membership rather than the community as a whole. This isn't a positive step," says Garrett in his post.
The Register has again contacted the Linux Foundation for comment and will update this story if we hear back from them.