In its inaugural Voice of the Enterprise: Storage Study, 451 Research forecasts public cloud storage spend to double in two years – with NetApp, HPE and IBM falling down the supplier rankings as Amazon's AWS and Microsoft's Azure bulldoze their way in.
We have seen a copy of the report: 451 asked its enterprise research base "which vendor does your organization currently spend the most with on storage in 2015 and which will it spend the most on in 2017?"
The top five suppliers in 2015 were EMC (28.7 per cent), NetApp (12.9 per cent), Dell (12.7 per cent), Hewlett Packard Enterprise (9.9 per cent) and IBM (9.5 per cent). 451 said AWS and Azure muscled their way into the top five in 2017, but what happened to the others?
Firstly, EMC still leads, but with by a reduced amount (23.8 per cent) with AWS second at 10.6 per cent. Dell is still third but at 10.3 per cent. Microsoft is in fourth place at 9.1 per cent with HPE dropping to fifth place, also holding 9.1 per cent.
NetApp is in sixth place at 8.6 per cent, followed by IBM at 7.1 per cent. HDS is eighth with 4.9 per cent, down from its 2015 total of 5.3 per cent. Nimble has risen from, its 2015 2.2 per cent to 2.7 per cent in 2017.
In joint tenth place is Pure Storage at 1.5 per cent, up from the 0.5 per cent 451 recorded for 2015. VMWare is equal tenth with 1.5 per cent; Oracle is in twelfth place with 0.5 per cent, down from 2015's 1.6 per cent.
The chart shows the carnage that is slated to happen: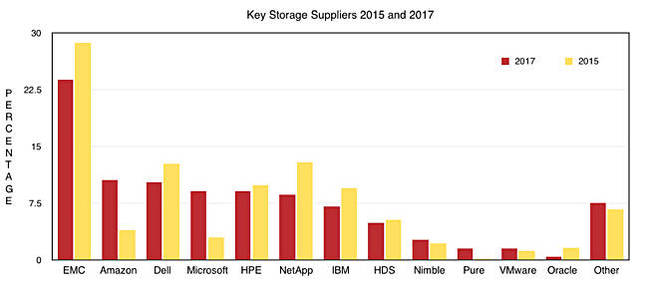 Enterprise storage suppliers; winners and losers 2015 to 2017
It's apparent that a Dell-EMC combination in 2017 would command 34.1 per cent. Add in VMware and we have 35.6 per cent, dwarfing every other supplier. If we take a last man standing view for on-premises storage then Dell-EMC is it.
Oracle's falling share is a surprise. NetApp's is not, although the magnitude is. Another non-shocker is IBM's decline. The research house notes:
Just 41.7 per cent of those who cited NetApp as their key storage supplier intend to increase 2016 spending with that vendor, while almost half (48 per cent) plan to cut spending. Notably, almost 30 per cent plan 25 to 60 per cent spending reductions; the highest such decline in the Q4 study. For IBM, just over a third of customers citing IBM as a strategic storage supplier plan to reduce spending on Big Blue's storage portfolio in 2016.
The on-premises storage spend shifts away from legacy SAN and filer products, with all-flash arrays being the main beneficiary particularly in smaller organizations. Both hyper-converged infrastructure products and object storage technologies also look set for healthy spending growth in 2016.
The rush to cloud storage is most evident in retail organizations, which expect 25 per cent of storage spending to be cloud-based by 2017. Smaller businesses (those with fewer than 250 employees) expect 20 per cent of their storage related spending to be cloud-based by 2017.
The top causes of data capacity growth are: increasing file sizes and user data (46.4 per cent), server virtualization (41.7 per cent), RDBMS (39.7 per cent) and backup and archive (37.4 per cent), with data warehouse and analytics coming in at 31.1 per cent.
451 notes that the top three vendors, usage-wise, for all-flash arrays are EMC, Hewlett Packard Enterprise and IBM, in that order, followed by Pure Storage and NetApp.
It also notes that the largest planned spending declines in storage are in tape infrastructure, with over 40 per cent of surveyed IT departments planning slight or significant decreases in 2016. This is an area, we're told, where public cloud adoption is clearly taking over from traditional approaches. ®