Google has been granted a patent for a "mobile delivery receptacle" - a vehicle designed to accept airborne drone deliveries and take them to a "secure location, such as into a garage" at the recipient's address.
The patent blurb explains: "Unmanned, aerial delivery services may be problematic for delivery to users. For example, an aerial delivery device that is powered by a rotor or an impeller may be dangerous to pets, overhead power lines, ceiling fans or other features or residents at a delivery location.
"Furthermore, the aerial delivery device may not recognize a safe place to deliver a package. For example, leaving the package on the front porch of a busy street address may make it more likely that the package is stolen."
So, enter the mobile delivery receptacle, which is informed of a incoming package and travels to the delivery location, or presumably as close as is safe for the drone to venture. Once there, it communicates with the drone via infrared, receiving the package and handling the last stage of the delivery process as required.
Details on the receptacle's ultimate propulsion system are are sketchy. The image filed with the patent shows the box on wheels, but the real deal might feature "articulated legs or any suitable means of propulsion".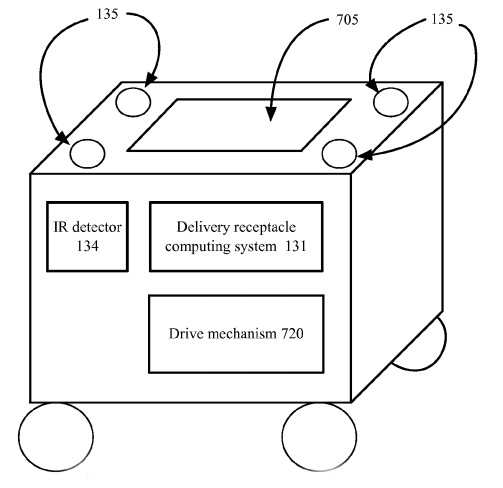 What's equally unclear is how it'll get from the drone drop-off point to the customer's garage without being mugged. Last year, we reported on Skype co-founders Ahti Heinla and Janus Friis's plan to unleash a trundling robodelivery fleet, and readers were quick point the vehicles' vulnerability to attack by urban ne'er-do-wells.
No doubt Google has a cunning security plan up its sleeve, as is continues to advance the "Project Wing" drone delivery programme as the airborne prong of its total world domination campaign.
®
Similar topics