Plexistor rolls out storage-defined memory for the masses
Flash as memory: What's not to like?
Storage startup Plexistor has a persistent memory software product that enables applications to use storage memory and get 3-digit performance increases, using DRAM, flash and XPoint memory.
The software-defined memory (SDM) architecture can use DRAM, flash and XPoint memory and is intended as a solution for applications that are hindered by I/O bottlenecks and latency. Use cases cited by Plexistor are fairly numerous and include digital advertising, log analysis, personalization, financial applications, cybersecurity, and DevOps.
The SDM software is available for both on-premise and cloud-based deployment, on EC2 for AWS.
Plexistor was founded in Israel in 2013 and is headquartered in Mountain View, with research and development in Israel. Its funding, via an A-round in 2014, is undisclosed.
Sharon Azulai, CEO and founder, said in a canned quote: "Our SDM platform delivers relief for enterprises facing problems of cost, complexity, and latency: it is affordable, it is simple to roll out, and it is orders of magnitude better than any alternative."
Flash as memory
Plexistor's software enables DRAM and server-attached, non-volatile memory to be combined in a single memory address space for applications, to provide persistent high capacity storage at near-memory speed.
Applications can execute effectively in -memory because NAND is much less expensive than DRAM. Although slower than DRAM, NAND is many times faster than disk and networked all-flash arrays.
Plexistor's own testing shows:
MongoDB performance increased 450 per cent, retaining data persistency
SQL database latency reduces by 24x
Multi-threaded FIO performance was 210 times faster .
The software supports traditional enterprise applications like MySQL and also data-intensive apps such as in-memory databases, NoSQL, big data analytics, and complex event processing.
Plexistor says SDM can run apps that either run in-memory or, as is traditional, use external storage during their run-time. That means customers do not need a separate in-memory server infrastructure alongside their server-external storage system stack.
Plexistor SDM diagram
The software can use emerging storage memory technologies such as NVDIMMs and 3D XPoint as well as NVMe flash devices and will be able to use solid state devices accessed over an NVME fabric link.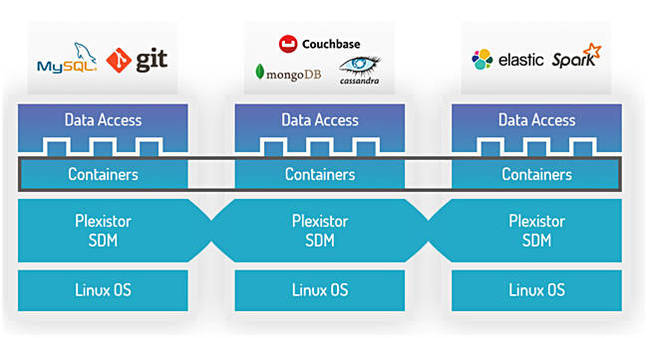 Plexistor marketing diagram
The software runs on Linux and is available as a paid-for enterprise edition and also as a community edition. Enterprise edition users get more;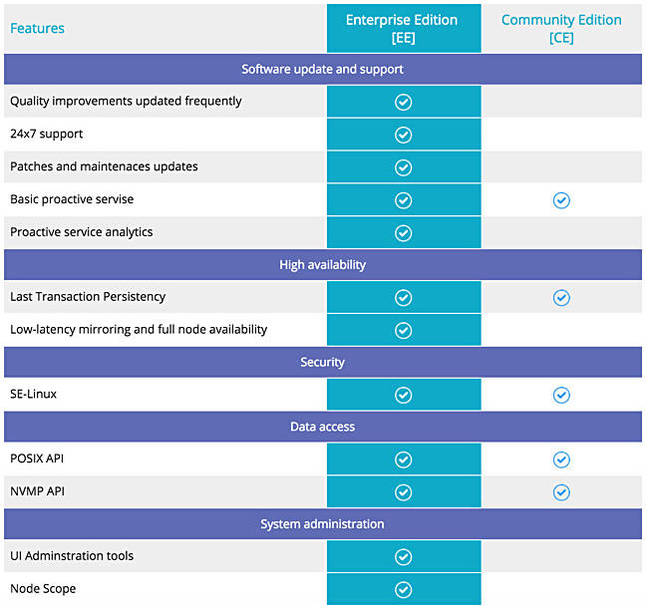 Plexistor SDM enterprise and community edition differences
®