Apple is asking people to return their Mac and iOS travel adapters after multiple reports of the two-prong plugs electrocuting users.
The Cupertino maker of iStuffs said that for more than a decade it has been selling adapters that can break and, when touched, give an electrical shock. The problem affects two-prong adapters used with outlets in Argentina, Australia, Brazil, Continental Europe, New Zealand and South Korea. Apple said it has received 12 reports of users being electrocuted by the plugs.
The adapters were shipped with Macs and some iOS devices and were included in the Apple World Travel Kit. Apple said the recalled adapters were shipping from 2003 to 2015. Other adapters (including US and UK plug adapters) and USB power adapters are not affected.
Recalled adapters can be exchanged at an Apple store, authorized service provider, or through Apple's recall website.
Anyone who is unsure whether their adapter is a recalled unit should check the inside of the plug's connector (the spot where the plug connects to the power adapter). Recalled units either have no numbers printed or a four-digit code. The new, fixed adapters will have a three-letter regional code.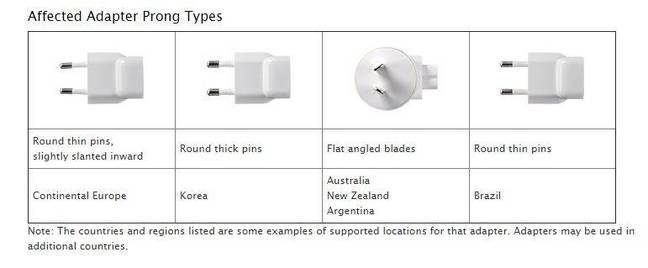 All of the recalled adapters
(source:Apple)
The recall is Apple's first of 2016, but last year was a busy one for those handling hardware swaps in Cupertino. In 2015 Apple issued recalls of the Beats Pill XL speaker, the iPhone 6 Plus handset, and the MacBook Retina Display for various dangers and defects. ®