We've all suffered hangovers, but Qualcomm's right now is something epic
Er, party's over, you've got an 820 to ship
Qualcomm makes running a top-tier semiconductor business look like hard work.
The Snapdragon system-on-chips it designs are used all over the place in smartphones, smart TVs, cars, gadgets, you name it. This should be easy street for Qualy, and yet it's slipping over in the winter ice.
Let's go over the numbers first. On Wednesday, San Diego-based Qualcomm published its financial results for the final three months of 2015 [PDF], aka the first quarter of its fiscal 2016 year. Here's what you need to know:
Revenue amounted to US$5.8bn, down 19 per cent on the year-ago period, and up six per cent on the third quarter of last year. That beat analysts' expectations of $5.68bn.
Net income was US$1.5bn, down 24 per cent year-on-year, and up 41 per cent on the third quarter of 2015.
Diluted earnings per share is US$0.99, up 15 per cent year-on-year, just below analysts' expected $1.01, but beating the company's own estimate.
It anticipates revenues of US$4.9bn to US$5.7bn next quarter from 175 to 195 million chip shipments.
QCOM's stock price fell 2.04 per cent during the day, and is down 0.61 per cent in after-hours trading.
As you can see from the graph below, overall shipments of Qualcomm-powered mobile devices fell slightly from 2014 to 2015, but last year's total is still higher than 2013. The estimate for the first three months of this calendar year is low – like, 2013 low. That'll be in line with an industry-wide decline due to slowing smart-thing sales and China's economic sluggishness.
Intel is trying to steal business from Qualcomm by getting its modem chips into smartphones rather than Qualy's. If that foray is successful, it will put a dent in Qualcomm's numbers: Intel is keen to ramp up its radio chipset efforts to get components into Apple iPhones, which otherwise use Qualy-designed components. That may be why Qualcomm is low-balling Q1 calendar 2015.
What's more, Apple, Samsung and other handset makers have the ability to whip up their own chips to completely replace Qualcomm's, further ruining its performance in the market. Gulp.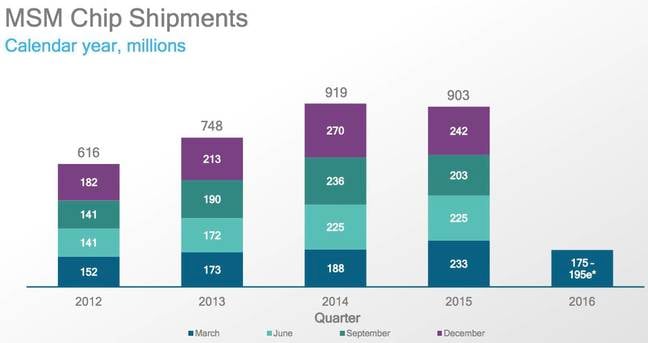 Number of devices shipping with Qualcomm SoCs ... click to enlarge
Also:
The 64-bit ARMv8-compatible server-class chips QCOM showed off in October are sampling with hyper-scale cloud providers in North America and China, and are due to officially ship within the next 12 months, approximately. They are not expected to contribute significantly to Qualcomm's bottom line for another few years after that.
The Snapdragon 820 SoC – its forthcoming flagship processor for handhelds – is going through carrier certification, and is due to appear in a few devices at the end of the second quarter of calendar 2016. Volumes will then be ramped up in the second half of the year in time for the holiday season.
Qualcomm CEO Steve Mollenkopf said in a statement:
We delivered a stronger than expected quarter with earnings per share above the high end of our initial estimates, driven by better than expected 3G/4G reported device sales and benefits realized from cost actions across the company.

We signed several new license agreements in China and are on track with our cost reduction initiatives. Design traction for our new Snapdragon 820 processor continues to be strong, and we expect improving trends in our chipset business in the second half of fiscal 2016.
Perhaps it's the $1.4bn cost savings Qualcomm is in the middle of making that's caused it to wobble in places. Maybe it's just that the chip-designing biz has had a bit of a rough 2015. Not an awful 2015, just a rough one, topped off by this latest quarter.
Its Snapdragon line suffered some PR setbacks that dealt a blow to confidence in the processor family: Samsung snubbed the 810 SoC for its Galaxy S6 smartphone, and reviewers said the chip was prone to overheating. Qualy later said the heating problems were fixed, but by this point the damage was done.
The Snapdragon family turned out to be pretty, well, boring in 2015: more of the same. Incremental. No wonder people are getting restless with the continuous parade of ho hum smartphones and tablets. Last year was pretty dull for non-Apple mobes, and you can perhaps blame Qualcomm for that.
Then there's Qualcomm's black comedy series: licensing. It is continually battling to get royalties out of hardware manufacturers in Asia, while fending off competition probes from China, Europe, Taiwan, and South Korea.
The rub seems to be how it charges its customers, and that it's allegedly using its patent portfolio to force gadget makers into using its chips. Qualcomm expects licensing fees from people for using its chips in devices, and for using any technology that it has patented. That has led to some manufacturers to under-report their sales to reduce Qualcomm's invoices.
In the latest quarter, Qualcomm's licensing revenue fell 10 per cent, year on year, to US$1.7bn. As an example of the trouble it's facing, Qualy is locked in a royalty dispute with LG worth US$100m a quarter to the US giant. South Korea's LG reckons it has overpaid Qualcomm, and the American outfit disagrees.
This is the third quarter in a row of shrinking or stagnant sales for Qualcomm, which employs about 30,000 people worldwide. Whatever whizzy radio chipsets and multicore Snapdragons it has planned for this year, they better burst onto the scene like a stripper jumping out of a cake. ®