This article is more than 1 year old
SanDisk struggles to fatten itself up ahead of WD takeover
When the going gets tough, the tough get going – and the rest get bought
A final growth quarter but revenue declines on the annual compare, amid falling annual revenues, end a tough year for SanDisk as it prepares to be acquired by WD.
Final 2015 quarter revenues were $1.54bn, 11.5 per cent on the year-ago quarter, although they were 6.2 per cent higher than the third 2015 quarter. This beat Wall Street's expectations.
Net income of $133m was the same as the third quarter but a lot less than the $202m reported a year ago, 334.2 per cent less.
Full year revenues were $5.57bn; they were $6.63bn a year ago, meaning a decline of 16 per cent. Annual net income was $388m, 61.6 per cent less than 2014's $1.01bn net income.
It's been a tough year, obviously, yet flash-based storage sales to enterprises are booming. Data centres need flash arrays and SSD demand is high. Why did SanDisk fail to capitalise on this? Did client system demand for flash fall? What went wrong?
The company did say that its average selling price/GB declined 41 per cent annually and 10 per cent compared to the previous quarter. Analyst firm Stifel Nicolaus' MD Aaron Rakers says this is an accelerated year-on-year decline. Losing the Apple SSD business a year or so ago has cost it dear.
SanDisk CEO and president Sanjay Mehrotra's prepared remarks had elements of the expected self-congratulatory flannel: "We made substantial progress in the second half of 2015 in reinvigorating our portfolio, improving our product execution and expanding our customer engagements. We also achieved an important milestone in beginning our multi-year conversion to 3D NAND, with first retail product shipments and initial OEM customer sampling in the fourth quarter."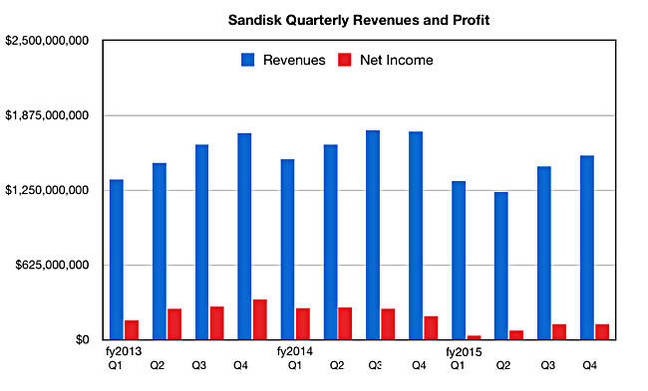 Portfolio reinvigoration means failing old products were replaced and missing ones introduced.
We are told:
Enterprise product revenue grew 29 per cent sequentially driven by customer shipments across SAS, SATA and PCIe interfaces
Fusion-io based PCIe product revenue reached a post-acquisition record
InfiniFlash array customer and partner interest growing, expect acceleration of customer deployments in 2016
Client SSD revenues grew 33 per cent sequentially
Client SSD attach rate for corporate laptops exiting 2015 was in high-30 per cent range, expected to surpass 50 per cent in 2017
Embedded products revenue declined due to weaker than expected smartphone market and early stages of X3 (TLC) adoption for eMMC solutions
Shifted memory supply away from aggressively priced, lower-capacity embedded multi-chip package products that combine DRAM and flash to more profitable product opportunities
Retail revenue grew 24 per cent sequentially driven by strong holiday season across all geographies and product categories
Connected home, industrial and auto 2015 revenue grew more than 50 per cent year-over-year
Rakers provided a chart showing SanDisk's enterprise SSD revenues, which …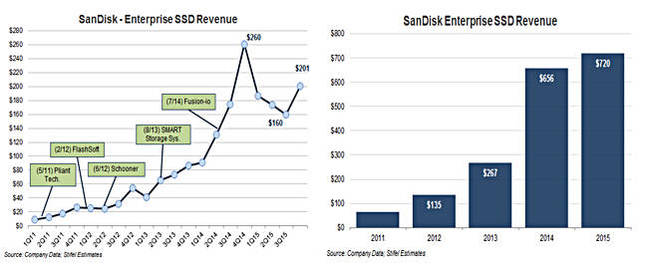 … shows a pronounced dip in 2015.
So far InfiniFlash array sales have been low. Apart from the embedded area and memory supply, every other category grew so, by implication, there simply wasn't enough growth.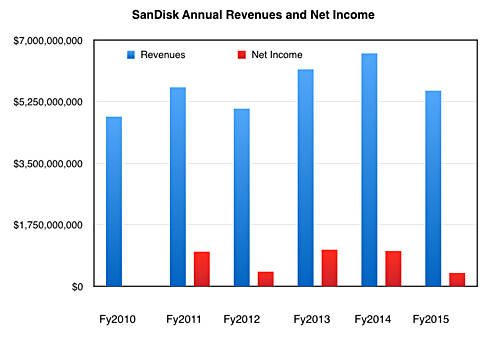 SanDisk annual revenues and net income
Because of its pending acquisition by WD SanDisk did not hold a results conference call, denying us some extra visibility into its affairs. This acquisition should now close in the second 2016 quarter; it had been expected to take place in the third quarter.
SanDisk's market capitalisation is $12.86bn; WD's is $10.51bn. Common sense says big fish eat little fish, yet here WD is the one buying SanDisk. That's presumably because WD can sell to enterprises, via its OEM channels, and SanDisk is finding that hard.
It seems to us that WD, under its HGST-bred leadership, is now thrusting and ambitious, whereas SanDisk lacks confidence and is tentative, needing its confidence boosting.
Looking ahead we're told to expect a denser 12Gbit/s SAS SSD offering using 15nm NAND technology this year. Its Lightning brand products currently use 19nm NAND. Client SSDs using 15nm technology are already shipping.
Mehrotra said: "Our converged platform for future products remains in development for an anticipated 2017 introduction, which aligns with planned usage of our next-generation 3D NAND in enterprise applications."
In the 3D NAND area, in Mehrotra's words, "We shipped initial quantities of retail products manufactured using our 48-layer X3 technology, and also shipped our first OEM customer samples in the fourth quarter … 3D NAND production will ramp across 2016, with the majority of the output expected in the second half of the year."
The outlook for the next quarter was given by CFO Judy Bruner. She said: "We expect our Q1 revenue to be down year-over-year because Q1 2015 still included revenue from the OEM client SSD platform that was phased out during that quarter, and because of current weakness in the smartphone market. Sequentially, we expect typical lower Q1 seasonal demand … [and] forecast our Q1 revenue to be between $1.175bn and $1.250bn." ®