App for homeless says walking on water is the way to reach services
Australian Prime Minister hails app as just the kind of problem-solver the nation needs
---
An app for homeless people hailed by Australian prime minster Malcolm Turnbull as an example of technology done right asks users to walk across several hundred kilometres of water to find services.
Turnbull launched the "AskIzzy" app last week and in his remarks at the event said it "... is doing exactly what successful digital technology should always do – it focuses on the customer or on the user. It asks – it doesn't say, it's not saying, 'What is a cool product we can develop and let's find someone who needs it,' which a lot of companies do, rarely successfully I might say."
Leaving aside for a moment the question of just how many homeless people have smartphones and data plans, Vulture South's been told that AskIzzy offers very poor advice.
A contact of ours, who has asked to remain anonymous because they ended a stint of homelessness during 2015, has provided examples of this.
Our contact tested it on a weekend in Devonport, Tasmania, asking for emergency accommodation. The results weren't encouraging: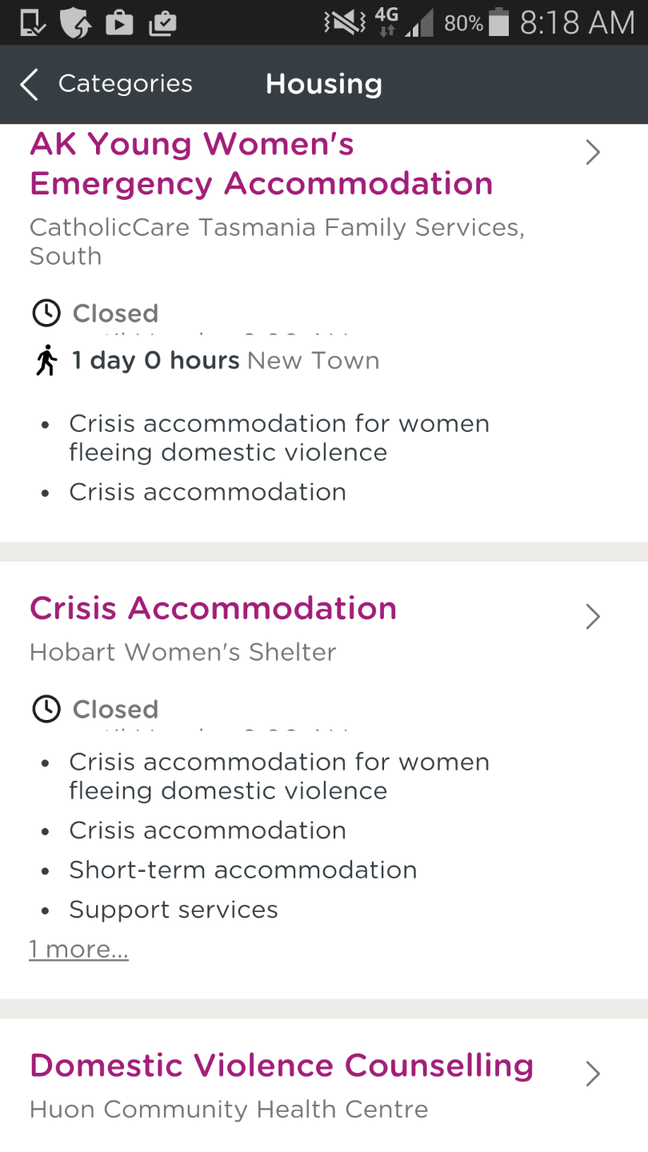 It's a long walk from Devonport to Hobart ...
The fact that crisis services are closed on weekends is (depressingly) unsurprising, but "location awareness" should surely understand constraints such as "a homeless person might not have easy access to transport from Devonport to Hobart".
Here's another example of less-than-useful advice.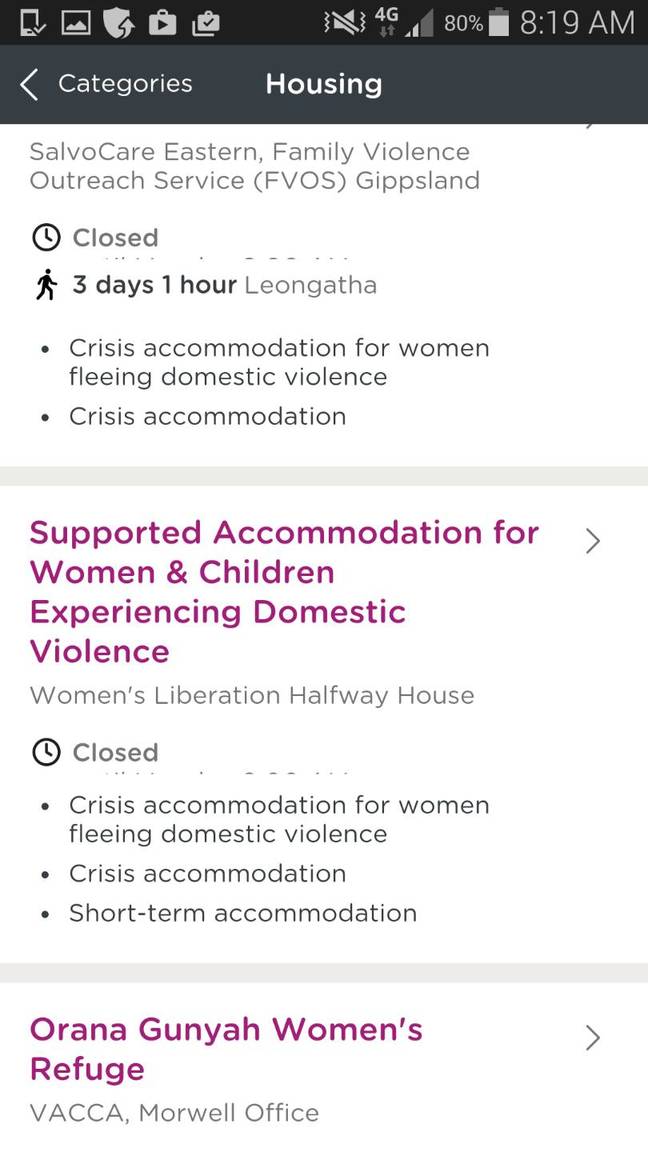 Homeless? Walk on Water? Messiah? The Bass Strait need not get in your way
It's also mystifying that the developers didn't constrain location searches so that users are not told a walk across Bass Strait, a 350km-wide stretch of water infamous for very nasty conditions.
"Food results weren't too bad," our informant noted, but there's still a failure in the location awareness, with the app unable to identify that the user is searching from Devonport: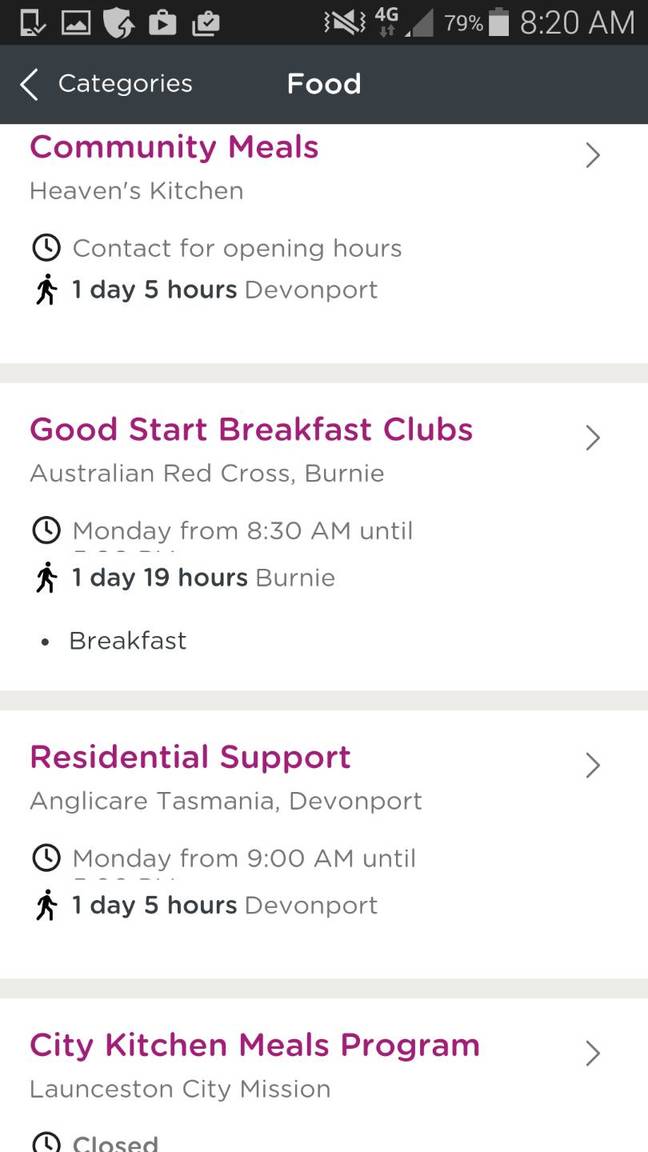 Devonport's a day's walk from ... Devonport
"The walking time estimates are dodgy across the board", they told us.
Searches for toilets and showers that the homeless can access also ran into problems, with our contact directed more than 100 Km away to Launceston.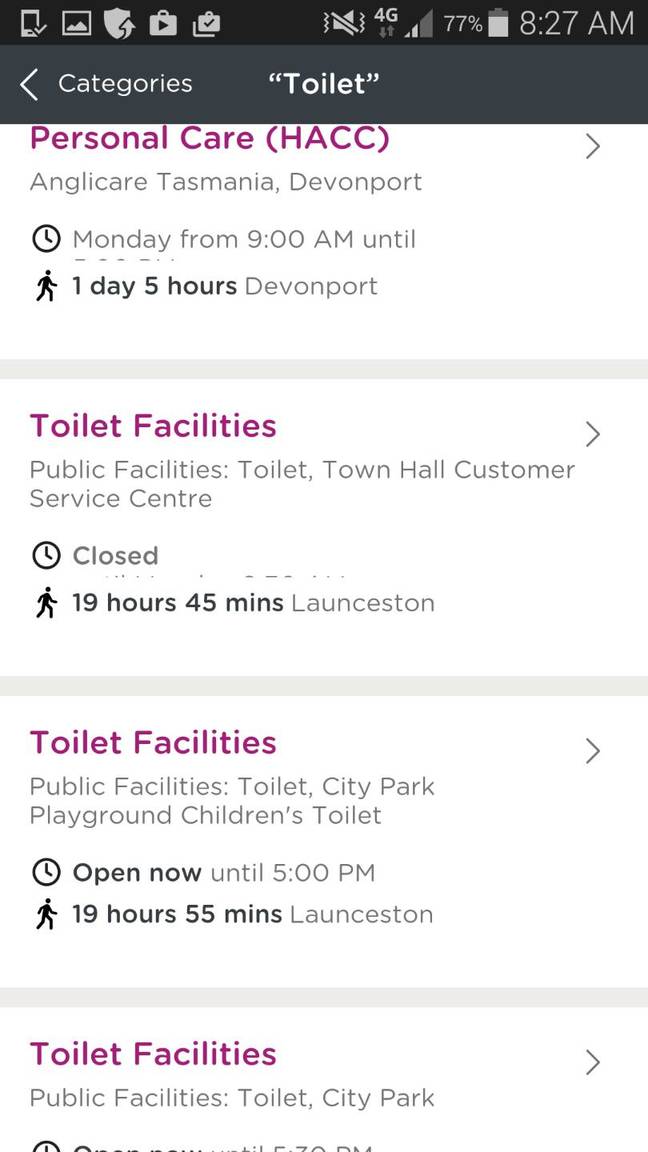 There's no public toilets in Devonport? Say it ain't so
That error's a shocker because one of Australia's earliest online services is the National Toilet Map which shows many facilities within walking distance of the middle of Devonport, and this data is available as an open government data set.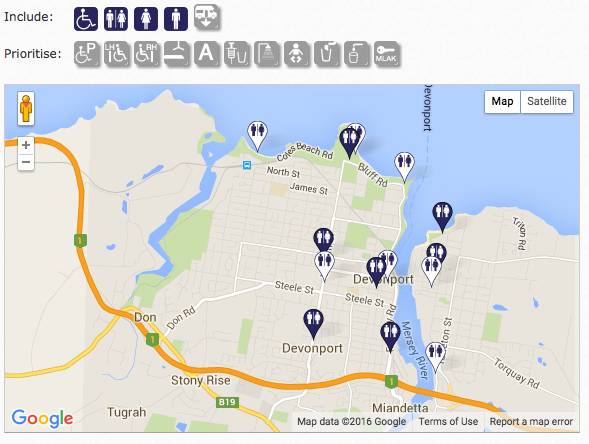 Desperate in Devonport? The National Toilet Map's got you covered
"One last one," our informant noted. "Living in the car, you're forced to stay on the move all the time and fuel becomes a huge expense, so I tried 'fuel' in the keyword search just out of interest. The results were... baffling, to say the least."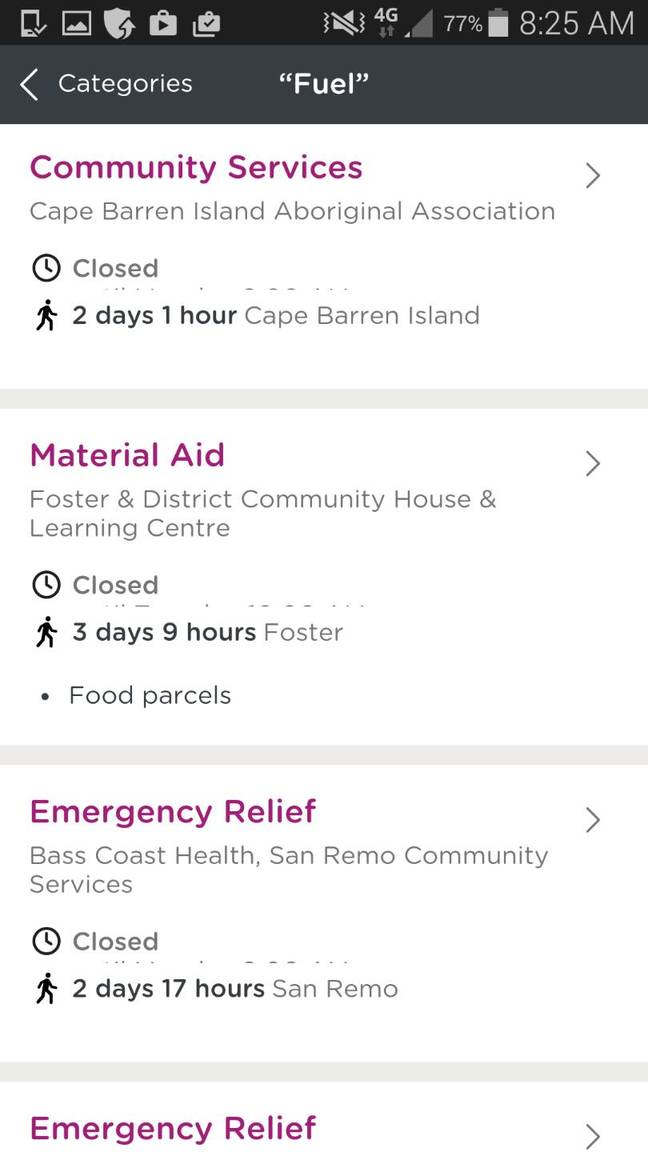 A search for 'fuel' stumped AskIzzie completely
Now for the punchline: the app was the result of a AU$500,000 grant by Google to an outfit called "Infoxchange" that chases a mission of working to "strengthen communities using technology to make positive social change."
The Register has contacted authors InfoExchange for comment.
Turnbull, for what it is worth, concluded his remarks by saying AskIzzay is "an outstanding example of everything successful, progressive, compassionate 21st-century Australia will be; a country that is known for its innovation, for its compassion, for its love and support for those less fortunate, bringing all of those talents together to achieve such a better outcome."
An outcome like expecting the homeless to walk on water to find services. ®