Storage connectivity card and ASIC supplier QLogic had a much better third quarter than expected as interim CEO, also chief financial officer, Jean Hu delivered higher revenues and a profits recovery.
The revenue number was $122.7m, 18.6 per cent more than the previous quarter, and higher than the guidance issued for the quarter, with profits of $23.l4m way up on the $2.2m of the second quarter. A year ago, Q's revenues were $140.2m, meaning a 12.5 per cent fall, with profits of $22.4m, so a 4.7 per cent rise.
The bulk of the revenue came from Advanced Connectivity Platforms (Fibre Channel and Ethernet), representing a $112.5m chunk of the total, compared to $124.7m a year ago.
The fourth quarter outlook is for $113m to $119mn revenues, $116m at the mid-point and thus implying $455.5m revenues for the full year; a 12 per cent decline from last year's $520.2m.
Earnings call
Jean Hu said: "Our Fibre Channel product portfolio benefit from our revenue ramp and share gain from storage connectivity design wins with both traditional OEMs and the faster glowing All-Flash array customers. … our revenue from Ethernet product is showing very good progress with the sequential growth of more than 15 per cent."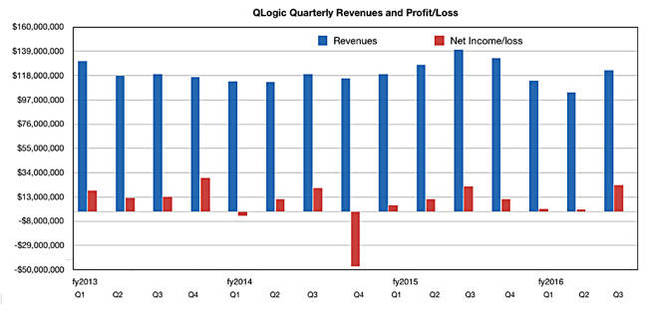 QLogic results to Q3, fy2016. Click chart for larger view
Concerning strategy, she said: "Looking forward, we have a position at QLogic to focus on our core Fibre Channel and Ethernet product portfolio where we are [the] leading technology provider for intelligent and high performance connectivity solutions. We believe we'll continue to benefit from our strong IO portfolio and the leadership position to serve new and growing opportunities in both Enterprise and Cloud data centres."
QLogic had $3m in cash and marketable securities at the end of 2015.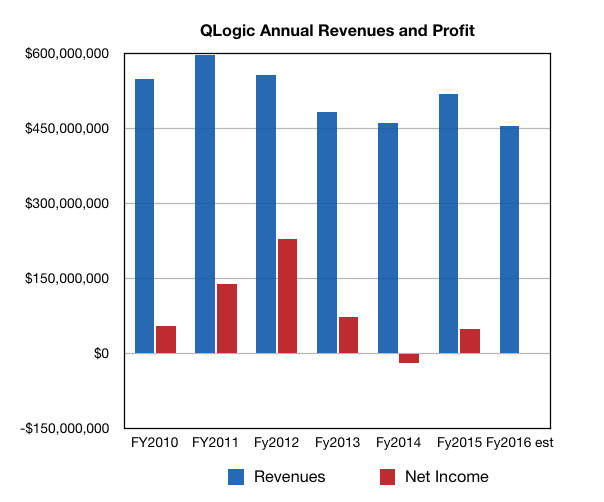 Recent QLogic annual results with Fy2016 revenues being estimated
Discussion
In its fiscal 2011, QLogic had revenues of $597.2m, and it was a high point that has not been matched since. At that time it and Emulex were the Fibre Channel host bus adapter (HBA) kings and SAN storage was riding high, with FCoE (Fibre Channel over Ethernet) the big development. Not so high these days, even though FCoE turned out to be a chimaera.
In the Ethernet space it is not so easy to be differentiated if you are a pair of minnows swimming in a river full of bigger fish and even cheaper commodity fish. As Ethernet-accessed storage rose in popularity, the Emulex-QLogic grip on storage connectivity adapter cards loosened.
Both tried to expand into adjacencies: Emulex into network performance testing with its Endace acquisition, and Qlogic into adding a flash cache onto its HBAs (Mount Rainier project). Both failed. Emulex rolled over under activist investor pressure and was bought by Avago for $660mn in Feb 2015. Avago announced a merger with Broadcom in May 2015, with deal closure planned for March this year.
QLogic changed CEOs with Simon Biddiscombe taking the hit for two years of losses in May 2013. Prasad Rampalli replaced him in February 2014. The firm then suffered from the death of its founder, H K Desai, in June 2014. And then, abruptly, Rampalli was out in August 2015 after a boardroom coup. He had failed to get QLogic back on a growth track.
The thing of it is that classic Fibre Channel-accessed SAN storage has passed its peak, and Ethernet-accessed SAN storage is under threat as well. Server-based SANS, like VSAN, and hyper-converged infrastructure appliances (HCIAs) don't need shared external storage array interconnect cards.
The Big Data/Hadoop scene doesn't want or need Fibre Channel and SANs have been largely excluded from that.
NVMe over fabrics
SANs are being re-invented as all-flash arrays and they perform best when not hindered by either FC or Ethernet network latency. We are entering a SAN world where faster interconnects come to the fore, using NVMe over fabric protocols.
The underlying network hardware could be Ethernet or InfiniBand or something else. Neither Emulex nor QLogic seem to see this coming and neither are in the vanguard of any NVMeF movement. But QLogic has at least demonstrated NVMeF access to a Fibre Channel SAN at Fibre Channel, not NVMeF, speeds.
Traditional Fibre Channel will still have a role, hooking up big capacity-optimised data vault SANs to servers for some time yet, possibly using QLogic's FCNVMe concept. QLogic general manager Roger Klein said: "FCNVMe enables the NVMe storage devices to be shared, polled, and managed more effectively."
"The proof of concept shows the potential of lower latency and increased performance All-Flash storage to operate successfully and efficiently with proven fabric technology. FCNVMe is expected to provide significant end user value with a foundation of investment protection. … we believe this to be a key growth area and a good long-term opportunity for QLogic."
That's the key here: investment protection, not faster access to SANs – a relatively short-term view. And SAN products will, eventually, want NVMeF access to the drives, not "last mile access" over slower Fibre Channel.
Also, if bulk on-premises storage goes to directly-accessed, object-storing, kinetic-style drives in the future then Ethernet will increasingly take over.
QLogic has prospects here, with Hu saying: "We sampled 25, 50, 100-gig Ethernet business last year. We certainly have a sample revenue but a production revenue we're going to start to see the first half of our fiscal '17."
Klein said: "We're excited about the rapidly growing 25 gigabit design sales pipeline opportunities across both Enterprise and Cloud data centres. … we continue to see growth opportunities with our Ethernet solutions. Our differentiated solutions in Ethernet are receiving strong interest from our current customers in the Enterprise and Cloud markets while opening many new opportunities with storage and the telco end customers."
Longer term
However, in our view, QLogic can see, we are sure, its FC business declining over the next few years, and can also see that its Ethernet business is still up against far larger players. So - where next?
As we see it, there are several option.
QLogic stays doing what it's doing, meaning slugging it out in Fibre Channel and Ethernet,
gets funding and buys its way into newer growth businesses, or
looks to be bought.
There was no word in the earnings call on any CEO search progress. So we are in limbo on the longer term strategy front until a new CEO is found, with QLogic focusing on its core FC and Ethernet business, and waiting for its new leader. ®