Boeing's X-Wing 737 makes first flight
British-made winglets debut on new version of world's most popular airliner
Plane-maker Boeing has conducted the first test flight of the 737 MAX, the next version of the world's best-selling passenger airliner.
The new plane offers the usual cocktail of new and lighter materials to keep weight and therefore costs down, along with technologies to keep the plane quiet and therefore less likely to annoy residents near airports. The longer airports can stay open, and the more flights they can pack in, the happier they are. And the less fuel airlines burn, the happier they are.
Boeing reckons the 737 MAX burns between ten and twelve per cent less fuel than its predecessor. The most visible piece of technology behind that improvement is the new "Advanced Technology Winglet", which alone delivers a 1.5 per cent saving.
The new winglets combine elements of several previous winglet designs. Plenty of planes use "raked" wings that sweep back at their tip to increase length without also increasing width. The result is more lift. "Blended" winglets, like those on current 737s, use a wing extension that points upwards. "Wingtip fences" have been an Airbus favourite and extend above and below the wing.
The 737's new winglets, depicted below, also go above and below the wing, but also extend outwards, an arrangement Boeing says means more efficient operation.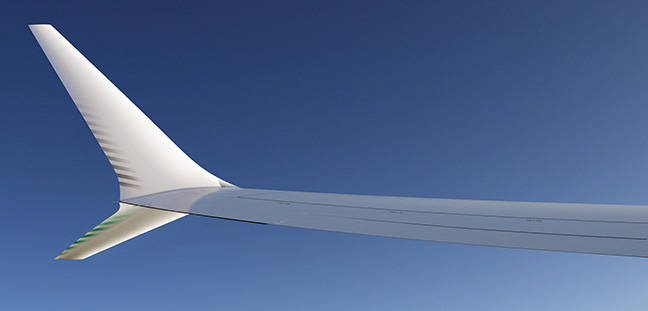 The 737's new Advanced Technology Winglets. What goes up must go down?
Airlines have already ordered more than 3,000 of the 737 MAX range, which is expected to enter service in late 2017 after the usual program of flight testing that pushes the plane to its design limits, , torture tests in extreme heat and cold conditions and the gathering of telemetry galore.
Boeing's last two plane launches haven't gone brilliantly. The 747-8 hasn't been a hit as the company recently reduced manufacturing to just six planes a year. The 787 was beset by battery problems that saw one plane battle an on-board fire at London's Heathrow airport.
This time around the British connection looks happier, as the Advanced Technology Winglets are manufactured by GKN at Cowes facility on the Isle of Wight. Final assembly is done in Washington State. ®