Lights out for Space Vehicle Number 23: UK smacked when US sat threw GPS out of whack
Decommissioning of elderly satellite gave UK biz that syncing feeling
---
An error in the Global Positioning System (GPS) network apparently triggered by the decommissioning of a US satellite last week has had knock-on effect across a number of UK industries, it has emerged.
Many industries are reliant on on GPS software for a swathe of critical applications such as financial trading and precision docking of oil tankers, as well as navigation.
However, last week the US Air Force said that a software error after the decommissioning of its 25-year-old Space Vehicle Number 23 satellite caused a co-ordinated universal time signal error of 13 microseconds. It said global users may have experienced GPS timing issues for several hours.
GPS jamming and interference detection company Chronos said it was receiving reports from industry sources that several other satellites were affected as a consequence.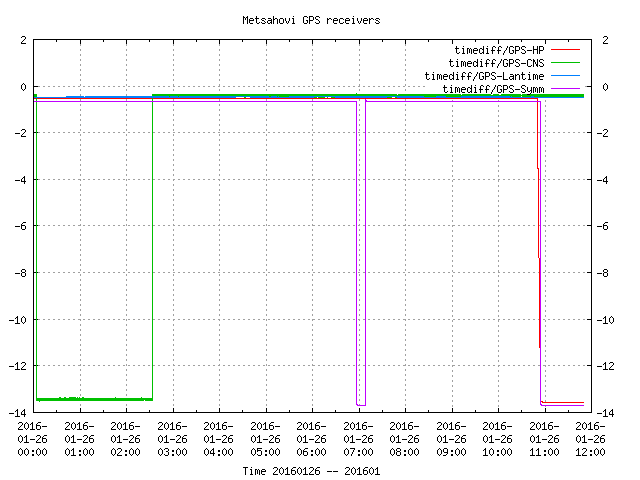 The timing jump was first observed in GPS receivers by Metsähovi Radio Observatory in Finland, where its Hydrogen Maser atomic clock automatic monitoring system measured a discrepancy of 13 microseconds. Pic: Metsähovi Radio Observatory
Over the space of 12 hours after the event, the company said it had worked with a number of large telecoms providers dependent on GPS synchronisation to ensure continuity of service.
According to Chronos most of the errors were concentrated on systems from the UK Midlands down to the South East.
However, Chronos founder Charles Curry said: "This incident will have almost certainly had a broader impact across different sectors who have less resilient back-up."
He said it is aware of some more major impacts to networks and non-telecom applications. "But companies in the financial services sector, for example, aren't going to admit to it having caused any problems."
Because the effects of the GPS error only lasted for half a day, most companies were able to ensure their services remained synchronised through a backup system - most typically an atomic clock.
However, Curry said if the effects of the GPS error had lasted any longer then they would have lost synchronisation, causing mass service outages.
The BBC has confirmed that the decommissioning of the satellite had led to difficulties for listeners receiving digital radio signals. It is thought this is because it did not have an adequate backup system in place.
DAB transmitters must broadcast at exactly the same frequencies and, in order to synchronise, they lock on to GPS satellite signals, it reported.
Chronos said: "This event linked to SVN23 has been one of the most significant service affecting issues for GPS timing users."
Martyn Thomas, a fellow at the Royal Academy of Engineering, agreed that the event ought to be a wake-up call. "This is a warning signal for some of the trouble that could come with so much of our economy dependent on GPS timing - such as financial trading, for example."
He said: "A more effective backup for GPS is desperately needed."
The Register has asked the US Air Force for more information. ®