This article is more than 1 year old
Internet idiots make hoax bomb threats to UK, Aus, French schools
Stolen VoIP and text-to-speech used to cloak Bitcoin operation.
A gang of internet idiots are using voice-over-internet-protocol (VoIP) services to phone-in fake bomb threats to schools across the UK, France, and Australia in exchange for Bitcoins.
The group operating under the scuppered @Ev4cuati0nSquad Twitter account have called in fake bomb threats to dozens of schools in those countries, boasting on the social network about the exploits.
More than a dozen schools and education institutions in the UK have shuttered doors after receiving the threats including six in Birmingham.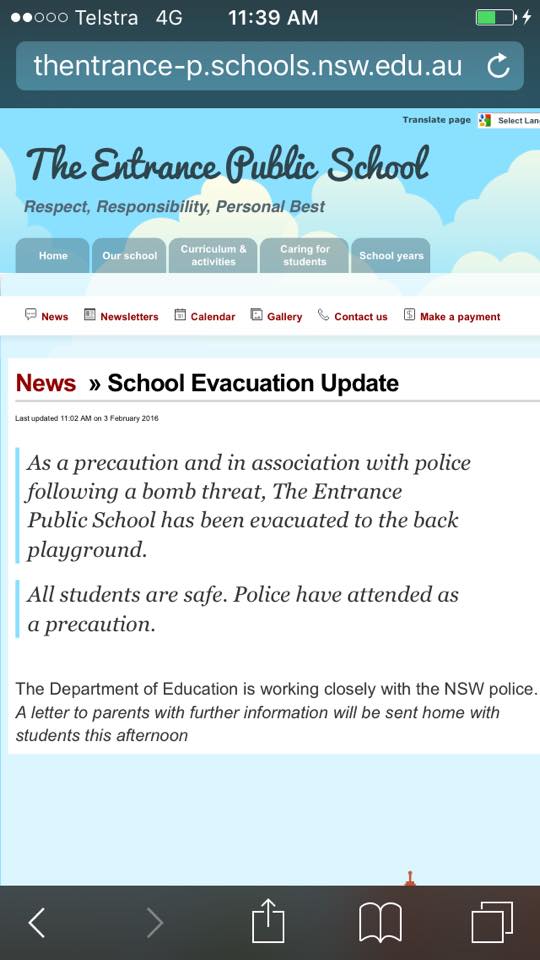 The Entrance Public School.
A further six closed doors in Paris and about a dozen across Australia have received the threats.
The latest likely victim is the Entrance Public School in the Australian state of New South Wales which today closed doors after receiving a bomb threat.
Calls are being made using hacked VoIP credentials and electronic text-to-speech.
The group is conducting the attacks for free and says it will charge from March, asking for five Bitcoins for a bomb threat to a school and up to fifty to target a major sporting event.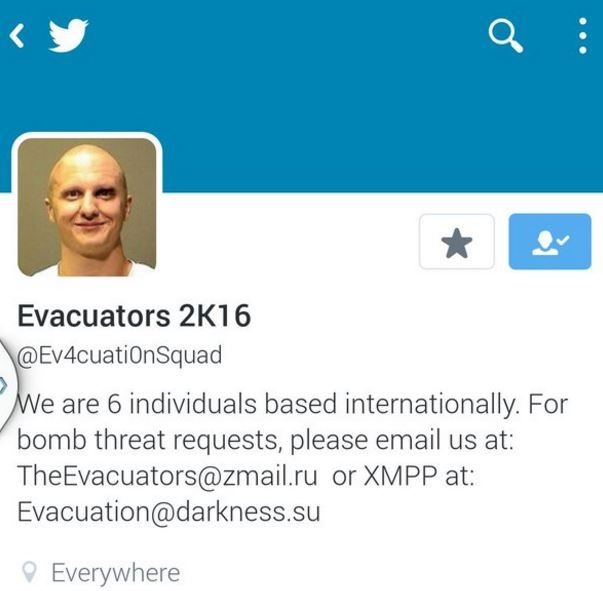 The group's scuppered Twitter page.
The perps have boasted of calling in threats to schools on the island of Guam. A recorded voice message uploaded to Twitter purports to show the message sent to police.
"There are bombs in every high school and middle school in Guam Island. They go off in 30 minutes and are hidden in backpacks and lockers. I am going to shoot survivors with an assault rifle."
It comes as email threats of nerve gas, bomb, and rifle attacks hit the education departments of New York and Los Angeles in December 2015 which resulted in schools shutting and 640,000 children staying home.
The group spruiked its services in script kiddie cant like that below:
Hello, and we are EvacuationSquad. We do what we do for a few reasons: We hate the American government, We hate authority, and we LOVE to cause mayhem.

Until March, 2015, you may send in requests for your school/work/business/etc to be sent a bomb threat. After March 1st, of 2015, we will be accepting Bitcoin only as payment. Prices then will be: $5 For a school $5 For a business/work $10 For a courthouse $10 For entire school district (all schools) $20 For a major convention $20 For sports events $50 For major sports events

Anything not listed will be negotiable. Additionally, you may have a person of your choice framed for an extra $5 in Bitcoin. If you wish to have this done, please send us their contact details and/or social media accounts. Thank you. The best, and most secure, way to contact is with requests is via our XMPP: <redacted> Alternatively, we also have email: <redacted> Peace out. #EvacSquad @Ev4cuati0nSquad
The group says it operates from Russia and will need to hope its operational security is up to scratch as global law enforcement and seasoned independent researchers investigate the group. ®