This article is more than 1 year old
Microsoft buys SwiftKey, Britain's 'stealthiest software startup'
AI whizzes shunned Shoreditch and Tech City ... and asked for real cash
Microsoft has bought the British software company SwiftKey, the company we once described as "the UK's stealthiest startup".
It's best known for its predictive software keyboard, and the deal is worth $250m, the Financial Times reports.
SwiftKey was founded in August 2008 by two Cambridge graduates and was perfectly placed to capitalise on the rise of post-iPhone success of Android. The software keyboard for Android launched in September 2010 (we covered it here).
At SwiftKey's core is a probabilistic language model, that learned as you typed and offered predictions. Natural languages postdoctorate researcher Ben Medlock and physics graduate Jon Reynolds had designed a touchscreen keyboard application that used the probabilistic model to predict which words the user would type next, based on what they typed before in other messages.
The app was a paid download from the very start, shunning the freemium and ad-supported models. This meant the company generated real cash and required comparatively little VC investment. As of today, it has been installed 300m times on smartphones.
SwiftKey also shunned the Silicon Roundabout Tech City bubble, because, as it told us at the time, the rents were too high. It preferred to establish its HQ in then-unfashionable Southwark, where rents were more affordable and it was easier to expand.
Competition from free apps in emerging markets forced a rethink in 2014, and SwiftKey became a free download in 2014, making some money on the margin with paid themes. SwiftKey appeared on iOS for the first time the same year. The company also licenses the keyboard and prediction technology to clients including Samsung and Blackberry. Despite a fall in revenue to £8.4m in 2014, the firm employs around 150 staff worldwide.
The technology also powers Stephen Hawking's wheelchair.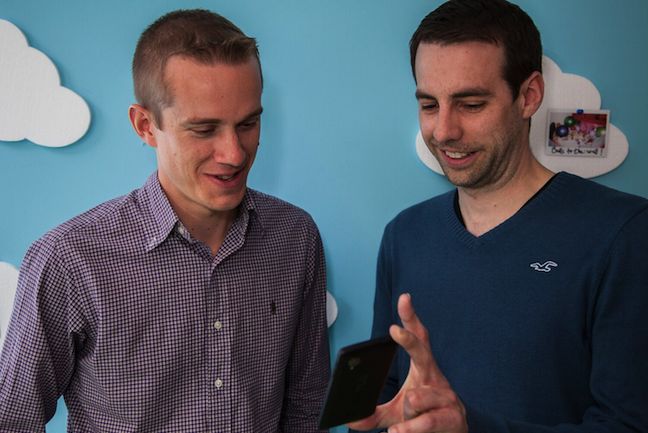 SwiftKey founders Jon Reynolds and Ben Medlock
Microsoft has its own language research and an excellent keyboard of its own for Windows Phone, which will formally launch as an iOS keyboard app soon. So why buy it? Microsoft sees Cortana and AI language processing as a key strategic asset, and the FT reports many staff are expected to join Microsoft Research.
It's a welcome change for Microsoft's M&A team, which has now spent an estimated $700m snapping up small iOS and Android developers – and finding themselves with the second or best options on the market. For example, Microsoft either couldn't, or wouldn't get a deal for the Outlook client Nine for Android, and faced a backlash after foisting the Accompli-derived option on users.
By contrast, SwiftKey is world class. ®