This article is more than 1 year old
Druva shows us its DRaaS and it's full of BADness
It's less risky if you do it their way, they say
Druva is adding Disaster Recovery (DR) functionality to Phoenix, its converged cloud-based data protection system for enterprises.
Phoenix provides backup and archival of both physical and virtual server environments direct to the (AWS) cloud. It can now provide backup, archive and DR all at once.
A differential backup is made of a VM. This is converted to an AMI (Amazon Machine Image), and the AMI updated in customer AWS accounts across multiple regions, with failover settings updated. Incremental backups create only incremental AMIs and the Recovery Point time objective (RPTO) is 30 minutes.
Druva provides global deduplication and claims up to 1:100 storage reduction over three years compared to legacy products and methods. This saves on network bandwidth and AWS costs.
Customers can continuously back up their VMware environments, and automatically recover and spin up their virtual machines (VMs) in the AWS public cloud if and when disaster strikes. There is no need for additional dedicated on-premises software, storage or hardware, or ditto in a remote site, which lowers costs.
It says that, since only a single copy of data is stored, the risk and cost associated with maintaining multiple copies is eliminated.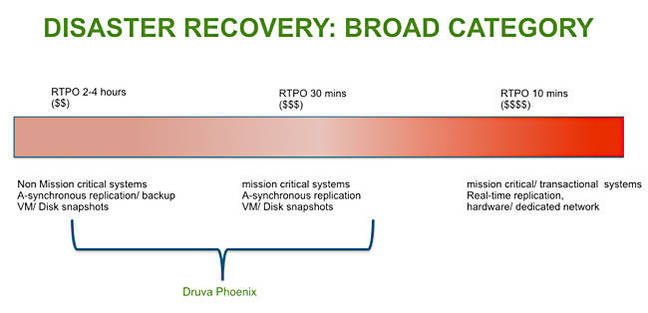 Phoenix is not for all DR use cases.
Druva Phoenix provides the setup of detailed polices to automate network and security failover to a DR environment, which can reduce downtime. Sysadmins can also automatically spin up multiple VM copies across geographies and accounts for test and dev automation.
Since Druva also supports Microsoft's Azure cloud we might expect Phoenix to be able to raise VM ashes from the Azure cloud in the future
Phoenix integrated disaster recovery is currently in limited availability with GA in 60 days at additional charge to the existing backup and archival. Find out more here. ®
Bootnote
BAD - Backup, Archive and DR.