Data warehouser and analyzer Teradata is suffering still. It's made a full-year loss as fourth-quarter 2015 revenues continued a multi-quarter tumble.
Sales were $719m, down 6 percent year-on-year, and full year revenues of $2.53bn were down 7 per cent year-on-year.
The fourth quarter net income was a profit of $41m, 65.3 per cent lower than the year-ago $118m and also 47.4 per cent lower than the third 2015 quarter, despite that quarter's revenues of $606m being 18.6 per cent lower than the fourth quarter number. This profit did not meet Wall Street expectations, marginally, but the quarter's revenues exceeded these folks' expectations.
Full 2015 year net income was a loss of -$125m, compared to the previous year's $367m profit, and reflecting the second 2015 quarter loss of $1,265m due to a goodwill impairment.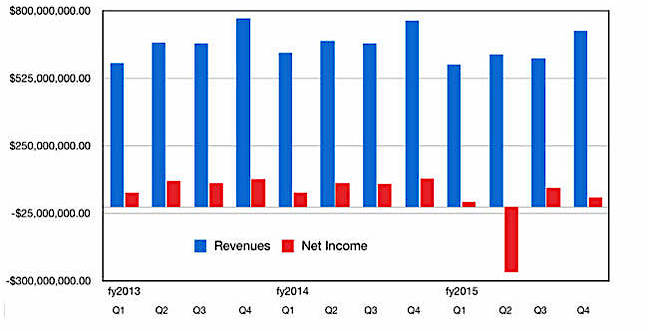 Teradata revenue growth has stopped
What happened was that its Marketing Applications unit didn't deliver the goods. In fact, it experienced an approximate $45m operating loss in 2015.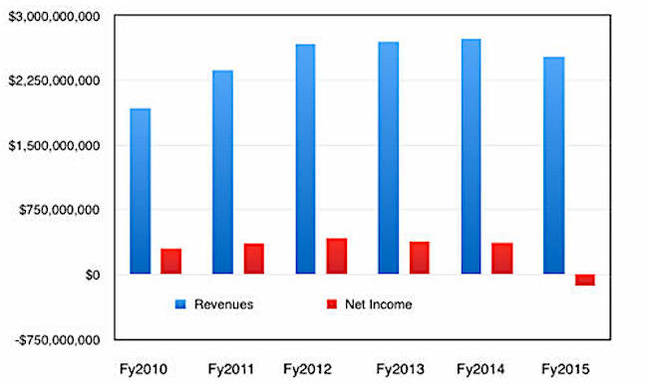 Third-quarter revenues were poor and Teradata decided to exit its Marketing Applications business with some restructuring. Co-president for data and analytics Hermann Wimmer was axed in December last year.
Oddly Bob Fair, a long-time Teradata exec and the boss of the failed Marketing Applications unit, was kept on and promoted to chief operating officer. Teradata says he "leads Teradata Marketing Applications and the corporate functions of marketing, IT services and operations. He is responsible for advancing Teradata's Integrated Marketing Cloud portfolio, which includes industry-leading solutions in Marketing Resource Management, Campaign Management and Digital Marketing, and he is leading the divestiture of this business."
Perhaps he was kept on to sell it off.
Teradata's software is going to be made available in Amazon's cloud this year.
President and CEO Mike Koehler put out a bland canned quote: "I am pleased that Teradata's fourth quarter results were in line with expectations and that we are making solid progress on our transformation plan for Teradata's successful future."
"We have developed a comprehensive transformation blueprint and are on the path to return the company to meaningful and sustainable revenue growth ... Our transformation plan ... will advance our leadership and expand our market opportunity."
Teradata expects to exit the majority of its Marketing Applications business around the end of the first quarter of 2016. Not all, note; only the majority. It should all be gone, sold off, by the end of 2016.
The outlook for the full 2016 year is $2.315bn – $2.360bn, or down 7 – 8 per cent from 2015.
Teradata is suffering from competition, the cloud and new style Big Data analytics, which collectively makes its kit seem expensive and dated. Although it's moved into Big Data analytics, that market is not taking off fast enough and the Internet of Things data analytics boom is still nascent. Companies like HDS are entering the analytics market and increasing the competitive pressure.
Koehler is Teradata's first CEO, having led its spin-out from NCR back in 2007. He joined NCR straight from college in 1975. He's a long-term data warehousing guy and, after this mis-step, will be hoping to get Teradata back on track. ®
Similar topics