Xitore slings 4 million IOPS box under its arm, strides out into the light
Hey buddy VCs, gotta dime? A-round open for donations
---
Flash DIMM startup Xitore is exiting stealth before it has raised a dime and is looking for funding.
The company was started up in March 2014 by CEO Mike Amidi and CTO Hossein Hashemi. Amidi has worked at STEC, SMART, Netlist, and WD, where he was director of the program management office in the Solid State Storage BU.
At Netlist he was a product development director, and held a similar role at SMART Modular Technologies before that. Back in the late nineties he work at SSD supplier STEC in various engineering roles. He has 62 published patents and 8 currently pending ones.
Hashemi, a Fibre Channel guy, has Unisys (HW design engineer) and Emulex (consultant engineer) in his CV history but has already left Xitore, departing in February 2015, and is a hardware technical leader at Cisco, overseeing storage products qualification.
What about the other execs?
Xitore's chief strategy officer is Frankie Roohparvar, who joined from HGST, being acquired by that company when it bought Skyera. Before Skyera he was the General Manager and Vice President of the NAND business unit at Micron Technology.
Xitore's engineering VP is Vahab Alemzadeh with stints at Intel, STEC, WD, Cisco and Mentor Graphics in his employment history.
Kevin Vakilian is VP of operations and runs the program management office, joining from work at Viking Components (a Sanmina company), IC Solution, STEC (A Western Digital Company), Celerity Group, PowerWave Technologies, and QLogic.
So we have a bunch of experienced flash guys and they are working on an NVM-X product. This thing they are developing is said to deliver four million IOPS and have a constant sub-two microsecond latency. It has 1, 2 and 4TB capacity points, a 25.6 GB/sec bandwidth, and "unmatched endurance," putting it in the near-DRAM access class along with Flash DIMMs from Diablo Technologies and 3D Xpoint from Intel and Micron.

Xitore NVM-X performance numbers
The NVM-X sits on the memory bus and contains its own controller, meaning there is no need for a separate interface controller, interface bridges and hubs. The solid state system, Xitore says, resides on a DIMM memory slot and is directly connected to the host system's memory controller.
It appears as a DRAM DIMM to the host's northbridge and CPU.
Xitore – the name means storage in a box – puts its tech in the storage memory area, and says its intellectual property is focussed on the design of the NVM-X controller, the firmware and device driver.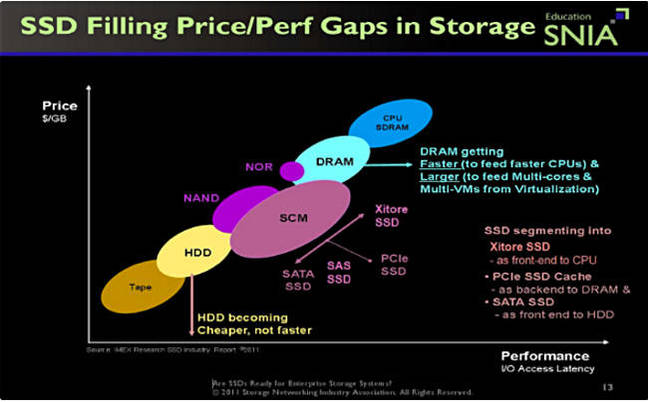 Xitore memory-storage hierarchy positioning
The NVM-X has a localised cache architecture and customised high-bandwidth, low-latency buffers. All writes to go straight to its DRAM cache and thus cache is managed during the DRAM's refresh cycles, with Xitore saying it is "guaranteed not to be overrun by the host system."
Our understanding is that Xitore is competing at a flash DIMM level with Diablo Technologies and Netlist-Samsung.
That means it's probably looking at becoming an OEM supplier to server system and board manufacturers.
Xitore is based in Mission Viejo and if you fancy funding its development, getting in at the A-round level, email investment@xitore.com. ®