Asigra becomes an Oracle reseller
5,000 customers before this move. How many after?
Backup software supplier Asigra is shipping its software with Oracle's ZFS Storage Appliance hardware.
The software is Asigra's Cloud Backup, which is agentless and multi-tenant. It's also NIST FIPS 140-2 certified.
The ZFS appliance hardware had notched up a billion dollars-worth of sales by October last year. Some 15,000 systems have been bought by 5,000-plus customers; not bad, not bad at all.
Asigra's pitch is that the ZFS SA ZS3-2 box is well-suited to managed service providers who have clients needing more than 100TB of capacity, being lower cost and faster than alternate products. So cloud storage providers can offer an Asigra backup to the cloud service with the ZFS box as the target system.
It's got a CSP customer putting out a canned quote about how good this is. Reid Warrick, CTO for Armada Cloud, says: "With Oracle ZFS Storage ZS3-2 system deployed, Asigra's Cloud Backup application performance increased eight times compared to what we experienced with our previous hardware platform. We also realized very high uptime availability and scalability up to one petabyte with a single system, while reducing overall storage costs by more than 30 per cent."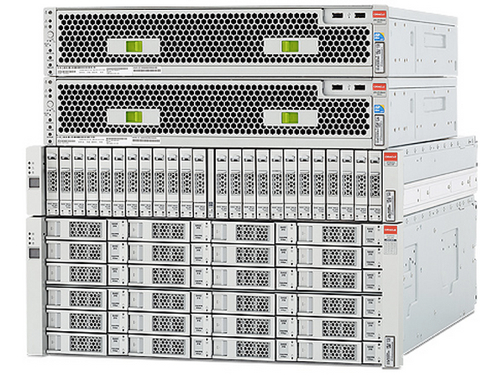 Oracle ZFS F3-2 Storage Appliance
You can see he'd be pleased. Another customer says the ZS3-2 is easy to migrate to.
Asigra is now, in effect an Oracle reseller. CEO David Farajun says CSPs should like thus because the joint Asigra-Oracle system engineers out "the complications of integration, troubleshooting, fixes, patches, installation, monitoring, maintenance and the requirements for skilled IT staff."
The kit is available now from Asigra. ®