This article is more than 1 year old
That's cute, Germany – China shows the world how fusion is done
Heats hydrogen more than three times hotter than the sun
Days after the German chancellor triggered the creation of hydrogen plasma for less than a second, China has announced that one of its fusion reactors has broken the record for plasma creation.
On Friday the Chinese Academy of Sciences announced that its boffins had created the 98-second plasma burn in its Experimental Advanced Superconducting Tokamak (EAST) at Hefei, capital city of east China's Anhui Province.
During the experiment, sensors recorded the plasma's temperature at 50 million degrees Celsius (90 million degrees Fahrenheit). That's more than three times as hot as the core of the sun, which NASA estimates is a toasty 15 million degrees Celsius (27 million degrees Fahrenheit).
The Chinese experiment is a major step forward in fusion research, but the Middle Kingdom magicians have much bigger plans. They hope the EAST instrument will eventually be able to sustain plasma for 1,000 seconds at twice the current temperature.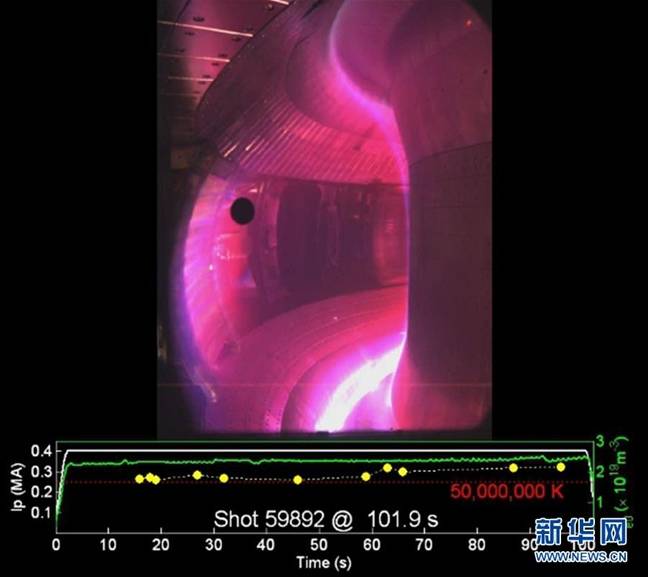 Hot stuff
It's hoped the Chinese experiment will be valuable help in building the much-delayed International Thermonuclear Experimental Reactor in France. China is a major contributor to the project, which has so far cost over $14bn and is six years behind schedule.
China has expressed irritation at the slow pace of the international project and is conducting its own research in parallel. Unless the international team pulls its socks up, China might well have usable fusion power before the rest of the world. ®