Bridgeworks says it can make communicating with offsite tape libraries vastly faster than physically shipping tapes, and vastly cheaper if you are using a remote Fibre Channel SAN or site-to-site replication before transmitting data to the tape library.
The basic pitch is: "Don't do this. Send your data direct to a SCSI tape library interface across the WAN and let our WANrockIT WAN-accelerating software work its magic."
There have been lots of so-called silver bullet problem-solving remedies in the past that don't work out. Why should this be any different?
Bridgeworks says many customers still have tapes shipped to remote sites as a way if getting data there, because site-to-site networking us too costly and/or slow. Its WANrockIT product works by combating network latency, it says: "WANrockIT can accelerate data transfer rates by a factor of more than 200 – enabling even very large transfers to be completed within a realistic backup window."
It can convert between transfer protocols on-the-fly, so customers can use low-cost SAS tape drives at their DR site, while retaining a Fibre Channel or iSCSI SAN at their primary site.
WANrockIT takes a single physical WAN connection and overlays virtual connections on top if it. Data to be transferred is split into chunks, with chunks sent out across these virtual connections in parallel. Any lost packets needing re-transmission only hold up the virtual connection for that packet and don't hold up the whole transmission.
Also, any time spent waiting for packet transmission acknowledgements (latency) is restricted to the virtual connection affected and not the whole set of virtual connections.
Bridgeworks ran a test to see how its technology worked: "The test infrastructures mimicked a real-world architecture, using a WANulator to simulate different levels of WAN latency between a host server and a tape drive" with Veritas NetBackup used to manage the replication of data to the remote tape.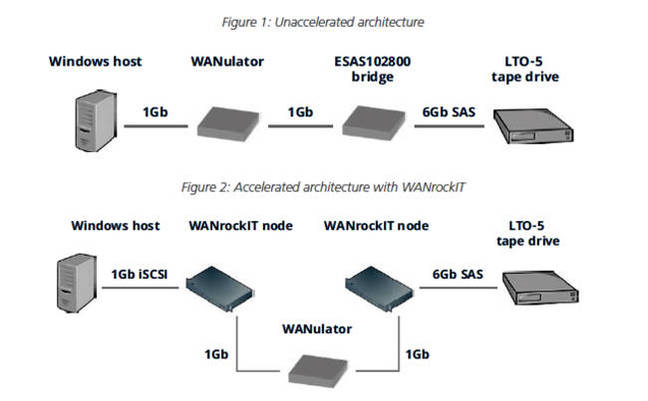 Bridgeworks WANrockIT test configurations
It set up the test for repeated runs at different round trip times to come up with reliance numbers for the raw transmission and then the same transmission/round trip time combination with WANrockIT interposed at either end of the site-to-site link:

Here's a chart of these numbers to make the raw and accelerated performance difference more visible;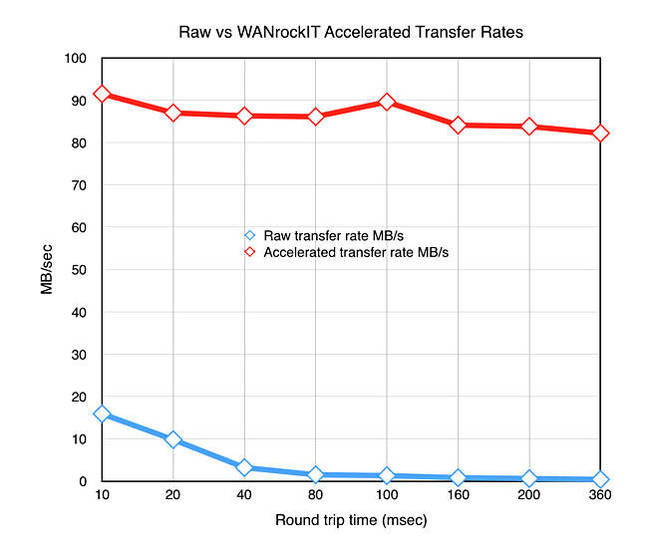 Bridgeworks says: "While a slight downward trend can be observed in the graph, the decrease in performance between 10ms and 360ms of latency is less than 10MB/sec, and in all cases, the transfer rate remains above 80MB/sec."
What does this mean in terms of transmission time?
Its testing found that it took 62 secs to transfer 1GB of data over the raw WAN with 10ms of round trip latency but only 11.6 secs with WANrockIT. We're told 40ms of latency is approximately half way across the USA. Transmitting 1GB through an unaccelerated link with that latency took 5 mins 20 secs. WANrockIT accelerated it to 11.8 secs.
When the round trip latency was increased to 360ms, simulating a longer WAN distance, the raw transmission time for 1GB was 42.6 mins while with WANrockIT it decreased to 12 seconds.
Bridgeworks says this "performance makes off-site tape replication into a realistic and attractive proposition for organisations of all sizes," and that would certainly seem to be true.
So, remote tape library and drive users, say goodbye to Fedex and UPS and get networked; it won't cost the earth or blow your backup window to shreds. ®