This article is more than 1 year old
LOHAN entertains the crowd at Oz Linux shindig
Andrew Tridgell serves up choppers, quadplanes and rocket-powered tomfoolery
Our Low Orbit Helium Assisted Navigator (LOHAN) mission took to the stage at the linux.conf.au 2016 in Geelong last Friday, as Linux guru and Vulture 2 spaceplane autopilot wrangler Andrew Tridgell gave an entertaining speech on his currently UAV endeavours.
Tridge kicked off his presentation (video here) with a look at the two vehicles he and CanberraUAV are prepping for the 2016 UAV Challenge - a petrol-driven chopper and a VTOL quadplane.
This year's UAV Challenge requires competitors to fly a "Medical Express" mission to collect a blood sample from a remote outback location and return it to base - all within one hour.
CanberraUAV won the 2014 Challenge, when the team's aircraft successfully dropped a water bottle within 100m of a dummy representing an injured Aussie, so we reckon they've got to be in with a shout of triumphing this year.
That's assuming they can keep their aircraft away from the local plant life. Apparently they've already pranged one test chopper in a tree, having evidently not used Tridge's own autopilot arboreal avoidance algorithm, the "Pixhawk Avoidance of Nearby Tree System", aka "PANTS".
There's more on that crash in the video, which concludes with Tridge casting an eye over LOHAN, and giving a well-deserved pat on the back our US allies at Edge Research Laboratory, they of the PRATCHETT avionics test flight last year.
As LOHAN regulars will know, the chaps and chapesses at Edge have also been doing magnificent (and ongoing) work persuading the FAA to let us unleash the Vulture 2 over the Pond.
Tridge was hoping to bring the Geelong crowd some vid of LOHAN soaring magnificently through US skies, but since we still haven't got the final word from the FAA, he offered instead this fetching Linux-flavoured comment on the administration's inertia, courtesy of our own Fenke Fros: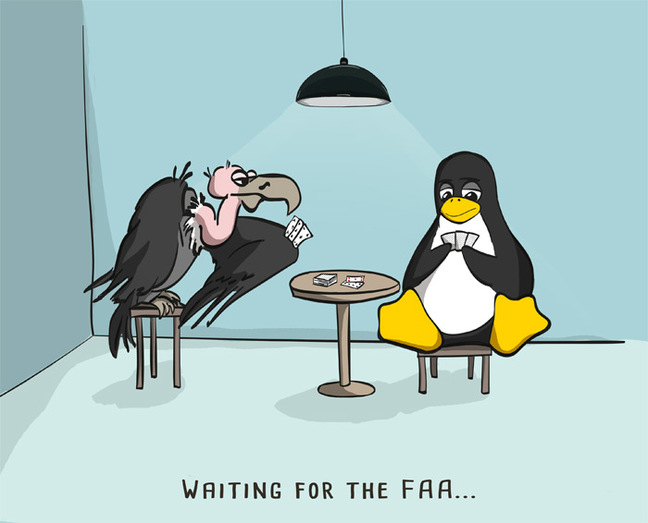 ®
---
---
More from the lovely LOHAN: