This article is more than 1 year old
Dell PowerEdge R730: Reg rack monkeys crack smiles over kindness of engineers
Steady on: Nothing shocking, but it's good kit nonetheless
Review Dell is a company with many arms: it does servers, laptops, desktops and like its competitors, tries to have those arms positioned in as many different areas of IT as possible. The server arm has extended us a Poweredge R730 2U server to review and it has served as a good reminder of why Dell servers are so popular.
The Poweredge R730 is one of the newer Poweredge servers, succeeding the Sandy Bridge-based R720 with a pair of Haswell-based Xeon E5-2690v3 12-core 2.6GHz processors. It has 24 DDR4 DIMM slots that can handle up to 768GB of RAM. The test unit only came with 64GB DDR4-2133, but that's more than enough for our tests. Our R730 server came with two 1TB 7200RPM Constellation 2 drives, stationed inside the two mostly metal drive caddies that came with the server.

The Dell R730, now with QR codes!
It has eight hot-swap bays on the front of the chassis (and can be expanded up to 16). Having worked with flimsy, delicate drive caddies extensively in the past and having them be a complete nuisance Dell's craftsmanship certainly impresses on the little details like this.
The only plastic bits are the black latching mechanism and the transparent status indicator conduits. These are drive caddies that will sustain years of service, something that may mean little to some, but to folks like us who have done our time as rack monkeys it certainly is appreciated.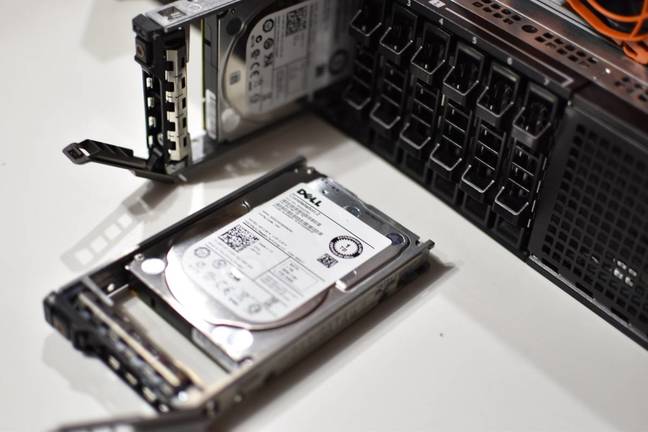 Drive trays that don't suck!
The box also contains all of the hardware you'll need to rackmount the 2U server. Again, Dell is speaking our language here with thoughtful engineering at every level. Shown below is the hardware included with our R730 - from top to bottom is a cable management arm and the rackmount rail kit, all of which clips together without the need of nuts, bolts and a socket set.
The rail kit alone has probably added years to our lives in terms of frustration avoided. We're all too familiar with losing nuts and bolts under the rack). The cable management arm in particular is certainly a welcome addition to any data center.
For cooling, Dell has put 6 fans across the chassis to push air through the system, which is mostly covered by plastic ducts to concentrate the pressure on the components as much as possible. The fans clip into slots and could not be more painless to swap, as can be said for nearly every component in the chassis.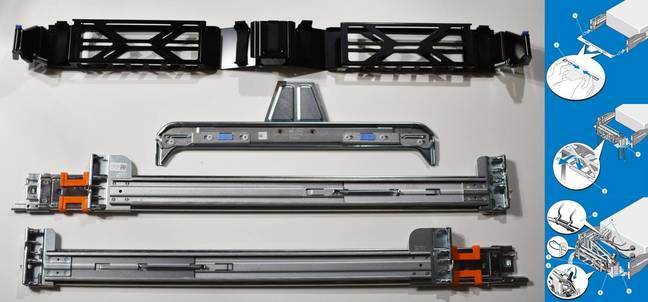 Dell railkits are sexy railkits
Every physical aspect of this system has been thought through to make working inside it as easy as possible. It's even aesthetically pleasing to hardware nerds like us; things are colour coded and easily labelled. Josh's first reaction after opening it up was "this is a work of art"; it's a stark contrast to the strictly pragmatic designs we're used to dealing with.
The Poweredge R730 supports up to two redundant PSUs, uses the integrated Dell Remote Access Controller (iDRAC) for management (left-most RJ45 port), and the four network ports can be configured to be either 4x 1GbE, 2x 1GbE + 2x 10GbE, or 4x 10GbE via plug-in daughter board (we received the 1GbE board). There's also room for up to four PCI-E cards with the riser cards inside the chassis, or up to two 300W dual-width GPUs to accelerate VDI.
For this iteration of the R730, Dell has removed support for nVME PCI-E SSDs. If you need that level of performance out of the storage, you'll have to go with Dell's Poweredge R730XD. Dell has separated the all-purpose and the storage-optimized chassis into two different SKUs.
The R730 will run you about $2600 USD with a basic hardware configuration (single Xeon E5-2603 v3 1.6GhZ, 4GB, 1TB 7200RPM disk and the chassis) compared to about $3300 USD for the R730XD with the same hardware inside. Dell markets the R730XD as a system that "delivers the performance necessary for your Sharepoint, Lync, Exchange and consolidated collaboration environments" whereas the R730 is marketed more as a general purpose server for business-critical applications and/or VDI.
Dell's iDRAC is probably the R730's key selling point. Dedicated management ports and interfaces are nothing special in and of themselves, but where Dell goes above and beyond is in how easy theirs is to use. Where there's a question, there's an answer too: Dell's support content archives around iDRAC and anything else pertaining to the R730 answered all our questions without much poking around.
Setup is quick and painless in the BIOS (and that's not the only way to skin that cat), and iDRAC is designed to work on both your PC and smartphone via Dell's OpenManage Mobile app. The Poweredge's bezel contains a Quick Sync feature that allows you to easily get management access via NFC, so you don't have to haul out a keyboard and display in the data center unless things truly go awry.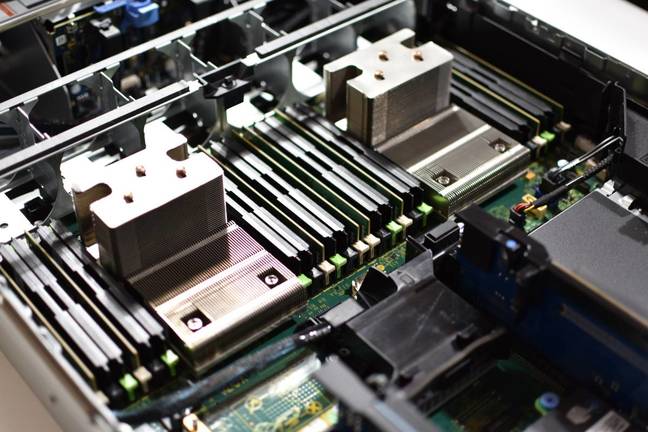 And now for a closeup
Once you've got iDRAC set up and configured, you have complete control over the R730. We had to disable the Smart Card in order to get in, as well as set up an administrator username and password alongside the network configuration. The Smart Card is a security feature that requires you insert it into the system and then input its PIN to gain access. We simply navigated to the iDRAC IP address and after poking some out of date certs were good to go.
The overview page gives you access to the Java-based virtual console, and from here you can do everything you'd expect from a traditional management interface such as power the system on or off, see some basic server information and a log of events. iDRAC can also give you a look at every aspect of the components in the R730 - from system temperatures to storage and CPU performance.
The Android client has all of the same bells and whistles in the event you're not near a full terminal. It requires the turning of a few extra knobs (installing all of the requisite apps - the virtual console requires VNC for example) but you'll be left with all of the same features and abilities you'd have if you were sitting at your desk.
In truth, we have to dig deep pretty deep to find anything to complain about – Dell could eliminate or automate some of the configuration and setup steps, but most administrators will want to put their network and domain information in by hand anyway. The Android client introduces a few extra steps to get at various pages and information, but this is to be expected when working with a smartphone interface.

We can't end this without a good shot from the rear
For tests, we were mostly interested in power usage. We knew we weren't going to give it a proper run for its money with traditional workload testing like IOMeter, considering our unit shipped with a pair of 7200RPM drives and we couldn't add in SSDs as the other drive caddies were placeholder dummy caddies.
At idle, the R730 uses about 150W of energy and runs at 25˚-30˚C, which is to be expected with two Haswell Xeons inside. With the CPUs maxed to 100%, temperatures rose to just over 30C at the exhaust and 42˚-47˚C on the CPU while using about 370W of energy. It stayed around this benchmark for the duration of the test and it's worth noting these tests took place in our 20˚-24˚C office, not a cooled data center with proper HVAC.
In short, the R730 is a solid evolution of Dell's server lineup. It continues the easy maintenance tradition that Dell has become known for and introduces some easy-to-use upgrades to the iDRAC. It is a solid server and a worthy successor to the R720. Let's hope the next generation continues the tradition. ®