Violin Memory has two flash array starter bundles to give enterprises "an easy and affordable way" into all-flash array performance.
Both are based on the high-end FSP 7700 all-flash array, which can provide, Violin says, two million IOPS. The Scalable Starter Kit has:
Two Violin FSP 7700 Modular Scalable Array Controllers
Two switches
Two all-flash arrays with 70TB raw capacity (35TB per shelf)
Violin Concerto OS 7 and Symphony Management Software
Violin says the Concerto OS 7 delivers enterprise data services and management simplicity for primary storage applications.
As needs grow extra Violin arrays can be seamlessly added, as storage shelves, to a maximum of 1.4 petabytes raw capacity.
The Stretch Cluster Starter Kit spans two sites in a metropolitan area, and provides automated disaster recovery for applications, business data, and services running on it if a disaster should happen. It uses synchronous mirroring of all selected LUNs across the geographically dispersed locations with support for zero Recovery Point Objective (RPO) and Recovery Time Objective (RTO).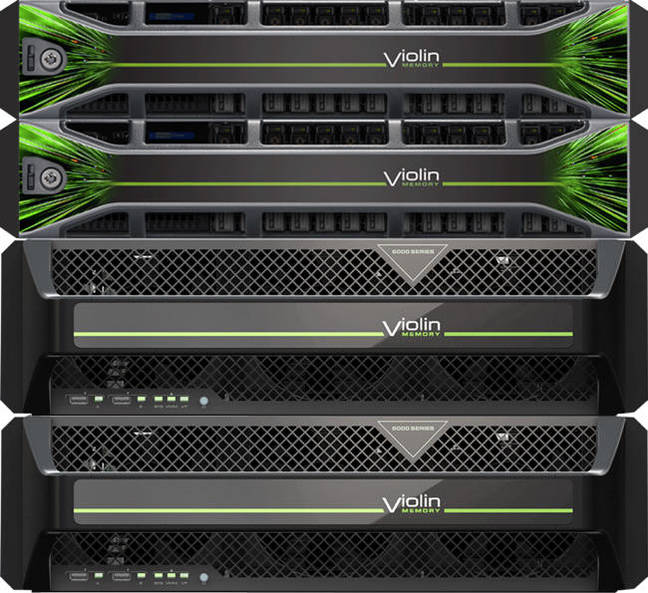 FSP 7700 with 6000 product shelves
The kit contents are:
Two Violin FSP 7700 Modular Scalable Array Controllers
Four switches
Two all-flash arrays with 70TB raw capacity (35TB per site)
Violin Concerto OS 7 and Symphony Management Software
Stretch Cluster License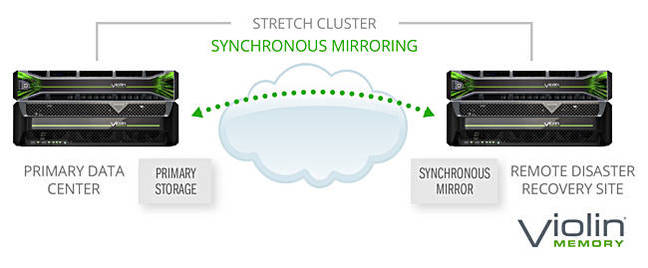 Scalable Starter Kit users can extend into stretch cluster configurations as well. No pricing information was provided. ®