Andreessen stokes the Facebook Free Basics 'colonialism' row
Don't you DARE call us paternalistic. We've got people to NANNY
Venture capitalist and Facebook board member Marc Andreessen has stoked the growing row about banning a free data service that gets impoverished rural Indians online.
On Monday, India's telecomms regulator TRAI effectively outlawed the Facebook Free Basics service, which offers a basic data service to rural communities in over 30 countries, arguing it was their own good.
Free Basics offers a few Ceefax-like pages of information to communities that have previously had no data access at all.
Yet in recent months it has become the target of Western activists seeking to prohibit any free data services, which they consider fails their politically-correct definition of 'net neutrality'.
Excellent that people who have access to the internet have successfully decided what's good for the people who don't have it. #NetNeutrality

— Ramesh Srivats (@rameshsrivats) February 8, 2016
Leap of net neutrality from "carriers shall not charge some content more" to "poor people shall not get free partial Internet" = astounding.

— Marc Andreessen (@pmarca) February 10, 2016
Good reasons to cheer TRAI's stand on Net Neutrality, but it's morally indefensible to celebrate a ban on free internet for the poor.

— Manu Joseph (@manujosephsan) February 8, 2016
TRAI agreed, suggesting, rather patronisingly, that "consumers may not be in a position to understand the information being presented to them" (pdf, par.21) and fretting about the impact of Free Basics on paid services (23), fearing the latter might lose customers to the Ceefax-a-like.
Paternalistic, undoubtedly, but colonialist?
"They argue that it's better for the Internet if India's impoverished and disconnected simply do without, than transgress their Silicon Valley paymasters' global ambitions," fumed the group PIF this week, "It's akin to a debate among the well fed about whether the starving should be given soup that isn't organically sourced."
The influence of Western ideas and money on the debate is not hard to discover. A year ago, 'zero rating' wasn't on anyone's radar. Taking a prominent role in the Indian campaign was Google's former policy counsel and government affairs manager in India, Raman Jit Singh Chima.
Chima left Google in December 2014, but swapped hats and resurfaced two months later as the "Asia Advisor" for a group called Access Now, based in the United States. Google has donated more than $1m to Access Now. Although only "tens of thousands" petitioned for the ban, as opposed to 1.8m objectors (after Facebook's clumsy robospam had been discounted), the regulator sided with the activists.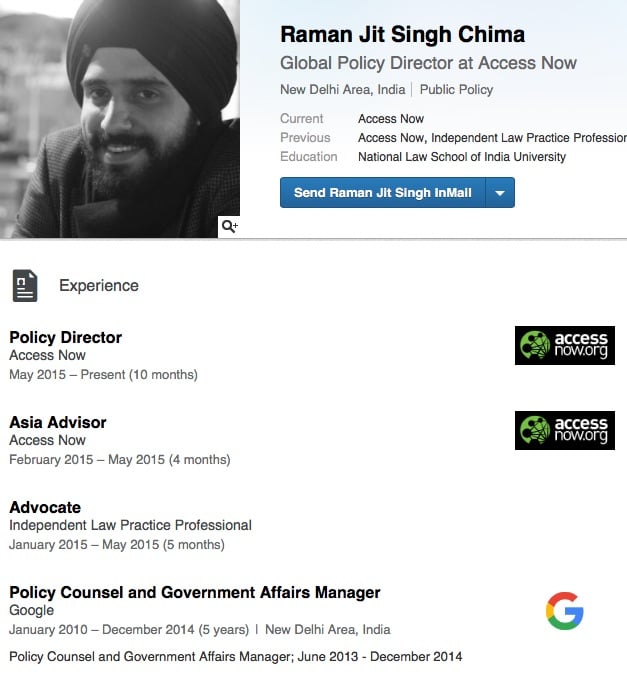 Just a regular Google guy... doing Google's good work in India
Quite coincidentally, Google now has a free tilt at the Indian market to harvest even its poorest citizens' personal data. So it's very much about big business.
Andreessen, in a Tweet he has since deleted, wrote:
"Denying world's poorest free partial Internet connectivity when today they have none, for ideological reasons, strikes me as morally wrong", adding, "Another in a long line of economically suicidal decisions made by the Indian government against its own citizens."
Rubbish, activists screamed back. It was actually Facebook that was being "colonialist", by offering the poor a free data service. And it was the regulator that had "chosen freedom", by … taking the choice away from its poorest citizens, who might find a Prestel-style data service better than no data service at all.
TRAI chose freedom. This is somehow very troubling because there's no option to remove freedom? GPL philosophy redux https://t.co/w2TwdgSLhB

— Kiran Jonnalagadda (@jackerhack) February 10, 2016
A Facebook spokesperson contacted The Register to add: "We strongly reject the sentiments expressed by Marc Andreessen last night regarding India."
Andreessen then suggested that the anti-Free Basics gesture was similar to the protectionist slow growth policies India had adopted for much of the post WW2 period. What did he mean?
For around forty years, India failed to turn its phenomenal scientific and engineering talent into economic growth. Although post-war India was a space pioneer, and broke new ground in civilian nuclear energy research, dirigiste macroeconomic policies resulted in low growth rates. The nation was dependent on food aid until becoming self sufficient in grain in 1974. This earned the derogatory term "Hindu growth" With policies that favour growth, India expects to bring half a billion citizens into a modern standard of living by 2025.
The subtlety of Andreessen's argument was lost on Twitter, which rarely needs a reason to be offended – when it wants to be offended. And logic can't get in the way of a righteously indignant Twitterati. Because Andreessen had said anti-colonialist policies had been bad, he must think colonialism was fine and dandy. Right? Well, no.. but Andreessen rapidly retreated, vowing never to touch the subject again.
Many people on the margins of connective now pay as much each month to charge their phone as they do for network access

— Benedict Evans (@BenedictEvans) February 10, 2016
State of Indian Twitter: this uncontroversial observation has led to him being attacked by left and right. #facepalm https://t.co/Be5FKnyonK

— Mihir Sharma (@mihirssharma) February 10, 2016
It was left to Andreessen's colleague Benedict Evans to point out:
"It's a terrible thing to offer people with no money the choice of something free." ®