VMware adds dedupe tool to VSAN penknife: You don't need no steenkin' array
Takes on rivals Simplivity and Nutanix
VMware has updated VSAN, its virtual SAN software, to version 6.2, adding data protection stuff to catch up with Nutanix and Simplivity hyper-converged infrastructure appliances.
VSAN combines the direct-attached storage in vSphere server nodes to create an aggregated and shared storage resource called a virtual SAN, doing away with the need for a shared, external storage array.
The new release, as reported by our sister site The Next Platform, adds:
Compression
Deduplication
Erasure coding
These data reduction items work at the clustered VSAN node level. The dedupe works on fixed 4K data blocks and operates as the data is moved from a VSAN cache, using both DRAM and PCIe flash cards, to SSDs. Once data is deduped it is compressed.
These are only available for VSANs running on all-flash hardware, and not on disk or combined flash/disk configurations. The thinking is that flash, which is more expensive than disk, benefits most from data reduction techniques, and flash-based systems can also store and access the calculation data used in these techniques faster than disk-based ones.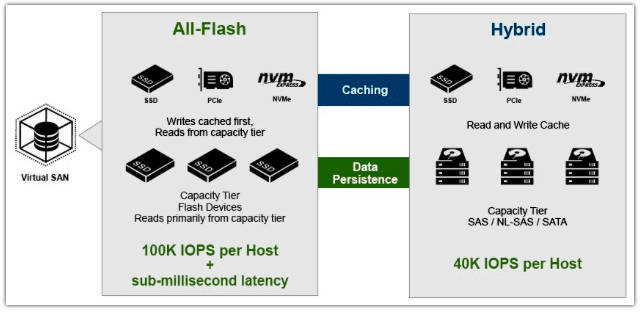 VMware VSAN flash and hybrid differences
VMware talks about averaging 7:1 reduction ratios in the VSAN workloads it's looked at, but, clearly, your mileage may vary, especially if you use those software defeat devices known as "databases full of unique records." It says around five per cent of a multi-core server's CPU resources are needed for the data reduction.
The erasure coding uses RAID 5 or 6 parity data and stripes it across multiple VSAN server hosts. With RAID 5 a minimum of four hosts get four parity and three data slices spread across them. This means a 33 per cent protection overhead, with 20GB of raw data needing 27GB of storage.
With RAID 6 a minimum of six hosts are needed for the greater protection against node and device failure offered, and 30GB of storage us needed for the 20GB of data.
Previous VSAN editions used replication to secure data, meaning 40GB was needed to store 20GB of data.
El Reg wonders if majority owning shareholder will mind too much if VMware adds its own object storage software to make use of the erasure coding technology? EMC already has Atmos and ECS in that area.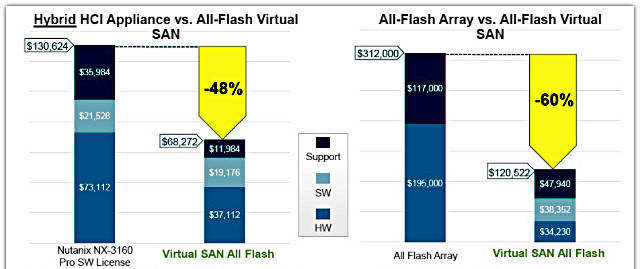 The chart atop this paragraph compares a four node VSAN 6.2 configuration, using SuperMicro server hardware, against a hybrid flash-disk Nutanix NX-3160 HCIA and an all-flash array, probably from Pure Storage, showing, of course, the VSAN 6.2 setup is cheaper.
VMware provides a chart showing VSAN's adoption rate versus the number two HCI vendor from the IDC MarketScape: Worldwide Hyperconverged Systems 2014 Vendor Assessment. That vendor is clearly Simplivity and not Nutanix, in IDC's chart. But VMware says it is now the leader, making Nutanix number two.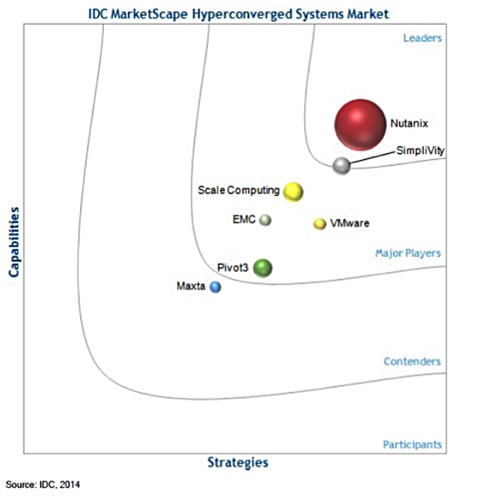 DC MarketScape: Worldwide Hyperconverged Systems 2014 Vendor Assessment
Vmware's self-serving chart shows it winning in terms of customer numbers (3,000+ for VSAN vs 2,100 for Nutanix we understand), deployed units and revenue growth, but not by much.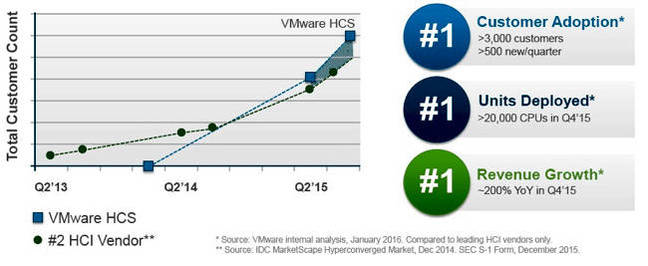 VSAN vs Nutanix. Notice there is no vertical axis numbering or units, this being a marketing chart.
VSAN 6.2 comes in three flavours:
Standard edition – IPV6 networking, checksum-based error detection and correction, write through on read memory caching,m and space reclamation
Advanced edition – standard edition features plus all-flash configuration, compression, dedupe and erasure coding
Enterprise edition – advanced edition features plus quality of service measures (SLAs for performance, no noisy neighbours, monitoring if IOPS consumer per VM) and plus active-active stretch clustering across physical sites
There is also an updated vRealize cloud controller software release.
We now look forward to how EMC will use VSAN 6.2 in its various converged and coming hyper-converged offerings.
VSAN 6.2 will be available in early March. The standard edition costs $2,495/socket, advanced edition $3,995/socket, and the enterprise edition $5,495/socket. ®