Post-pub nosh neckfiller: The gargantuan Gatsby
South African supersized spicy steak sarnie
It's February, and the weather's crap this side of the equator, so travel with us if you will to South Africa's sunny Cape Town for a wobbly dining experience so substantial it's more of a team sport than a post-pub dining exercise.
Yes indeed, prepare to get your laughing gear round the "Gatsby", recommended by reader Simon McKay-Mills, who was recently on a business trip to Cape Town and therefore "had to partake" of this local classic.
The Gatsby is simply a bloody enormous sandwich constructed from a 30cm loaf commonly packed with steak, chips, piri-piri sauce, and a touch of salad. The chips and the hot sauce are apparently the only obligatory elements, and alternative fillings include, squid, chicken, sausage, polony, cheese, and so forth.
The story goes that the Gatsby was born in 1976 when Rashaad Pandy, a fish shop owner in Cape Town's Athlone suburb, combined "a round Portuguese roll, polony, slap chips and achar" (pickles) to create an instant meal for four labourers.
One of the recipients, who'd "recently watched the film The Great Gatsby at the Athlone Theatre, gleefully exclaimed, 'this is a Gatsby smash' (meaning, it's a winning dish), and the name just stuck".
The rest is history. CapeTownMagazine.com explains: "For many locals, this colossal sandwich is not just a meal; it's a way of life, a cultural symbol and an important part of their heritage."
Well, if you fancy knocking up this cultural symbol, you'll need some piri-piri sauce. That would normally require chilli peppers, but we couldn't get those, so cunningly substituted a big red pepper and Tabasco. Here's the full spread of ingredients: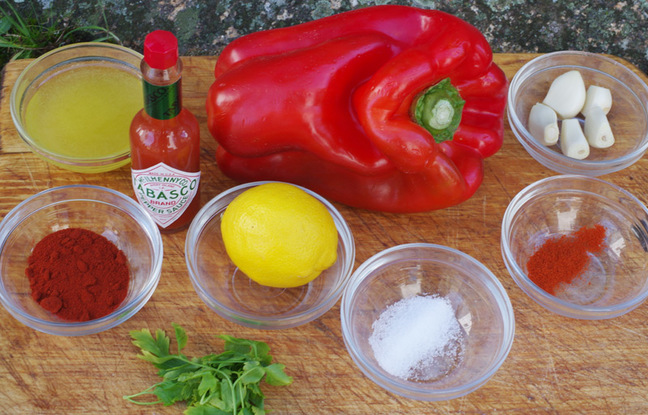 1 large red pepper
4-5 cloves garlic
2g cayenne pepper
2g salt
Juice of 1 lemon
Parsley
5g hot paprika
A few drops of Tabasco
100ml olive oil
There's no great culinary science involved in preparing the sauce, as our step-by-step shows: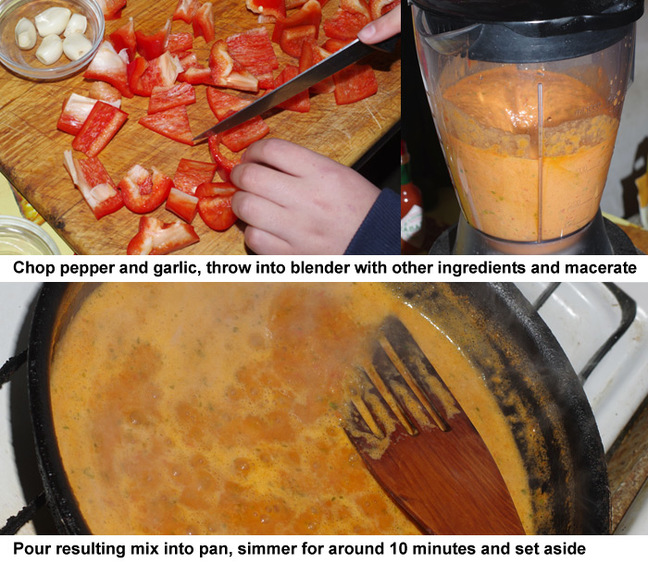 It's just a matter of adjusting the ingredient amounts to taste and tweaking the hotness to suit. Once you've simmered your piri-piri, keep it in the fridge in a sealed container, where it will improve with age over about a week.
So, here's everything else you'll need for a Gatsby...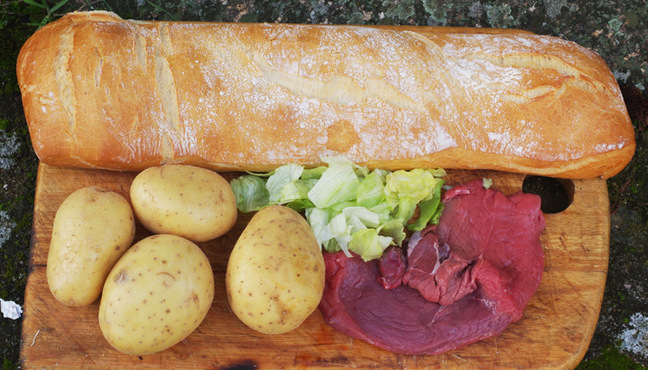 ...comprising:
1 long (30cm) loaf
300-400g Steak
Chopped lettuce
800g spuds
The loaf in this case is a ciabatta-style offering, available locally hereabouts, and which did the job admirably. Get the best steak you can afford, thinly cut.
Now, there's the matter of the chips. Gatsby aficionados reportedly favour local "slap" chips, from the Afrikaans for "soft". However, when we had a shufti at a few recipes, some called for a crispy exterior.
No matter how soft they ultimately turn out - and our were admittedly crispy - the chips demand a two-stage frying process, and a provocative vinegar pre-soak: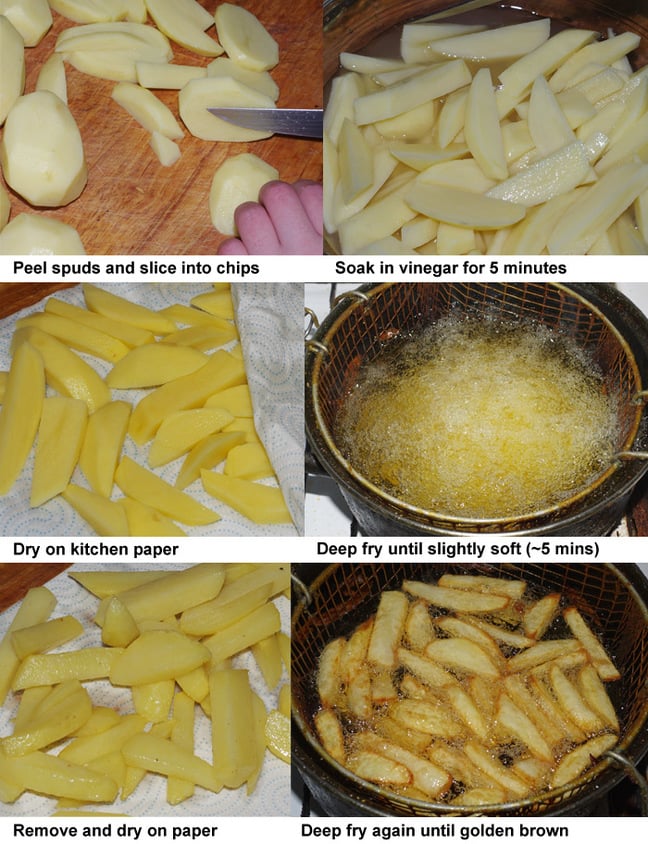 The idea is that the first fry should be in cooler oil than the second, for which you crank up the heat for the browning process. The vinegar bit of the operation seemed a bit odd, but certainly adds a nice tang to the finished result.
Having handed all that, the final furlong to the finishing tape is as follows: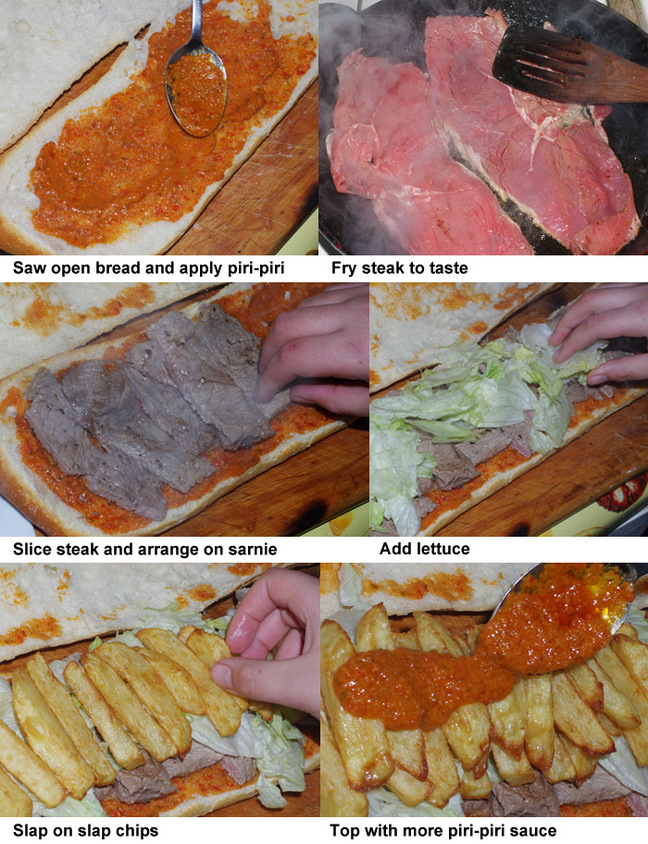 Here's the finished Gatsby, a monster requiring a panoramic aspect ratio to encompass it's awesome wideness...

...and here's glamorous assistant Katarina preparing to tackle the beast: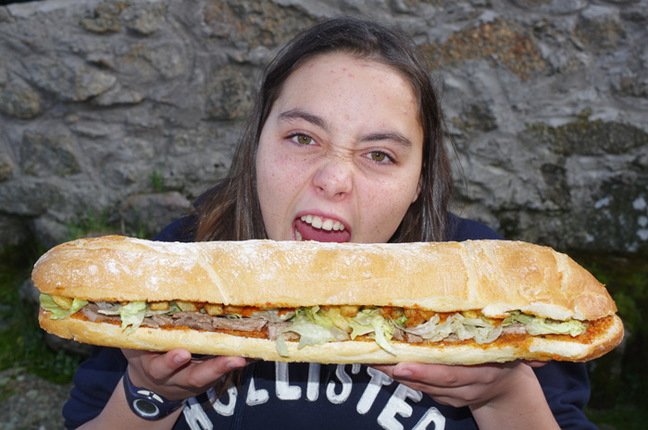 In fact, this behemoth will easily feed four in gloriously messy style. Napkins are recommended and, if you really crank up the piri-piri, have iced beer on hand.
Our correspondent Simon reports that the Gatsby he enjoyed boasted fried chilli peppers - as well as the piri-piri. He describes the result on the throat as "a reason for going out and consuming more beer". ®
Our post-pub nosh menu in full...