The personal computer market has been in the doldrums for years, with global sales falling under 300 million a year, slipping nine per cent in 2015 alone. But there are also some rays of light in the market, as Intel's predictions of a sales rebound were confirmed by a nice little bump in sales over Christmas, due in part to Windows 10.
Windows 10 is expected to help the market again this year, as businesses look at the state of their fleets and consider the fact that Microsoft's already ended mainstream support for Windows 7. It's expected that plenty of organisations will look therefore decide 2016's as good a time as any to take the plunge on a new PC fleet, powered by Windows 10.
What else will they buy? We asked folks from the top three PC-makers – Dell, Lenovo and HP – what they see as must-haves in a 2016-vintage PC to give you a feel for what you'll be offered.
One thing all three companies think you'll want this year is size. Or more specifically, a lack thereof. Towers and mini-towers are now for workstation-wranglers only. The corporate desktop is now margarine-tub-sized affair.
That shrinkage has been made possible by three things, the first of which is the demise of optical drives. Nobody needs to load software from disc any more and USB sticks are now the dominant portable data medium. So out goes optical drives and the space they occupy. Disk density helps, too, as a 500GB 2.5-inch drive is now easy to find at decent prices and solid-state disks are also cheap. Whatever storage device you choose, it needs less space than its predecessor, meaning smaller PCs become possible.
Intel's Skylake processors are the third and biggest space-saver, as they run cooler and also boast built-in graphics. By requiring less cooling and removing the need for a graphics card, Skylake means PCs can shrink.
Smaller PCs also have manufacturers thinking about what they can do with a shrunken system. Bolting the client to the back of a monitor is now a common trick. Lenovo's taken the idea further with the "TinyOne 23", a small form factor PC designed to mate with a slot in a matching monitor. The machine, depicted below, is designed to make it easier to maintain and upgrade PCs without quite going all-in with an all-in-one.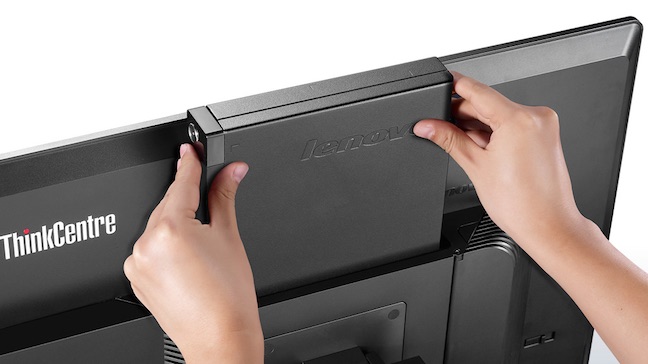 Lenovo's TinyOne PC and monitor
Which is not to say all-in-ones are dead: all three of the manufacturers we spoke to said they remain at the forefront of their product lines, if only because businesses like the tidiness they bring to public spaces. That can mean kiosk-style environments, labs in schools or reception areas. Wherever those all-in-ones land, they'll boast 24-inch screens because that's now what users expect. And the monitors will have digital interfaces, as will 2016's PCs. VGA is just about dead, since HDMI and DisplayPort have become the norm. 4K is just-about mainstream and will be one reason Thunderbolt appears in more laptops as that interface has the bandwidth required to drive multiple monitors.
The big three PC-makers are still finding new ways to tweak their kit to make it more manageable. HP will this year refresh BIOSphere, a self-healing BIOS tool that can spot when someone's tried a BIOS-level hack and return things to your pre-determined configurations before reboot. Lenovo has tweaked the USB ports on some devices so they'll work with input devices and will read from storage devices, but won't write to them. Dell's offering automatic data encryption, because the company feels full-disk encryption isn't the best use of a machines resources.
Laptop-land
2016's laptops will do what laptops have done since day dot: get smaller, lighter and thriftier in the demands placed on batteries.
Under the hood, the M.2 interface will make plenty more appearances, as a connector for all manner of devices but especially SSDs. The three manufacturers we spoke to see 256GB SSDs as 2016's sweet spot, with demand for 512GB rising but cost keeping demand muted.
USB-C won't appear in all business laptops: consensus is it's too soon for business users to want it, but it's tipped for bigger things next year once its potential to replace desktop docks is realised. Users are tired of proprietary docks, the big three tell us, and USB-C is expected to clean up in coming years.
If WiGig doesn't beat it to the punch. WiGig is a short-range wireless that can transmit audio and video or data. It's felt that the standard will let a laptop drive a monitor and connect to peripherals. The standard will find its way into some laptops this year, with Lenovo planning it as standard and intending to release a WiGig dock. Dell and HP see later adoption.
Laptops capable of doing duty as tablets are very much in demand, so touch screens are increasingly common across all three vendors' ranges, bringing with them the ability to contort devices into different working positions.
Whatever you buy, in whatever form factor, expect it to pack at least 4GB of DDR 4 RAM. Anything less is seen as cutting corners. ®
Similar topics