Another storage upstart pops up: Say hello to OSNEXUS
A mix of Ceph, Gluster and ZFS on a virtualised hardware grid base
---
Comment OSNEXUS is a six-year-old startup making software-defined storage in the shape of QuantaStor, which is based on a grid of up to 32 nodes virtualised into a platform for ZFS, Ceph and Gluster and providing scale-out block, file and object pools of storage.
The company was founded in 2010 by CEO Steven Umbehocker and has no disclosed funding whatsoever, meaning, we understand, that it is self-funded.
We've taken a quick look at it, not having talked to any of the company's execs or users.
The software is built on top of Ubuntu Linux and supported access protocols include Fibre Channel (8Gbit/s), iSCSI (10Gbit/E), NFS and CIFS (SMB) with, we think S3. The object support seems limited
The system 32 nodes can be on one site or dispersed. The scale-out architecture expands up to 64PB of storage per cluster by adding more nodes. They can be managed through a central, web-based GUI.
According to an ESG paper, "OSNEXUS leverages the scale-out capabilities of proven open source solutions from Ceph, GlusterFS, and ZFS in conjunction with its own proprietary storage hardware virtualisation capabilities."
Data services include encryption, snapshots, high-availability RAID, compression, remote replication, SSD caching, quality of service (QoS) controls, erasure coding, and thin provisioning. ESG states QuantaStor "dynamically provide storage to any host application, across any protocol, while utilising the underlying infrastructure as efficiently and cost-effectively as possible."
It integrates Ceph into QuantaStor's grid management.
Instant read/write accessible snapshots can be taken of volumes and shares residing in ZFS storage pools.
GlusterFS is fully integrated into QuantaStor providing automatic peer setup, volume provisioning, volume expansion and rebalancing.
You can directly install big data platforms such as Cloudera Hadoop data and compute node services onto QuantaStor appliances.
QuantaStor can be used as an iSCSI storage gateway appliance in front of QuantaStor or 3rd party storage appliances including NetApp and EMC systems.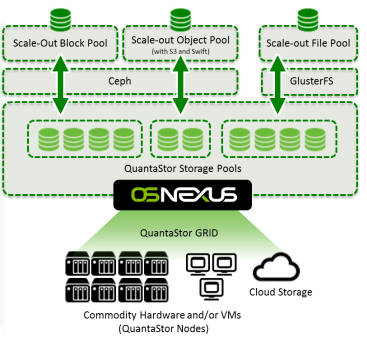 OSNEXUS storage scheme
There is object storage integration, and users can;
Backup storage volumes to the Amazon S3 cloud
Turn cloud storage shares into NFS shares making backups to the cloud easier and cost effective with automatic compression, deduplication and encryption
Integrate with SoftLayer Object Storage and OpenStack SWIFT
OSNEXUS says the use cases include server virtualisation, big data, cloud computing, and high performance applications through scale-out physical and virtual storage appliances.
It's sold worldwide through managed hosting providers, OEMs, VARs, and System Integrators. Paid-for QuantaStor software subscription licenses include support, maintenance packs and product upgrades, and run for one, three or five years. There is a free community edition with a 10TB capacity limit in the license.
The website is fairly basic in terms if providing information about the product and reading the OSNEXUS blog entries will probably tell you a lot more.
Think about a simplified basic Nexenta with added Ceph and Gluster implemented on a virtualised 32-node grid of storage nodes basically servers with directly-attached disks and/or SSDs). There is a Hardware Compatibility List (HCL) because, of course, you source the hardware yourself unless you use a channel partner to do it for you. Check out the OSNEXUS community forum here. ®