Analysis On-premises IT is facing decimation by six public cloud enemies: Amazon, Azure, Google, OpenStack, Oracle and SoftLayer, who are on course to have the majority of customers' IT spend by 2018.
An Internet retailer, started up as an online book store, and a website search facility have kickstarted an IT phenomenon which could utterly destroy the on-premises data center business. As far as the entire on-premises IT supplier industry is concerned, Amazon and Google, accompanied by Microsoft Azure, are Public Enemies 1, 2 and 3.
IDC forecasts that public IT cloud services spending will reach more than $127bn in 2018, accounting for more than half of worldwide software, server, and storage spending growth. The CAGR growth from $56.6bn in 2014 to $127bn in 2018 will be 22.8 per cent, about six times the growth rate of the overall IT market.
In other words Amazon, Azure and Google, plus some smaller fish, will siphon off $127bn from the on-premises IT suppliers, up from the $56.6bn they sucked off in 2014. The on-premises IT supply industry is now half the size in revenue terms it would have been if the public cloud did not exist.
Is it any wonder that incumbent legacy compute and storage suppliers are recording declining revenues and taking part in acquisitions and consolidations to strengthen their fight for sizeable portions of the shrinking on-premises IT pot?
Why should that public cloud growth rate abate? Ask yourself why the public cloud should not consume two thirds of all IT spend by 2022? And even more by 2025. If this trend continues, there will be panic in compute and storage suppliers' boardrooms and executive suites, not to mention the networking suppliers as well.
IDC expects software as a service (SaaS) will dominate public IT cloud services spending, accounting for 70 per cent of 2014 cloud services spend. This is largely because most customer demand is at the application level.
The second largest public IT cloud services category will be infrastructure as a service (IaaS), with cloud storage having a 31 per cent CAGR over the period. Platform as a service (PaaS) and cloud storage services will be the fastest growing categories, driven by developer cloud services adoption and big data-driven applications, respectively.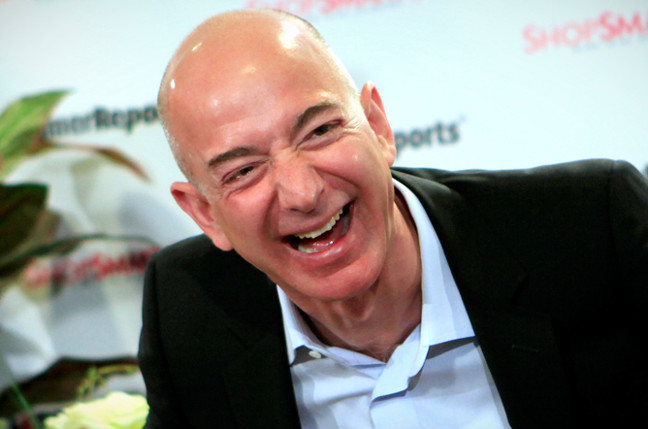 Amazon boss Jeff Bezos, laughing all the way to the on-premises IT graveyard
A slowly tightening noose can be seen encircling the throats of on-premises IT suppliers, with IBM (SoftLayer) and Oracle the only ones left among them that are becoming public cloud suppliers, now that HP (Helion) has chucked in the public cloud towel, leaving only an assortment of micro-niche public cloud backup suppliers like Backblaze, Carbonite and Datto behind.
Here is a timeline for Amazon's noose-tightening progression:
1994 – Amazon founded as Internet-based book retailer.
2002 – Amazon Web Services (AWS) launched to offer programmatic access to its computing infrastructure.
2006 – Amazon Simple Storage Service (S3) launched to store data as objects.
2006 – Amazon Elastic Compute Cloud (EC2) launched for users to run applications on Amazon's compute infrastructure.
2008 – Amazon Elastic Block Store (EBS) announced, providing storage in AWS for EC2 instances.
2008 – SimpleDB introduced, giving AWS users a database they could access.
2012 – Glacier launched as a low-cost, slow-retrieval file-store for archiving and backup.
2013 – Redshift data warehouse storage service announced.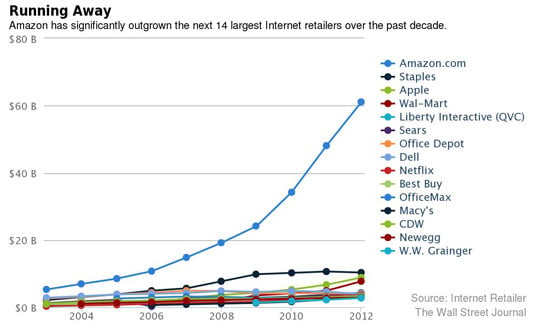 Amazon's early Internet retail growth drives its infrastructure build-out
Similar topics