On-premises supplier denial
Only IBM, Microsoft and Oracle have seen the business-killing threat from Amazon and Google and reacted strategically. HP had a half-hearted try with Helion but gave up, possibly unable to afford the necessary funding. Dell has no public cloud play, nor does EMC really. It can be argued that all hybrid cloud providers are in denial, simultaneously validating public cloud suppliers and providing on-ramps to their facilities; tactically smart, strategically obtuse.
American capitalism has bred a majority of publicly owned IT supplying businesses singularly unable to recognize and respond to disruptive innovation, with the exception in this case of IBM, Microsoft and Oracle. You can say what you like about Windows 10 and the Windows phone fiasco, but in the public cloud case Microsoft "gets it" and sees Redmond-killing twins in the shape of Amazon and Google.
It saw that it had to react or die, and has reacted so well that Azure is now public enemy number three for on-premises IT suppliers.
Any virgin storage business starting up now and looking for fame and fortune in on-premises IT should be taken to one side by potential backers and told the new facts of storage life; it's a shrinking jungle out there and existing storage animals are going to get hungry and desperate, and you want to compete with them for the dwindling scraps of food? Get real.
Most smaller suppliers are walking tightropes stretched between costs and revenues with little margin for mistakes. Startup belt-tightening has begun already this year – Actifio, Atlantis, Coho Data, Data Gravity, Panasas, Tegile. Spun-off and privately owned Veritas is starting its new life with declining revenues.
Legacy incumbent supplier tactics
EMC and Dell are seeking solace together. EMC is also eating its own dog food, cannibalizing its own legacy disk array base with XtremIO, SW-defined storage offerings, and the coming DSSD flash array. It knows, it really, really knows, it has to get a bigger piece of the on-premises IT pie to survive, and the doorway to that is Dell.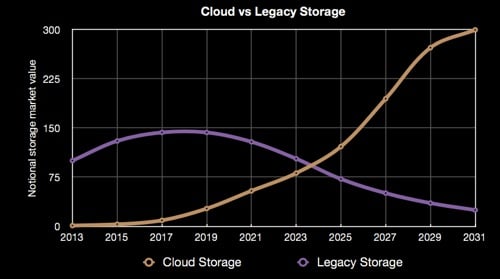 Example chart modelling on-premises vs public cloud storage growth
As we read it, both Dell and EMC see that the enterprise on-premises IT business is going to shrink, and they are going to grow by taking business from every other compute, storage and networking supplier in it, meaning IBM, Fujitsu, Imation, HDS, HP, Huawei, Lenovo, Kaminario, NetApp, Nimble, Nutanix, Simplivity, Tegile, X-IO and everyone else left on the block.
It's the old, old business school prescription; get big, get niched, or get in trouble and get, or be forced, out.
DataDirect is a great niche play. X-IO is not.
If you're big and can't get bigger, then you shrink. If you're small and can't get niched, then the door marked Exit is the one for you. We saw that with Seagate's EVault cloud backup service, sold for a pittance to Carbonite.
Barracuda is in trouble. Violin is struggling. QLogic is stalled. Quantum is running hard to not-quite stand still.
Of course it's possible to make good money, great money, if you have a product offer that kills everybody else; think Veeam. Early-stage startups punting radically better products are also shining examples of growth – Cohesity, Infinidat, Nutanix, Simplity, Tintri and others – but these are the exception, and the non-profitable exception, rather than the rule.
How long can they burn cash without a path to profitability? One year? Eighteen or 24 months? And then?
The rise of activist investors, tearing the guts out of distressed IT companies, forcing change on them that existing management doesn't want to make or is incapable of making, is another symptom of on-premises IT supply trouble: witness Citrix, Emulex, Imation, Riverbed and others.
IBM is quietly letting its storage hardware business decline quarter after quarter after quarter. NetApp buys SolidFire but doesn't see a material increase in its revenues coming from the flash array supplier acquisition; it being a hold-the-fort-type exercise. Analysts, and this writer, suggest NetApp needs to get into hyper-converged infrastructure systems, but that is an on-premises strategy and not a response to the bigger threat from the public cloud.