This article is more than 1 year old
Official: Seagate notebook drive has shingles
Mighty lighty mini thinny drive gets 2TB shingling
Seagate has delivered on its September 2015 technology announcement with a thin drive for notebooks that uses shingled magnetic media to get to a 2TB capacity level.
The 2.5-inch Mobile HDD is 7mm thick (thin?) and weighs 3.17 ounces (90g). It has two platters, a 12MB cache and a 6Gbit/s SATA interface. The peak IO rate is 600MB/sec but the maximum sustained IO rate is 100MB/sec. It uses drive-managed shingled magnetic recording (SMR) and not HGST's host-managed version.
The rub with SMR is that you get a capacity boost from having partially overlapped write tracks. The narrower read tracks within the write tracks are not overlapped. However, whenever fresh data needs to be added to a block of previously written write tracks, the entire block of data has to be read into (drive) memory, the new data added to replace the now defunct data, and the block written back to the disk.
This has a couple of consequences: first, rewrites are slower than fresh writes, and slower than rewrites to non-shingled media. Secondly, when the disk is occupied with what is effectively a block read-erase-write cycle it is not doing other work.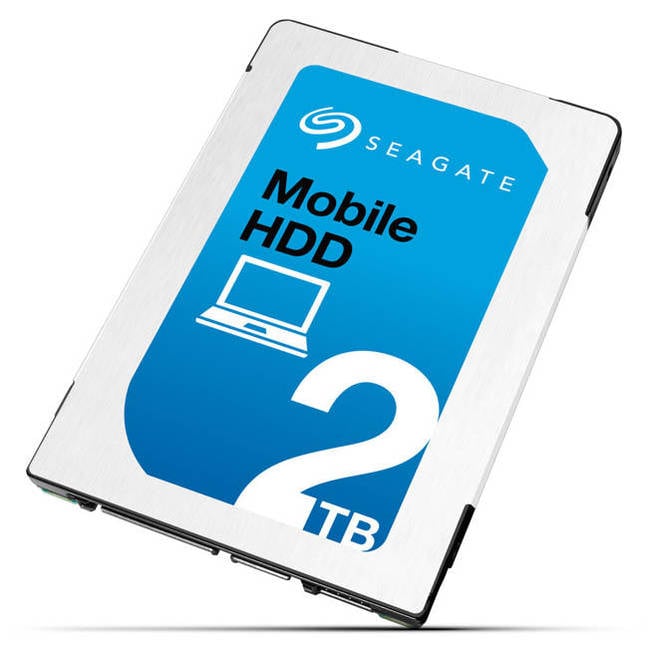 Both these things mean that SMR drives are not best suited to high-performance or write-intensive use but are well-suited to read-intensive, write-light, capacity-focussed applications running on notebooks, tablets and other mobile devices needing the light and thin 1 or 2TB capacity levels on offer.
We think this is the first 2.5-inch firm factor shingled drive. Seagate says it is the lightest, fastest and most power-efficient 7mm drive in the industry. It also says it is 25 per cent lighter than the previous generation Seagate mobile drive, and combines new mechanical firmware architectures, with state of the art heads, media and electronic design.
Just a thought
If 3D NAND's cost/GB comes close to this drive then – with flash's far faster performance, space-efficiency and power-efficiency – we might see the demise of notebook and tablet disk drives coming.
Stifel MD Aaron Rakers reports that 2.5-inch notebook mobile HDDs accounted for ~42 per cent of total HDD shipments, or ~48.0 million units, down 26 per cent y/y in 2015's fourth quarter, reflecting lower notebook shipments. He says "In early February, DigiTimes reported that it estimated that total notebook shipments would decline by 16 per cent sequentially during" 2016's first quarter.
Since tablets typically use flash rather than disk drives then it's relatively easy to see the notebook HDD market shrinking at quite a rate of knots over the next few years.
That presents a nice decision point for Seagate and other disk drive manufacturers. Should they invest in expensive new, high-density HAMR recording for mobile disk drives if cheap-enough 3D NAND SSDs and flash cards are going to kill the mobile disk drive market?
HAMR high-cap 3.5-inch drives seem a sure bet for now; flash surely not getting cheap enough, fast enough, to render that tech advance useless.
The new Seagate 2TB Mobile HDD has a two-year warranty and is available to Seagate's OEM customers now. Expect it to appear in notebook computers towards the end of the year or early in 2017. ®