This article is more than 1 year old
Toshiba rolls out PC-busting monster: 1 terabyte TLC flash SSD
Opens up the 15nm flash front for client devices
It's a PC disk drive killer: a 1TB SSD built by Toshiba, using TLC flash, and built with 15nm cell lithography.
The SG5 series comes in both M2 and 2.5-inch SSD format and signals a wave of product refreshes as Toshiba's existing 19nm SSD products are changed over to use denser 15nm NAND during the next six to 12 months.
With SanDisk partnering Toshiba in the flash fab business, and WD buying SanDisk, then some of the HGST flash product line can also be expected to head over to 15nm-land as well.
The new drives are intended for commercial notebook and desktop PCs, consumer upgrades and higher end notebooks, with Toshiba betting on flash drives replacing disk drives. The capacity points include 128GB, 256GB, and 512GB, and 1TB. All the drives use a 6Gbit/s SATA interface.
They read at up to 545MB/sec (520MiB/s) and write at up to 388MB/sec (370Mib/s). IOPS figures have not been provided and neither have any endurance numbers.

Toshiba SG5 M2 format flash drive
The product features Quadruple Swing-By Code (QSBC) error-correction technology but we're not told how much this improves things..
Toshiba says it is committed to accelerating the adoption of SSDs in client PCs. That provides an unwelcome context to Seagate's recent 2TB shingled client disk drive announcement.
It seems obvious that if you can physically get 1TB of Toshiba's 15nm TLC (three bits per cell) flash on an M2 card, then you could stick twice as much inside an SSD and match Seagate's drive capacity – but with vastly faster access speeds.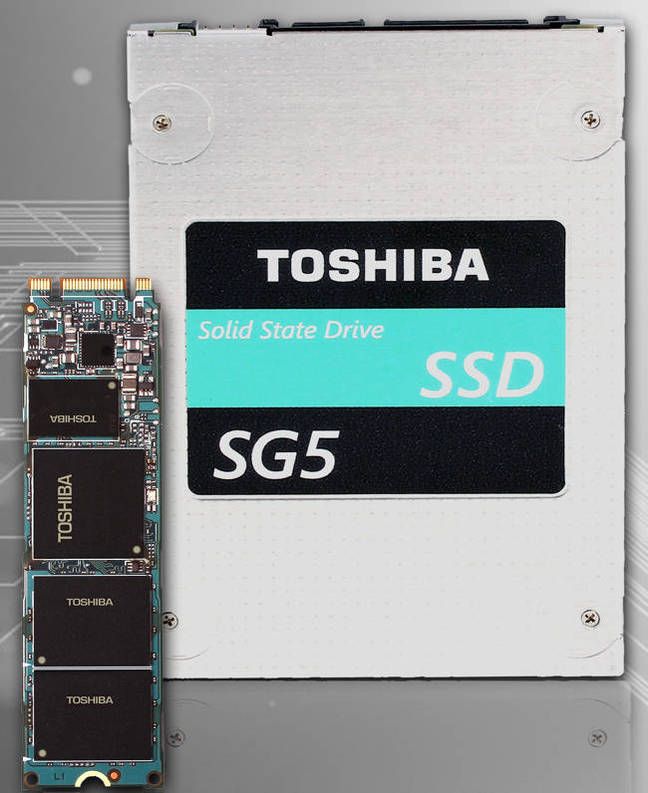 Toshiba's SG5 M2 and 2.5-inch SSD
Imagine the next turn of Tosh's NAND fab technology wheel to 3D NAND and we can easily see 2TB, 3TB and 4TB client SSDs coming, and PC/notebook disk drives surpassed in capacity as well as access speed. Dat writing's on de wall, folks. ®