Flat is as flat does ... Brocade is motoring steadily along while hoping for a gear shift from 5G mobile broadband.
On Wednesday, Brocade said it exceeded the mid-point of its revenue estimate of $560m for its first fiscal 2016 quarter, ended January 30: sales came in at $574m, 0.35 per cent down on a year ago, and 2 per cent down sequentially.
Net income for the quarter of $94m was 7.7 per cent up on the year, and up 11.9 per cent sequentially as CEO Lloyd Carney ran a tight, cost-controlled ship. His canned quote went like this: "Brocade delivered another solid quarter, exceeding our revenue and earnings expectations. In particular, SAN revenue exceeded our outlook range, driven by strong customer demand for Fiber Channel storage array capacity."
Let's temper that a little. SAN product revenue of $347m was down 2 per cent year-over-year, due primarily to softer demand for embedded and fixed-configuration Fiber Channel switches. It was partially offset by continued growth in SAN director revenue.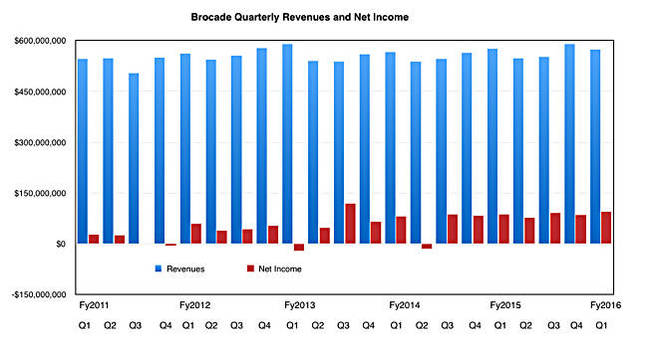 Fiber Channel sales are resilient; primarily due, Brocade thinks, to continued growth in overall Fiber Channel (SAN) storage array capacity. It points out that both IDC and Gartner predict strong storage array capacity growth in their long-range forecasts. Also coming, 32Gbit/s Fiber Channel upgrades should keep the Fiber Channel pot bubbling nicely.
IP networking sales were basically flat, with some up and down movements in the segments; for example, stronger switch sales were offset by weaker router sales.
William Blair analyst Jason Ader writes: "We struggle [with] management's assertion of data growth as the primary SAN business driver. Overall, the SAN market is still gradually shifting away from Fiber Channel to Ethernet-based connectivity, and even in the high end (FC's stronghold), the greater efficiency of newer, flash-based architectures should pressure Fiber Channel port counts (fewer arrays means fewer ports)."
He's not that negative though: "A weak SAN business (which we continue to view as structurally challenged long term) remains a valuable, low-expectation cash cow, and competition is subsiding. The IP side continues to perform reasonably within a competitive but large market, with optionality on new software offerings."
Carney thinks Brocade's future is bright: "Over the next several quarters we will make a number of innovative new product announcements that we expect will expand our addressable market and enhance our capabilities in advanced storage networks, software-defined data centers, and open, software-enabled new IP architectures."
This new IP architecture idea was presaged by Brocade's announcement of a mobility platform and vision for building open IP networks to support new services and business models based on 5G adoption. That's the addressable market extension. ®
Similar topics