Software-defined storage firm Caringo has improved its search and file system integration with the eighth release of its Swarm object storage software.
The company says you no longer need to migrate data into disparate silos for long-term preservation, delivery and analysis. Instead, consolidate all your files on Swarm and find the data you are looking for quickly.
The eighth major version offers:
Ad hoc search and query of object attributes or custom metadata with results viewed via the Swarm Portal, Caringo's API or exported to JSON or XML
Searches are dynamic and can be saved as Collections for reuse
Search results can be accessed via Kibana for visual analysis and discovery
Object versioning and object renaming reduce the development effort of integration with file system-based applications and interfaces
All integrated with FireFly
Swarm is offered as a storage appliance for data protection, management, organisation and search at massive scale. It installs on any mix of standard hardware and provides a claimed industry-leading 95 per cent of drive capacity for content.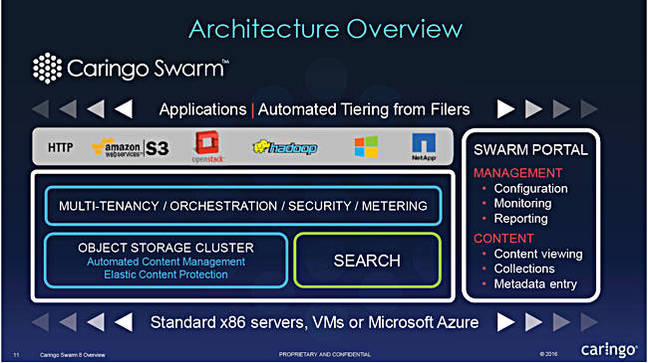 The product can shift between protection methods since automatically enforced policies are stored in each object's metadata. It says this is unique amongst object storage products, as are its adaptive power conservation technology, WORM and Legal Hold.
Swarm integrates with enterprise applications such as Veritas Enterprise Vault and Commvault Simpana, as well as compute and orchestration platforms such as OpenStack, Spark and Hadoop.
Caringo founder and CEO Jonathan Ring claimed, in a canned quote: "Swarm 8 is easier to scale, more compliant, more efficient and now more insightful than any other object storage solution on the market."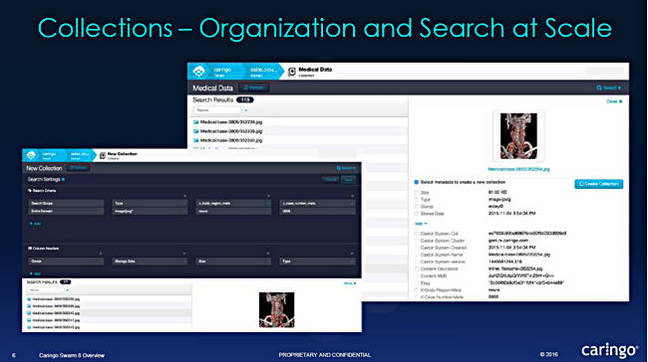 Deployment is flexible with Swarm delivered as software you run in your own data centre(s), as a service in any of the Microsoft Azure globally-distributed data centres, or as a fully managed service within BT or Telefonica's globally-distributed data centres.
Swarm 8 is available immediately with all-inclusive pricing including Darkive adaptive power conservation, WORM, Integrity Seals, Legal Hold, and Search. ®