NetApp earned profits of $153m in its latest quarter, good, but revenues of only $1.39bn, bad; its mid-point estimate a quarter ago was $1.45bn, making it quite an undershoot.
The $1.39bn in its third fiscal 2016 quarter, ended January 29, compares to $1,54bn a year ago, a 9.7 per cent fall, and $1.45bn in its second 2016 quarter, a 4.1 per cent fall, meaning decreased revenue on both the annual and sequential compare – plenty of fuel for NetApp naysayers.
The profit of $153m was up sequentially by a chunky 34.1 per cent but 13.6 per cent down on a year ago ($177m) – more negative info.
CEO George Kurian put his best foot a long mile forward, saying: "NetApp's third quarter results demonstrate good progress in advancing our strategy and strong operational execution despite the challenging macroeconomic environment."
Yes, George, and the other foot? "To position NetApp for long-term success, we launched a transformation program designed to streamline the business and reduce our cost structure, while at the same time, maintaining our ability to invest in strategic opportunities. We are confident that we have the right strategy to further pivot the company toward the growth areas of the market and deliver long-term value."
It's clear he's not seeing any immediate return to growth. The outlook for next quarter is for revenues of $1.35bn - $1.5bn, $1.425bn at the mid-point, and a 7.5 per cent fall from fiscal 2015's fourth quarter. The full 2016 year would then have $5.61bn revenues, down 8.4 per cent, and representing NetApp's third year of revenue contraction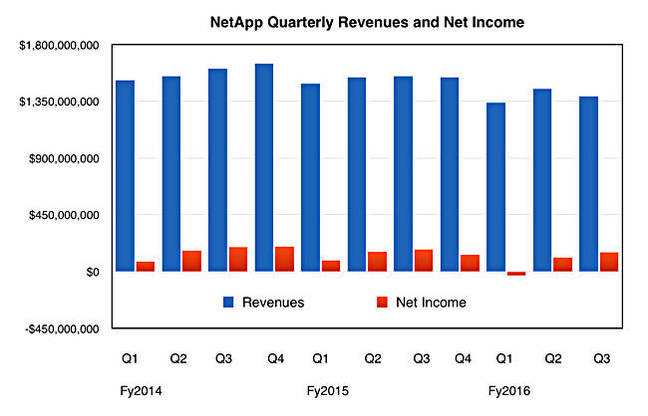 So, NetApp must cut costs and wait for the growth initiatives to come good. Before getting into the earnings call, let's remind ourselves that ONTAP and the Data Fabric vision overall are not, or not yet, delivering sales growth, that the SolidFire all-flash array acquisition isn't expected to deliver overall revenue growth when added to NetApp's other products, and that the E-Series and StorageGRID products aren't growing fast enough to offset ONTAP's assumed overall sales fall.
Kurian said that there had been a sales slowdown in the quarter, becoming more evident in January, due to "an uncertain and volatile macroeconomic environment" and, in IT, customers shifting "some of their spending to the cloud."
NetApp split its product revenues into Strategic (Clustered DataONTAP, hybrid cloud, all-flash EF and FAS and coming SolidFire) and Mature (7-mode ONTAP, OEM, add-on storage). Mature products contributed 45 per cent of revenues and were down 44 per cent on the annual compare. Whereas Strategic products accounted for 55 per cent of revenues and grew at 26 per cent, hence Kurian's comment about the good progress in advancing the strategy.
In fact "Unit shipments of Clustered ONTAP systems saw strong continued customer demand, growing roughly 70 per cent year-over-year. ... Our FAS install base is growing and clustered ONTAP now represents 24 per cent of installed systems. ... Both the total number of customers and new to NetApp customers, who made clustered ONTAP purchases in Q3, grew by approximately 60 per cent from Q3 last year."
Good news indeed, and "Our existing All Flash array business, inclusive of EF and All Flash FAS products and services, has accelerated to an almost $600 million annual run rate." SolidFire sales should now boost that up towards a billion a year.
Last quarter NetApp's AFA revenues were $370m. EMC is reporting a billion dollar a year run rate from XtremIO and Pure is believed to have a $552m run rate, according to Stifel MD Aaron Rakers. (Could Pure grow fast enough to overtake NetApp's all-flash array revenues?)
Kurian has concluded a formal review of NetApp's business: "NetApp does not need to completely reinvent itself, but we do need to execute comprehensive and sustained transformation. ... We will take significant steps to streamline the business and further advance our pivot to the growth areas of the market."
He said: "Clustered ONTAP, branded E-Series, All Flash arrays, hybrid cloud solutions and OnCommand Insight are the set of strategic solutions that are the basis of our pivot to the growth segments of the market." There was no mention of hyper-converged products, such as those made by Nutanix, Simplivity and EMC with its VxRail and VxRack products.
The customer base transition to CDOT should be mostly finished by the end of 2017 and "our pivot towards the growth areas of the market will return the company to revenue growth albeit moderated."
Any growth hopes for this year and next have evaporated. Rakers said: "While NetApp did not provide a fiscal 2017 outlook, it is clear that this will be a transition / transformation year for the company with a focus on returning to growth into fiscal 2018."
A cost-cutting programme looking at $400m/year savings has already been initiated. NetApp is consolidating its hardware engineering and manufacturing operations teams, implementing tighter controls on indirect spending and improving supply chain efficiency. A 12 per cent staff cut, meaning about 1,450 jobs, will save $200m annually and should complete this quarter.
Share buybacks are there to help keep investors supportive while NetApp does what it has to do to return to growth in 2018. Shares climbed 0.46 per cent to $23.55 as investors digested this. So far, so good. ®