Back-to-the-future Nexsan resurrects its SATABeast
Imation reaches into storage product history
Nexsan, the sole remaining real storage business inside the shell remnants of Imation, has resurrected its SATABeast array with a 4U shelf containing sixty 8TB 7,200rpm disk drives – 480TB in total.
The Imation website has had a full Nexsan make-over, with virtually all mentions of Imation excised. From now on Imation's future is Nexsan-centric.
With disk spin-down from its AutoMAID (automatic massive array of idle drives) technology, the BEAST claims an 85 per cent power saving over an equivalent non-MAIDed array. A full rack of BEASTs could store 4.8PB of data (and would be quite heavy).
But that would be four systems as the maximum BEAST array takes up 12U with 2 x 60-bay expansion units and scales to 1.44PB.
The system is fully redundant with hot swappable controllers, hard-disk drives, power supplies and fans. There are dual active:active controllers and RAID levels 0, 1, 1+0, 4, 5, and 6 are supported. Host connect is by 8Gbit/s Fibre Channel (2 ports/controller) or 1GbitE iSCSI (2 - 4 ports/controller). This is a bulk storage workhorse, not a Pony Express product.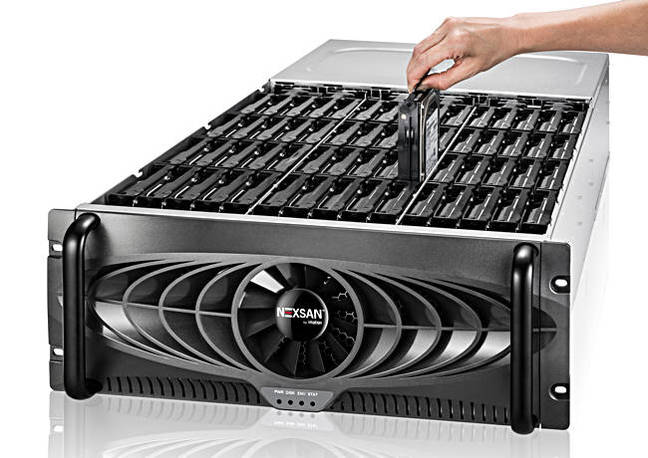 Nexsan BEAST array
Nexsan says the system is optimised for sequential streaming applications. CEO Bob Fernander expanded on this in a canned quote: "Nexsan BEAST is ideal for high volume applications including digital video surveillance, big data repositories, data archives and disk-to-disk backup as well as the channel partners that serve them."
Back in 2009, seven long years ago, the gen 3 SATABeast was introduced with 60 drive slots and 1TB drives, an update to the SATABeast2 which had 40 slots, also AutoMAID. Nexsan has gone back to its bread-and-butter array past to feed customer demand for denser, higher-capacity, basic bulk disk drive storage.
The Nexsan BEAST is available now. No pricing information was supplied. Get a spec sheet here (PDF). ®