If you thought the slump in PC sales was going to hit Nvidia like it whacked Intel and AMD, then, well, you were wrong. Nv just reported a record quarter to round off a record year in terms of sales.
In the three months to January 31, revenues from the graphics chip giant's PC cards rose 25.4 per cent on the year-ago period to US$810m. That's thanks to the release of Xmas blockbuster games including Call of Duty: Black Ops III and Star Wars: Battle Front, which spurred players into grabbing the latest hardware for their gaming rigs.
"GeForce sales are driven by the launch of great gaming titles and that again proved true this holiday season," said Colette Kress, Nvidia CFO, on a conference call with investors and press on Wednesday.
It's not all good news, though: Nvidia's total profit from the year dipped three per cent below the previous 12 months' haul. And, as Kress pointed out, Nvidia's non-GAAP operating expenses of $1.72bn over the year included legal bills from a car-crash patent battle with Qualcomm and Samsung.
Here's how Santa Clara-based Nv's quarter – it's final quarter of its fiscal 2016 – shaped up, along with the full financial year:
For Q4:

Total revenue stood at $1.4bn, up 12 per cent year-on-year from $1.25bn. Gross margin nudged up a point to 56.5 per cent.
Net income was $207m, up seven per cent from last year's $193m.
Diluted earnings per share came in at $0.35, three cents more than analysts expected.

For the full year:

Total revenue stood at $5bn, up seven per cent year-on-year from $4.6bn. Gross margin was up half a point to 56.1 per cent.
Net income hit $614m, down three per cent on fiscal 2015's $631m. Operating expenses rose 12 per cent, year on year, to $2bn: this figure included "$131m in restructuring and other charges, and $212m in stock-based compensation and other charges," which helped dragged the year in the red.
Diluted earnings per share stood at $1.08, down four per cent from fiscal 2015's $1.12.
Nvidia's share price rose 2.48 per cent by end of trading, and leapt a further 7.23 per cent in after-hours trading to $29.66 apiece. The biz predicts it'll bring in sales between $1.23bn and $1.29bn in the next three months, higher than analysts' expectation of $1.23bn.
"We had another record quarter, capping a record year," said CEO and cofounder Jen-Hsun Huang in a canned statement.
Looking at Nvidia's trends, you can see its gaming wing more or less doubled in revenue from Q2 FY2015 to Q4 FY2016, and that it absolutely dominates the company's books. This division is expected to be grown further this year as virtual reality hardware hits the market.
The needle hasn't moved much for months and months now for the professional visualization division, which emits chips for CAD workstations and similar systems. The data center wing, which hopes to punt machine-learning accelerators into cloud providers' racks, is gradually lifting, up to $97m in Q4 FY2016 from $88m a year ago.
Nvidia's auto business, where it sells GPUs for dashboards and in-car entertainment plus self-driving vehicle kits, hit $93m in the latest quarter, up almost double from the year-ago's $56m. These gains are somewhat offset by Nvidia's shrinking OEM and IP licensing revenues.
None of this is going to pleasant reading for rival AMD.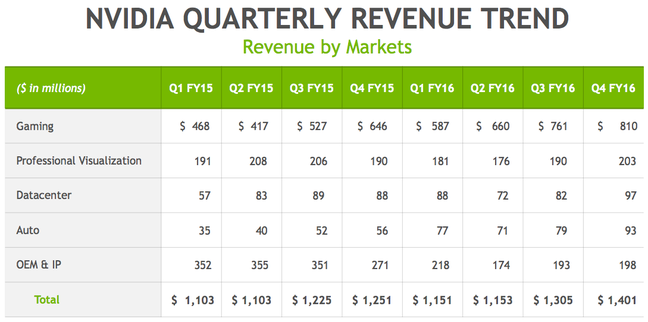 Click to enlarge
Over the next three months, Nvidia expects to spend $1m to $2m on continuing to wind down its Icera modem operation. Over the whole of fiscal 2016, the chip giant spend $86m on restructuring costs. You can find the nitty-gritty details of its financials here [PDF]. ®
Similar topics