The good burghers of Wangaratta in rural Victoria are battling to reclaim their town from a nasty "hairy panic" attack which has seen their homes engulfed by an invading army of massed tumbleweed.
According to 7 News, residents' homes have been smothered by the wandering seed heads of Panicum effusum, aka hairy panic - a common grass species found across Oz.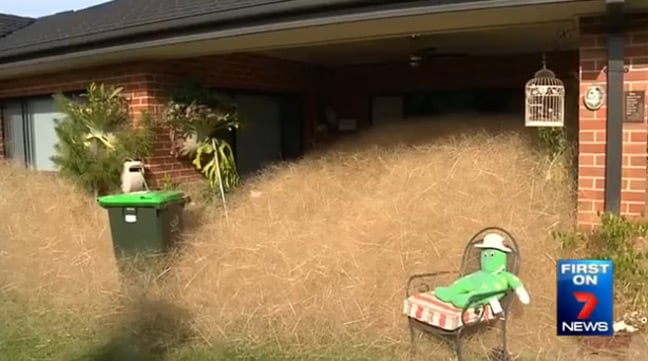 Resident Jason Perna nicely summed up the locals' weariness of the daily clearance ritual, telling 7 News: "It is frustrating. You know that you've got a good couple of hours work ahead of you and that's always sort of displeasing."
Wangaratta's hairy panic victims say dry summers are peak tumbleweed season, but in their case, reckon a farmer's untended paddock is the source of the bumper crop. ®
Bootnote
While having a quick shufti online at other tumbleweeds, I agreeably learnt that the iconic Salsola tragus, so beloved of Western film-makers, is not actually native to the US.
Rather, the prickly Russian thistle, or simply "tumbleweed", originated in Eurasia, and was first spotted in South Dakota in 1880. The story goes that its seeds were accidentally introduced into the state in the 1870s, mixed with flax seeds imported from Russia.
That may or may not be true, and similarly rumours that Donald Trump intends to expel Salsola tragus from the United States should he become president are unconfirmed.
Similar topics