FBI iPhone brouhaha sparks Apple Store protest in San Francisco
Hands up, don't root! Hands up, don't root! Hands up, don't root!
Pics After Tim Cook gave the FBI the finger when asked to help unlock a mass murderer's iPhone, fanbois are planning to hold rallies outside Apple stores to support the iGiant.
The string of demonstrations will kick off on February 23 across the US, it's hoped. This comes after the Feds won a court order demanding Apple assist agents in breaking into the locked iPhone 5C of Syed Farook, who with his wife Tashfeen Malik shot and killed 14 coworkers in San Bernardino, California. Apple is appealing the court's ruling.
San Francisco is, as always, already one step ahead of the rest of the world: this Wednesday evening an emergency gathering in support of Apple formed outside the corporation's Union Square store in the city. This being the digital age, rather than waving around placards, the demonstrators had a handy image to display on their iPads and iPhones proclaiming: "Don't break my phone."
"This is really dangerous. The FBI just got a judge to order Apple to build a software 'backdoor' to help them hack into an iPhone," a call to arms on Facebook somewhat incorrectly states.
"They've been wanting to do this for years, but now they're exploiting the tragedy in San Bernardino to push their agenda to weaken the security of all of our phones to enable more government surveillance."
When El Reg showed up, there were about 30 people taking part, which isn't bad for a slightly wet early evening in San Francisco with very little notice. Protesters lined the windows of the Apple store at 5pm while two police officers stood nearby to make sure things didn't get rowdy.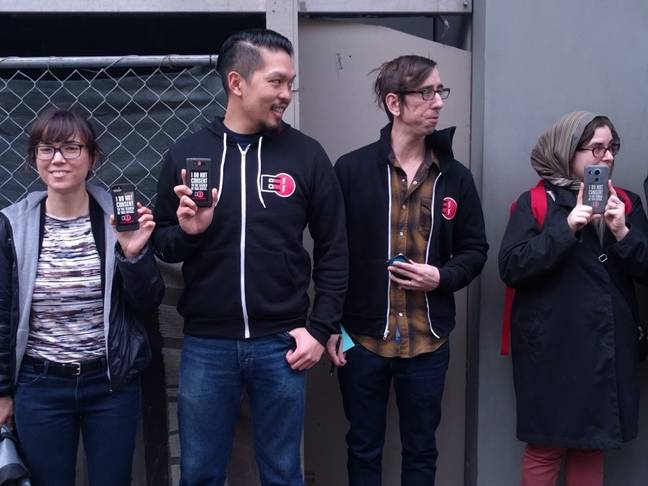 Stickers will change the world!
Privacy activist hive the EFF sent a couple of staffers down to give a talk and hand out stickers reading "I do not consent to the search of this device," although more than a few were spotted on the back of Android phones rather than iThings.
One EFF bod explained how having a "golden key" to allow cops and Feds to search phones was a dumb idea. He was right, but that's not the issue at the heart of the Apple case. Apple isn't being asked to crack its own encryption in the locked iPhone 5C.
Instead, it's being asked to infect Farook's iPhone 5C with a custom firmware that will allow the Feds to guess his passcode using a brute-force process without the device wiping itself after too many wrong login attempts.
In the end, it was a fairly small and polite affair, but it seems odd to be holding such rallies outside Apple stores. As a veteran of protests, this hack would suggest calling congresscritters, chanting outside FBI buildings, or staging actual marches rather than simply applying stickers to handsets. ®