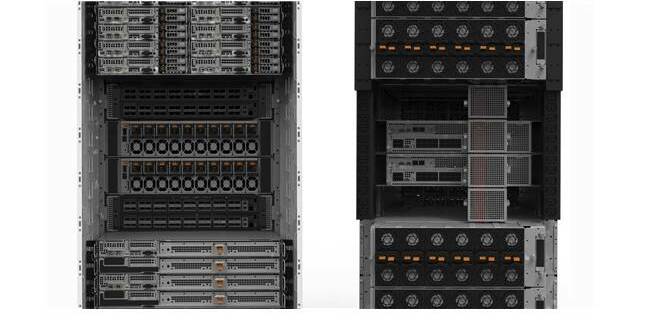 EMC spent the early part of this week fleshing out its converged systems range. And Dell will spend next week doing the same.
The company's teased something new called the DSS 9000. The blurb says it's "a flexible, modular rack-level infrastructure that will offer compute and storage sleds, built-in networking, shared power & cooling, as well as next-generation management via Intel Rack Scale Architecture (RSA) and Redfish."
That's a little different to the proposition advanced by the probably-soon-to-be-acquired EMC Federation, which offers at least three rack-scale rigs: VxRack, EVO:SDDC and Vscale. But like its prey, Dell is preaching the necessity for a new cloud-inspired platform to handle the new workloads that mass mobility and the internet of things are already bringing.
Nobody doubts such platforms are needed.
But does any vendor need five of them (Dell has another called G5)? Maybe, because EMC's are all Vmware-centric. The DSS 9000 is pitched as just raw storage, compute and networking with help from Redfish but no particular platform in mind. That may make it rather better suited to OpenStack in the carriers and service providers Dell has targeted with the product, as such customers are leery of VMware's costs. And while Virtzilla has a network function virtualisation business unit and can point to a customer or two, the market is far from setttled.
Dell will show off more of the DSS 9000's capabilities at Mobile World Congress next week. ®
Sponsored: Webcast: Ransomware has gone nuclear