This article is more than 1 year old
PrimaryIO first flash cacher with VAIO support
No, not for Sony notebooks. VMware application IO filtering
PrimaryIO, once known as CacheBox, has the first VAIO-integrated caching software to the market to speed database apps in vSphere 6.
VAIO is VMware's vSphere APIs for IO filtering – not the Sony notebook brand – and offers a way for third parties to offer caching and replication to virtual machines (VMs) by filtering the stream of IOs from a VM and creating policies such as providing read and write caches on flash or replicating IO to a disaster recovery site.
CacheBox provided caching software for databases running on Linux or Windows that cached certain IOs in flash. Its premise was that SSDs are expensive and there's no point wasting flash capacity to cache IOs that won't speed up the application.
So CacheBox's CacheAdvance detects primary IOs such as frequently-accessed database tables and index accesses and caches them whilst ignoring secondary, run of the mill IOs such as log records, replicas, audit entries and ad hoc user activity, and leaves them uncached.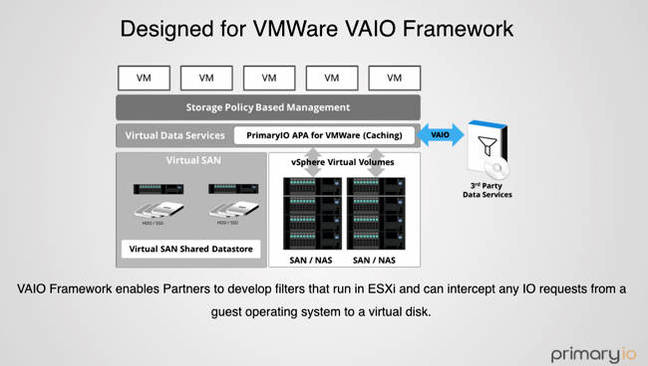 CacheBox extended its offering to support VMware. It changed its name to PrimaryIO in August 2015, and the CacheAdvance product became APA, standing for Application Performance Acceleration.
APA 1.0 supports VAIO and is, PrimaryIO says, the first VAIO-integrated product on the market.
It aggregates all the flash in a vSphere cluster and provides flash-based caching for all nodes in the cluster, whether they have flash or not. It supports write-around and write-back caching with node failure fault-tolerance. Writes to cache are replicated to up to two additional nodes.
APA should, PrimaryIO infers, outperform other software caching products on the market, by making better use of flash and enabling a given server with a given amount of flash capable of supporting more VMs than the same server using someone else's caching software. These other caching software products waste some of the flash by loading it up with pointless data dross.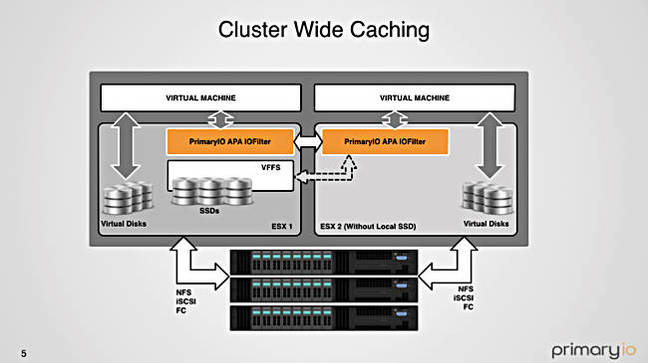 PrimaryIO was started up as CacheBox in Pune, India in 2012 and is privately funded. It hopes that VMware's VAIO certification will help caching products to become more popular, and its intelligent IO filtering will make its APA more popular than other caching products, such as PernixData's FVP.
Expect most other vSphere-compatible software caching suppliers to become VAIO-compatible. Back in August, VAIO supporters included Actifio, Asigra, Condusive, EMC, HGST (WD), Infinio, PrimaryIO (of course), Samsung and SanDisk, but not PernixData or Zerto.
APA is also supported by VMware for Sphere Storage Policy-Based Management (SPBM). It's available now and PrimaryIO offers a free 30-day trial on its website. ®