MWC16 Just ahead of Mobile World Congress in Barcelona, Alcatel has announced the Idol 4 and 4S smartphones, complete with VR headset in the box, and a Windows 10 2-in-1 tablet/laptop.
Alcatel, formerly known as Alcatel OneTouch, is a brand of the China-based TCL Communications. At a press event in Barcelona, the company unveiled a new logo and announced that it is dropping OneTouch from the name. Specialising in the budget and mid-tier segment, the company claims to be the fiftth largest handset manufacturer in the world, and aims to become number 5 in smartphones and tablets by the end of 2016.
Newly announced at MWC are the Idol 5.2" 4+ and 5.4" Idol 4S smartphones, running Android 6.0 Marshmallow. The Idol 4+ has a Qualcomm SnapDragon 617 chipset, 1.7 GHz Octa Core, 1080x1920 display, 13MP rear camera and 8MP front, 3GB RAM and 16GB storage of which 10GB is free for the user.
The slightly larger 4S sports a SnapDragon 652 chipset, 1.8 GHz Octa Core, 1440x2560 display, 16MP rear and 8MP front camera, 3GB RAM and 32GB storage of which 25GB is available for user storage. Both models have MicroSD slots.
The challenge at MWC is how to differentiate your products from the mass of other Android handsets. The Idol 4 series has a couple of tricks, most notably a VR handset included in the box for the 4S, and available as an extra for the 4+. What you get is a strap-on headset into which the phone slots, providing a mobile VR experience which looks superficially similar to Samsung's Oculus-based Gear VR, into which you slot a Galaxy Note 5 or 6 series mobile.
The Alcatel effort feels reasonably solid, though a bit fiddly to unpack and assemble judging by our quick hands-on in Barcelona. It is bulky though, and the key questions are what VR content will be available, and whether the headset will be destined for significant active use or the back of the drawer after purchase. A VR Store app for obtaining pictures, videos and games is pre-installed.
Although detailed pricing has not been announced, the company said that the Idol 4 series will be available from April 2016, at prices from €279 to €449.
Alcatel Plus 10
Next up from Alcatel is a Windows 10 2-in-1 tablet/laptop. The Plus 10 is a 10.1" device with a quad-core 1.92GHz Intel Atom x5-Z8350 chipset. The keyboard is detachable and includes a SIM slot for LTE (4G wireless) connectivity so you can use it as a wifi hotspot for up to 15 users.
You also get basic cameras front and rear, 32GB internal storage, 2GB RAM, MicroSD slot, USB and HDMI ports. The Plus 10 is not the slimmest of devices but weighs only 850g, and battery life of 8 hours "light usage" is claimed. The model on display in Barcelona felt a bit plasticky but its light weight is a benefit.
The Plus 10 will be available from June 2016, priced "from €379", according to the presentation in Barcelona.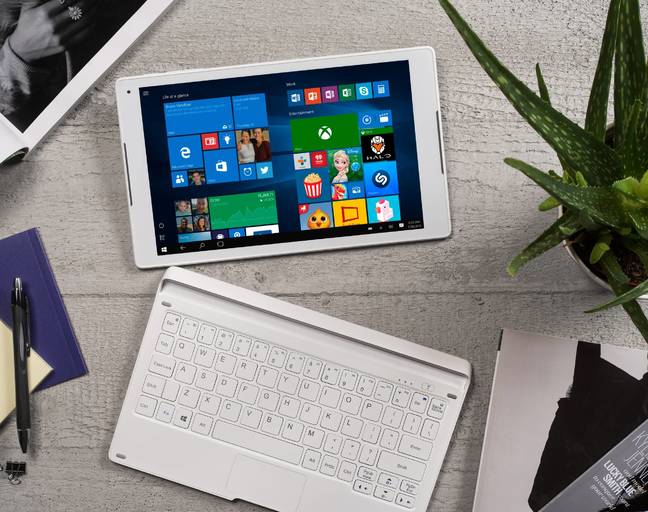 The Alcatel Plus 10 has a detachable keyboard that doubles as a wifi hotspot
The company is "very bullish on Windows", according to VP and chief marketing officer Dan Dery. The Plus 10 joins the Fierce XL Windows 10 smartphone, released earlier this year in the US, and the Pixi 3 8-inch Windows 10 tablet announced at CES in January and set for availability in April 2016. The Pixi 3 is an ARM-based device running Windows 10 Mobile, whereas the Plus 10 runs full Windows and is the first Alcatel device with an Intel chipset.
Why do a Windows 10 device? "There is a business market but there is also a very good consumer market," Dery told El Reg. "A market that is very familiar with Windows. Having a laptop at home that can be detached as a tablet makes a lot of sense."
A VR smartphone, a hotspot keyboard: it is a bit gimmicky; but Alcatel's competitive pricing will attract some interest.®