HP Inc Elite X3: Windows 10 phablet for enterprise-y types
Vendor returns to the handheld market
MWC16 HP Inc has unveiled a big bet re-entry into the handheld device market, banking on enterprise's attachment to the Windows ecosystem to blur the memory of its previous forays and retreats into the space.
The vendor will unveil its Elite x3 phablet at MWC, a six inch-high, 7.8mm thick phablet, along with a desktop dock to connect with a big screen and proper corporate networks, and a mobile extender with full size keyboard and 12.5 inch screen.
The device cops a Qualcomm Snapdragon 820 processor, meaning it will not be a true Wintel device, but it will run on Windows 10. It packs 4GB of RAM, 64GB of internal memory and will take SD cards of up to 2TB - once they actually hit the market.
And how much will all this cost? We don't know yet, with pricing due to be released shortly before its expected summer release.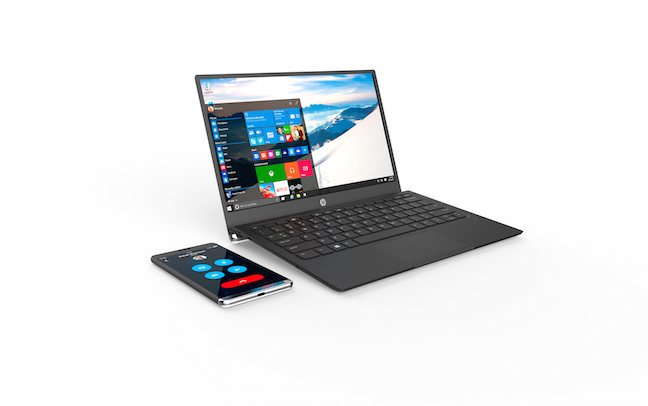 Michael Park, VP and GM for mobility and retail solutions at HP Inc, claimed the x3 is "the one device that is every device...we are basically covering desktop, notebook and phablet use cases with one product".
He said that while most mobile/handheld vendors were pushing into the enterprise as "a marketing continuum" of their consumer product lines the X3 was an unapologetically commercial enterprise product "designed for a commercial lifecycle which is two to three years."
This industrial grade ethos extends to dual SIM support, claimed all-day battery life, dual biometrics, 8MP front facing camera, active noise cancellation and B&O optimised audio so that you can really appreciate the hold music while waiting for your conference call to start.
The x3 is IP67 tested, meaning it can take a four-foot fall, and will operate under water for 30 minutes before failing. (Though if that latter use case is relevant, perhaps you need to reconsider who you're doing business with.)
Needless to say, Park also describes the device as "beautiful". Nevertheless, despite all this status symbol box ticking, HP's key selling point will likely be its compatibility with existing enterprise legacy systems.
Park said the world doesn't quite seem to have twigged that with Windows 10 for "the first time in the history of Microsoft that all devices have converged to the common Windows kernel."
While he had no illusions that the consumer world is unlikely to shift ecosystems any time soon, "In the world of commercial though when you go talk to a CIO and ask 'what you do you use to drive productivity in your enterprise, to secure your back-end or to run your servers,' Microsoft is still the name in the game."
"The average Fortune 500 company has 3,500 bespoke apps that they've written over the last 20 to 30 years, all on .Net, all for PCs, and those have to be moved to a mobile world if that is how people are going to work."
"I think what the market doesn't see that's going to happen is the ability to use Continuum in Windows 10 to now drive a new type of application where you write it once and it runs on a desktop, a phone, a Surface hub, a workstation without having to re-write code will present a massive TCO and value proposition for IT moving forward."
If enterprises opted for iOS and Android for their sub-notebook needs, he added, "you have to maintain all that code separately from everything you've done in the last 20 years and you have to carry it forward in terms of integrating those things as the underlying OSes change."
The TCO implications for this "will become more evident once Windows 10 gains more adoption," he said.
Needless to say, HP has gained vocal support from Microsoft for the launch. The devices will also come bundled with the Salesforce One - when it is docked, it will kick into the full Salesforce One dashboard. Park said it was working with other ISVs on vertical apps, while HP will provide its own app catalog, dubbed Workspace.
What will really underpin the device's success after its summer launch is whether HP can persuade corporates to buck their users' consumer-based prejudices, and overlook HP's own form in this sector.
The company's false starts in handheld devices and phones include mid-noughties Windows Mobile devices under the iPaq brand it inherited from Compaq. Yes, we're not sure what happened to them either.
The company bought the seminal handheld firm Palm in 2010 for $1.2bn, then said it was only after the operating system, WebOS, before losing interest altogether during its minor meltdown under its short-lived CEO Leo Apotheker the following year. Much of the former Palm, and iPaq, IP was sold off in 2014 to... Qualcomm. ®