This article is more than 1 year old
LG's modular G5 stunner shuns the Lego aesthetic
So are 'real' modular mobes just for hipsters?
MWC16 People want a cool product more than they want a bunch of Lego bricks in their pocket. That's why Alphabet's intriguing modular project, Project Ara has gone nowhere. But can LG's expansion slot initiative fare better?
Yesterday LG announced its first modular phone, the G5, with two expansion units on show. It's worth a punt.
Manufacturers in the me-too Android phone market desperately need to differentiate themselves. The big brands with high marketing expenditure are most vulnerable of all, as Chinese rivals increasingly produce "good enough" models at half the price, buoyed by huge volumes from their home market. Although LG has been producing great displays and great imaging in its flagships, it hasn't significantly changed the landscape. LG's strong presence in the US, where it hangs onto around 9 per cent of the installed base in the US, keeps it in the game.
LG's version of "modular" is much less ambitious than Ara, Google's sub-$100 Lego phone project, as used by the DIY venture Phonebloks. With Ara, you can swap out and replace everything. Ara isn't dead, but it hasn't had the impact it hoped for, for obvious reasons. "Radical modular" is attractive as an "artisanal" experiment in tinkering - but it fails to make a convincing mass market case, on both the supply and demand sides of picture.
Most buyers value a unified consumer product more than they want something to tinker with. As a punter, you want one person to shout at when things go wrong, and want them to be around for the duration of the product. Surprisingly, even potential Phone Lego tinkerers don't seem to want modular phones enough to give the idea an economically sustainable business.
Modular is particularly unattractive in growth markets, where the brand particularly matters. When these are in status-obsessed Asia, a modular phone really marks you out - either as a nerd, or as poor.
The Legophone proposition has been even less attractive to component suppliers. Why battle for a tiny market of tinkerers when there are huge wins on offer supplying one of the fast growing suppliers into an emerging market? One who pays you on time and for a given quantity?
Yet there's a glimmer of opportunity for LG, or more likely, an alliance of vendors who can agree to standardise on an expansion slot. Maybe you don't need to change the entire phone after all...
One reason that midrange phones have stormed the market is performance overkill. In the first few years of its life, sluggish Android needed all the hardware you could throw at it. Hence the race into gigahertz, octocore processors. But consistent performance improvements by Google to the platform mean that the difference between midrange and high end today isn't so significant. You may be paying more for a camera or display but not for a seriously smoother user experience overall. Similarly, until 4.5G and 5G come on tap, you're not going to be left in the slow lane by having yesterday's radio technology inside. The everyday network latencies you might experience are the result of many things: an obsolete handset isn't one of them. All this means that it's more attractive to retain the "chassis" of the device and upgrade or enhance a peripheral.
This is clearly what LG is thinking, although its execution is uneven. One of the two modules unveiled is a B&O Play brand 32-bit DAC for audiophiles. That's all well. The other is more problematic.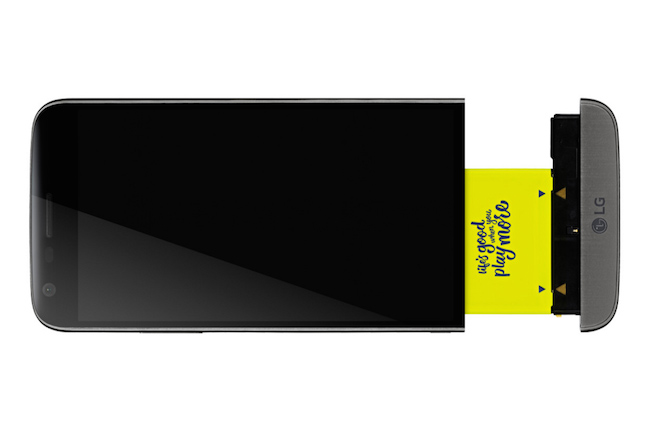 It's an ungainly battery grip, the LG Cam Plus. This is reminiscent of the Nokia's Lumia 1020 clip-on, in that it adds a shutter button and zoom dial, some (1,200mAh) additional battery power. But not much battery, and "grip" is deceptive; it's really just a bulge that doesn't add enough heft to the device, and makes it harder rather than easier to manipulate. Strangely, it doesn't have a lanyard slot. The Nokia clip-on changed the nature of the device, which became a camera that did calls.
The LG G5 is a strong product even without the expansion units. But it needs a third-party marketplace. Just ask IBM how a proprietary expansion slot standard fares without wide industry support. With under 10 per cent of the market, LG doesn't have the clout in smartphones.
I hope the Lego idea doesn't go away. But it looks like an artisanal craft hobby for wealthy hipsters - not a serious market changer. ®