MWC16 Facebook's Mark Zuckerberg appeared on stage at Samsung's launch for the Galaxy S7 and S7 Edge, proclaiming VR the new social platform; but is that enough to make S7 more than just this year's slightly faster Galaxy?
Facebook acquired Oculus VR in 2014, and its technology is used in Samsung's Gear VR, a headset which works in conjunction with Galaxy devices (Note 5, S6 or higher) to enable a 3D experience.
At Samsung's S7 launch there was a Gear VR on every seat; yet aside from a couple of whizzy demoes they were put to little use, adding to the impression that putting on bulky headsets for the sake of a more immersive experience has little purpose for most of us.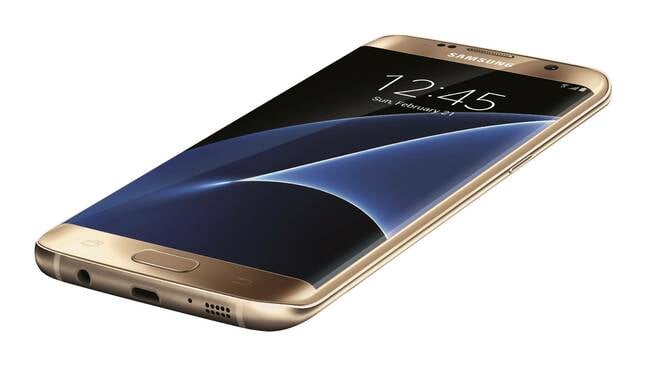 The actual smartphone, Samsung's Galaxy S7 Edge
The Gear VR has been out since November 2015 and has not made a dramatic impact, but Samsung and Facebook are betting that will change. In particular, Samsung also announced the Gear 360 camera, set for availability in the second quarter of 2016, a small spherical affair with dual fisheye lenses, able to capture 3840 x 1920 video or 30MP still images. The idea is that you can make your own content for viewing on the Gear VR or uploading to Facebook.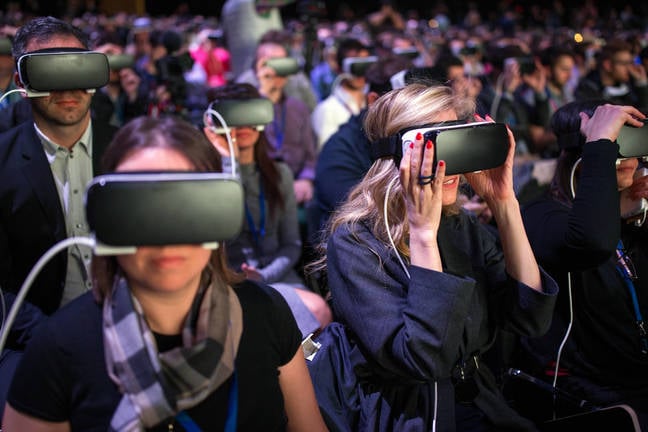 Bemused attendees trying out VR at the Samsung Galaxy S7 launch (Pic: Facebook)
The Gear VR will also support streaming 360 video from Facebook. "In the future, VR will enable even more types of connection — like the ability for friends who live in different parts of the world to spend time together and feel like they're really there with each other," says Facebook's press release. "VR is the most social platform," insisted Zuckerberg at the Galaxy launch.
Samsung is also promoting the Gear VR by bundling it free with the Galaxy S7 if you pre-order, which you can do from 23 February 2016, with availability from March 11. Prices are not yet announced.
Few people will buy an S7 or S7 Edge for VR though. What is it like as a smartphone? The answer is a more refined, faster S6. The S7 runs Android 6.0 Marshmallow with a quad core 2.15GHz processor, 4GB RAM and 32GB storage. Unlike the S6, it also has a MicroSD slot for up to 200GB additional storage. Fast-charging and a 3000 mAh or 3600 mAh (Edge) battery will keep your S7 running. It is also IP68 water resistant, which means it can survive being submerged in 1.5 metres (5ft) of water for 30 minutes, says Samsung.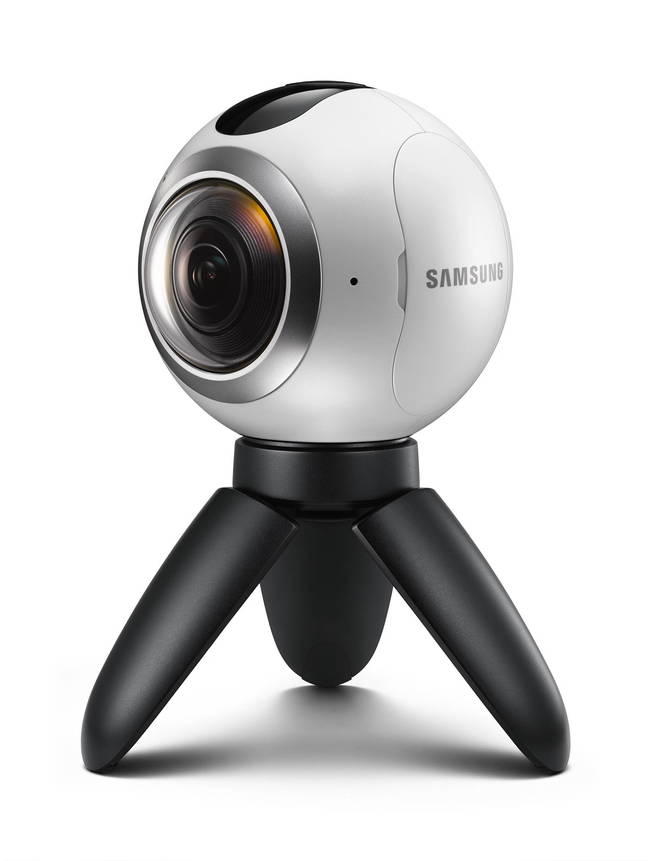 Samsung's Gear 360 camera
Cameras are 12MP rear and 5MP front, but that does not tell the whole story. Samsung has bumped the rear lens to F 1.7 and is using dual-pixel sensors to optimize the camera for fast focus and low-light optimization.
Both the 5.1" S7 and the 5.5" S7 Edge have super AMOLED 2560 x 1440 displays, giving the Edge slightly lower pixel density, not that you are likely to notice. The Edge is also distinguished by a wrap-around screen as seen on the S6. The displays on the S7 series are "always on", though they are smart enough to go dark when in your pocket, and you can customise the lock screen.
Perhaps the most impressive aspect of the S7 is its video performance. Samsung says the GPU is around 60 per cent faster than that in the S6, but this is further enhanced by the newly released Vulkan graphics API which allows low-level hardware access and multi-core optimization. Tim Sweeney from Epic games came on stage in Barcelona, claiming in effect four times faster graphics from the combination of Vulkan and the S7 GPU.
Samsung Pay is coming to more countries including the UK, the company also announced. The S7 supports both NFC and MST (Magnetic Secure Transmission), and includes a fingerprint scanner.
The Galaxy S7 and S7 Edge improve on the S6 for sure, but by enough for Samsung to grow its high-end market versus not only Apple, but also countless good-enough devices also coming to market? That is the question, and it is doubtful that VR features are enough to make the difference.®
Similar topics