This article is more than 1 year old
There's a module for that: LG launches G5 smartphone complete with 'friends'
We fondle the expandable smartie
MWC16 Hands On LG has announced the G5 smartphone at Mobile World Congress in Barcelona, attempting to stand out with a modular approach alongside the inevitable VR support.
The 5.3" G5 has a Qualcomm Snapdragon 820 chipset, 2560 x 1440 display, 4GB RAM, 32GB storage, MicroSD slot, USB Type-C port, 16MP rear camera and 8MP front, and runs Android 6.0 Marshmallow. So far, so uninteresting. However, LG also announced a number of "LG Friends", companion devices which augment the G5's features. For a start, the battery is removable so you can carry a spare. Next, you will be able to get the following add-ons:
LG 360 VR, a VR headset which is significantly lighter and more elegant than Samsung's Gear VR, though that is not difficult, since it connects by cable to the smartphone. It has a resolution of 639 ppi and is compatible with Google Cardboard content.
LG CAM Plus. A camera grip with buttons for power, shutter, record and zoom. The unit also adds exposure lock, and includes a 1200 mAh supplementary battery.
LG 360 CAM, a small 360° camera with two 13MP sensors, 4GB storage and a MicroSD slot. There are also three microphones. The idea is that you can create your own content for the 360 VR.
LG Rolling Bot, a ball-shaped affair including an 8MP camera and Wi-Fi. You can control it from your G5 with suggested use as a toy, or you can use it as a remote monitor for such things as security monitoring or "pet care companion", we were told, though we suggest not for chewing.
LG Smart Controller - control a compatible drone with a joystick, stream video to the G5.
LG Hi-Fi Plus, made by B&O, clips to the base of the G5 to add an audiophile DAC and amplifier, has its own headphone socket. This will also connect via USB to devices that support USB audio.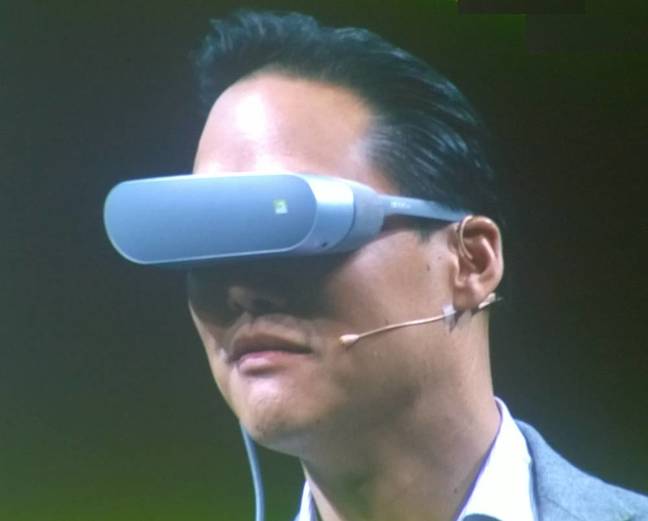 LG demonstrates its VR headset for the G5 smartphone
I had a quick hands-on with the G5 and some of its accessories. The phone is lightweight, a little too much so as it feels almost plastic-like despite its full metal body. Detaching an accessory requires pressing a small inset button on the side of the case; it has to be somewhat inaccessible to avoid pressing it by accident, but at the same time it is not that easy for the fumble-fingered to change modules.
Other notable features in the G5 are an always-on display which uses, says LG, only 0.8 per cent of the 2800 mAh battery per hour, and a daylight mode which increases brightness automatically.
There is also a second rear 8MP camera which has a wide-angle lens, 135° compared to the standard 78° lens.
During the presentation in Barcelona, Google's Charles Armstrong, Street View Product Manager, came on stage to explain that all LR 360 photos that are shared to Street View will be stored "for free" at full resolution.
Another way of looking at this is that crowdsourced Street View will, if LG is successful, get many more images, enhancing Google's service and further compromising any remnants of your privacy.
The Cam Plus grip is nice to have, in that it feels more natural than tapping on-screen buttons, though of course you still need on-screen controls for the fill range of features. I liked the zoom wheel – though it is a rather crude cog-style design – especially as it switches automatically between normal and wide-angle rear cameras as you turn. It still feels like a Smartphone though, unlike say the Nokia camera grip for the Lumia 1020 which feels more like a real camera, and gives you more actual grip to steady your shot.
Trying the VR headset is awkward for those with glasses; LG said that it works over glasses but I saw others remove them and did so myself. The VR is effective up to a point, but somewhat pixelated as you would expect. No eye tracking of course; but you can move your head to look around.
The Hi-fi Plus clip-on is hard to assess in the context of a busy, noisy event. Trying the same source via first the standard headphone socket, and then through the Hi-fi plus, revealed little if any difference in this kind of environment, though perhaps in the quiet of your own home there will be more to hear. I also tried the G5 adaptive display and was impressed; it dimmed the screen smoothly and does not seem to suffer from the flicker effect that such features sometimes create.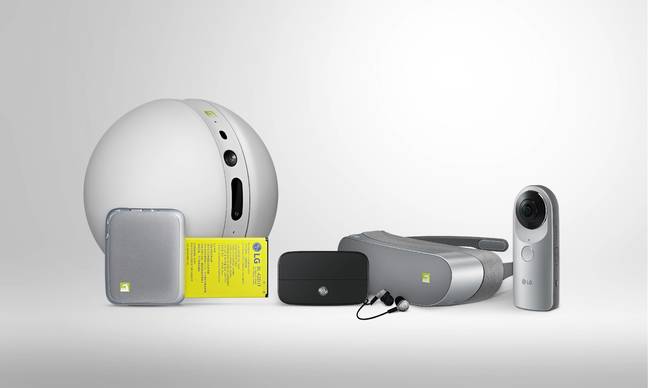 Companion devices for the G5: Roller bot, Cam Plus, Battery, Hi-Fi Plus, VR headset, LG Tone Platinum Bluetooth earbuds, and LG 360 camera.
Is LG onto a winner? The phone looks decent, but the modular idea has downsides. Not mentioned, for example, is what happens to your companion devices when LG brings out the next iteration of its smartphone, will they still work? Devices that clip to the base of the phone are particularly likely to be obsolescent.
Still, kudos to LG for a slightly less bulky VR headset. Prices are not yet available.®