Prepare to get excited about an adapter: QLogic's multi-protocol FastLinQ 45000 Ethernet controllers use an ASIC with up to 100Gbit/s Ethernet speed, RDMA and NVMe over fabrics support to virtually abolish external storage array network latency and support network virtualisation.
The ASIC's CPU offloading and high speed enables external storage arrays to have effectively the same access latency as if they were locally connected PCIe storage resources for accessing servers.
QLogic says the 45,000 products are optimised for software-defined networking (SDN) and OpenStack deployments. They leverage NPAR, SR-IOV, tunnelling offloads, DPDK support and have broad storage protocol integration:
10, 25, 40, 50 and 100Gbit/s Ethernet speeds
Interoperability with RDMA over Converged Ethernet (RoCE), RoCEv2 and Internet wide area RDMA protocol (iWARP)
Support for iSCSI, Fibre Channel over Ethernet (FCoE), iSCSI Extensions for RDMA (iSER) and Non-Volatile Memory Express (NVMe) over Fabrics
Network Interface Card (NIC) virtualisation capabilities with support for Multi-queue, NIC partitioning (NPAR) and Single Root I/O Virtualisation (SR-IOV)
Data Plane Development Kit (DPDK) support for network function virtualisation (NFV)
Overlay networking (tunnelling) capabilities with stateless offload support for network virtualisation using Virtual Extensible Local Area Network (VXLAN), Network Virtualisation using Generic Routing Encapsulation (NVGRE), Generic Routing Encapsulation (GRE) and Generic Network Virtualisation Encapsulation (GENEVE).
The NIC virtualisation features enables faster performance in virtualised environments and tenant consolidation. It means fewer physical ports are needed than before for the same quality of service (QoS) and service-level agreements (SLAs).
NFV support means virtual network functions can help deploy server nodes more efficiently in data centre carrier networks.
A QConvergeConsole (QCC) provides deployment, diagnostics and management from a single pane of glass.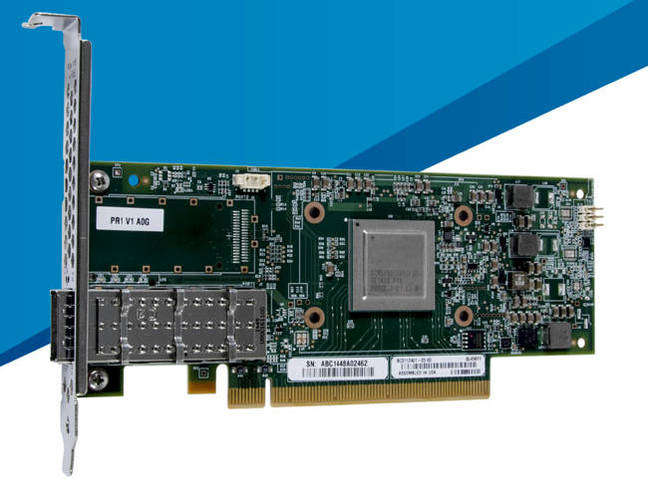 QLogic FastLinQ 45000
Potential customers for this Remote Direct Memory Access (RDMA) Network Interface Card (RNIC) are in the telco, enterprise, managed service provider (MSP), cloud and storage markets running ordinary or large data centres.
Seamus Crehan, president of Crehan Research, climbing aboard QLogic's train, opines: "The uptick in 25GbitE adoption will be significantly faster than it was for either 10GbitE or 40GbitE technologies."
Sameh Boujelbene, a Dell'Oro Group director, was aboard the same train: "The data centre is on the verge of experiencing a major speed upgrade cycle, driven by server migration to 25GbitE. This migration will be first driven by large mega scale data centres, with the rest of the market following suit quite rapidly, as the price premium of 25GbitE over 10GbitE collapses on the switch side. We predict that 25/50/100GbitE will comprise over a third of server access ports, within just three years of shipments."
Dell, Huawei, Mirantis, Red Hat and VMware spokespeople provided more supportive quotes.
The FastLInQ 45000 Ethernet controller and adapter technology is being shown at the Mobile World Congress event in Barcelona, in the Hewlett Packard Enterprise (HPE) booth (Hall 3, 3A20). Products will begin shipping this quarter and include single- and dual-port 25GbitE adapters and a single-port 100GbitE adapter. ®