Canberra passes USO review to Productivity Commission, tells the economists to hasten slowly
Mostly muted response to the Regional Telecommunications Review
Australia's federal government re-ignited debate about rural telecommunications with the suggestion that today's Universal Service Obligation (USO) scheme be abandoned and replaced.
However, any report about the death of the USO is, at this point, very premature: nothing's going to happen in an election year, for a start.
The USO means that telcos are required to provide services to everyone in Australia, no mean feat given that plenty of people live hundreds of kilometres from the nearest wireless networks, never mind wired networks.
The USO is currently funded by a levy on carrier license fees. USO funds are notionally contestable but in reality only Telstra, the nation's dominant telco, bids for provision of USO services..
A USO review emerged in the government's response, tabled this week, to the 2015 Regional Telecommunications Independent Review Committee Report.
The response, here as PDF, suggests the USO as it now stands is being made obsolete by the twin forces of mobile services, and the National Broadband Network (NBN), which will ultimately take over all fixed-line responsibilities from incumbent Telstra.
The Review noted that the NBN is mandated to provide what amounts to a universal service anyhow – fixed line to most of the country, fixed wireless to around five per cent, and satellite to the remaining two per cent.
"The Government considers it premature to determine the appropriate model for both the future regulatory arrangements for the telecommunications retail sector and its funding arrangements", the government's response states. "That said, the Government agrees that adjustments to the current regime are warranted given changes to available broadband technologies and consumer expectations."
The impact of a major policy shift affecting regional Australia is too hot to touch in an election year, so the government's offered the Gordian knot to the sword of the Productivity Commission (PC), presumably with a brief that it takes its time. It promises the PC will get terms of reference "early in 2016".
Satellite service management to stay with retail service providers
The government has also decided the Review's recommendation that nbnTM, the organisation building and operating the NBN, could climb up the stack and deploy traffic management on satellite services might be overstepping the mark, at least for now. From the original report:
"Recommendation 1 – To optimise finite LTSS capacity, NBN Co should actively manage demand, prioritise traffic and support the caching of content using satellite management best practice and innovative software. If restrictions on wholesale satellite operations preclude improvements to end user experience, those restrictions should be removed."
The government has decided its policy should, as far as possible, stick to the original NBN Layer 2 mandate and leave traffic management to retail service providers (RSPs):
"The Government's stated policy is that NBN Co should operate at the lowest practical level in the network stack. This already provides flexibility to operate at a higher level if needed and to provide additional functionality for the satellite service", the response states.
In other words, stick with the status quo. Even when nbnTM had to try and cap satellite consumption, it focussed not on individual users, by instructing retailers to withdraw 100 gigabyte/month plans.
That constraint will itself become obsolete with the advent of services on the NBN's SkyMuster satellite.
National Security
It's perhaps regrettable that the government has listened to the whispers of national security agencies when it comes to telecommunications infrastructure.
The original review had suggested that Infrastructure Australia could be encouraged to collect and publish data about under-utilised rural assets.
"Given the lack of information on underutilised regional assets, Infrastructure Australia is encouraged to collect and make available public data and information about any infrastructure that might be of assistance to investors in telecommunications. This might include dark fibre or towers with a power source in other sectors such as gas and electricity."
That idea got hit with the nope-stick. While various departments collect such data and continue to do so, "Some data will be not be able to be made available due to security issues associated with the disclosure of information regarding critical infrastructure assets".
From most angles, this looks odd: it's not uncommon for dark fibre asset owners to publicise their network, or publish lists of data centres at which their networks terminate. They do so for simple commercial reasons (The Register did not intend to pick on Nextgen Networks here, it was just the example most easily to hand).
In any case, anyone heading out for lunch in an Australian city may all-too-easily find themselves in possession of information that the spooks regard as secret: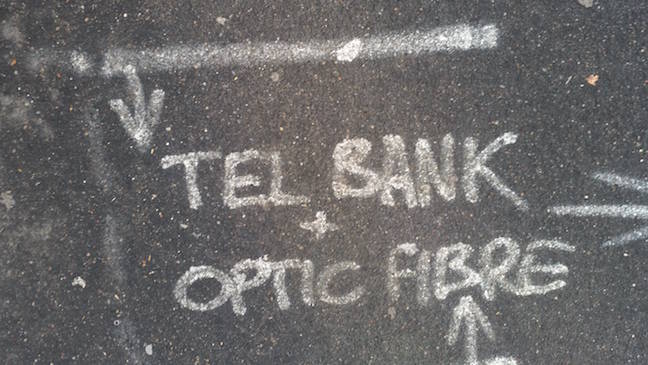 We'd tell you where the fibre is, but we'd have to kill you. Or we don't remember.
As for tower locations, that information is already published and regularly updated by the Australian Communications and Media Authority (ACMA), in the site list that forms part of its Register of Radiocommunication Licenses.
A related suggestion from the Review, that the NBN's access and backhaul networks be made available for wholesalers like mobile carriers without a regional footprint got a more positive response, with the government pointing to nbnTM's under-development Cell Site Access product. ®